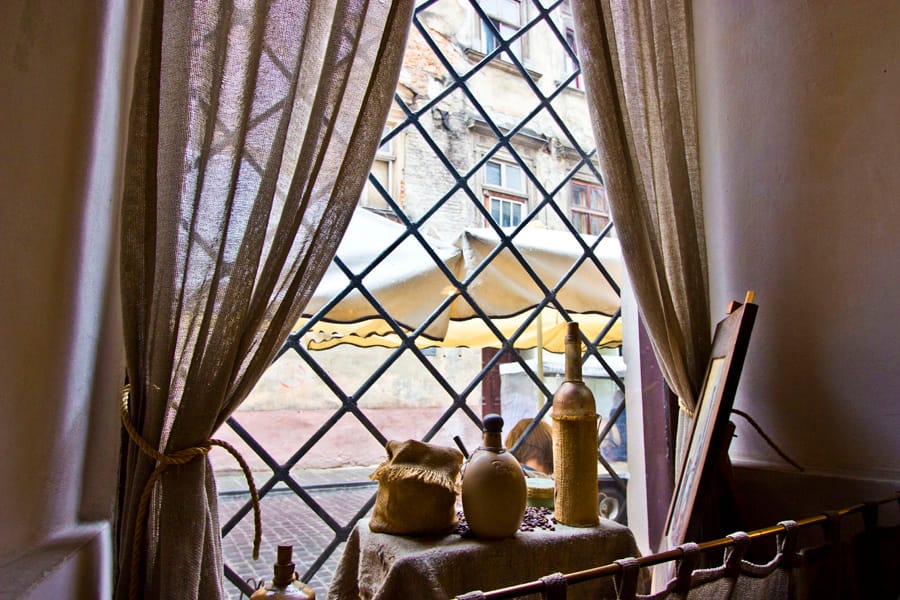 Sweet Lviv and the best coffee on sand!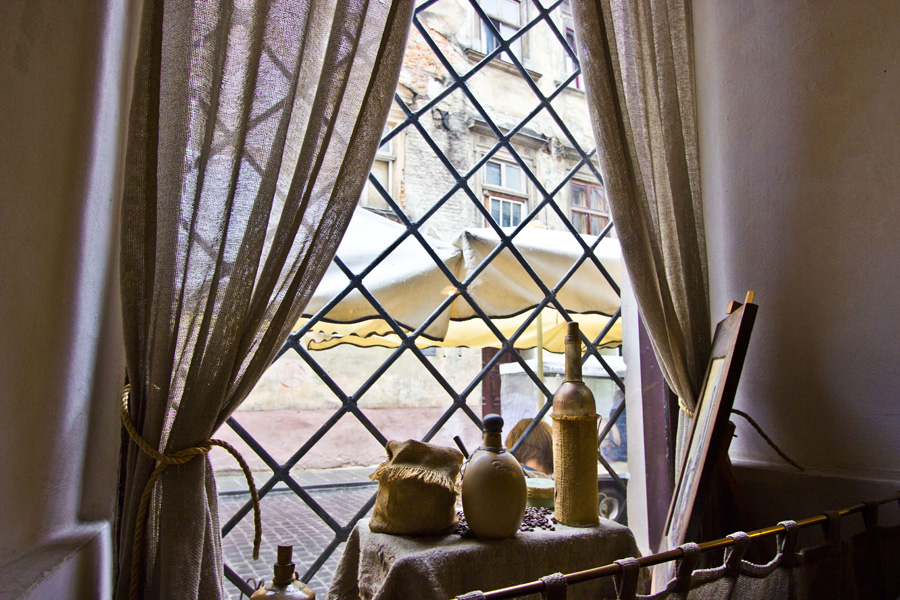 During organizing a trip to Lviv, it didn't run through my mind that it's the land of milk and coffee. We used to connect Ukraine mainly with cheap alcohol, cigarettes and halva made of sunflower seeds. By the way, it wasn't only our image. We saw it on our way back to Poland. When we heard one big noise of bottles at the bus station, we knew that this journey would be very hard. In a fact, the reality turned out to be worse. During more than 6-hour customs inspection which was ended in pushing the bus (battery had gone flat) I was thinking why in the depths of 54 bags were no coffee? Then, crossing the border would have been much pleasant and it could have changed the life of many coffee – lovers in Poland.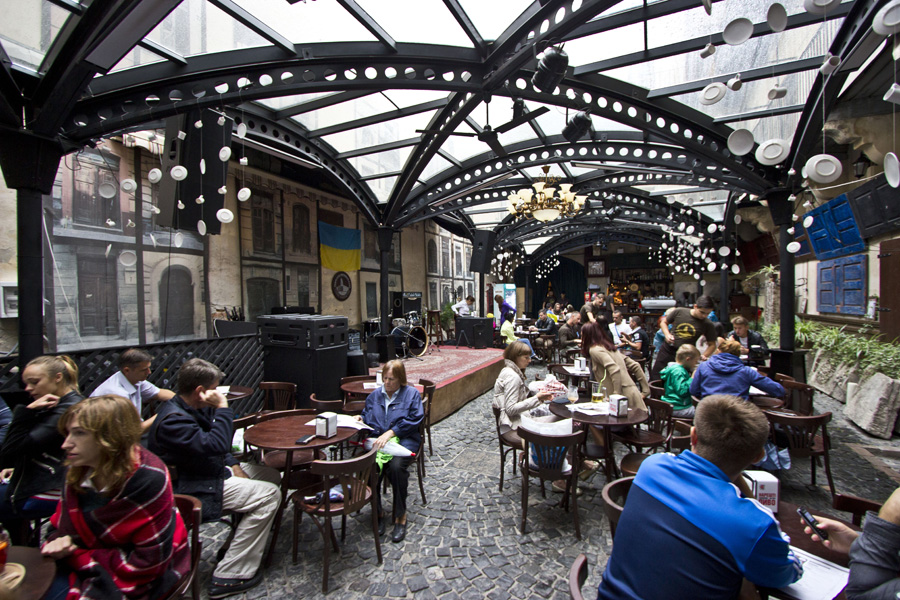 Few people know that this wonderful drink, which sustains our body functions especially on Monday mornings, we owe to Ukraine or more precisely Jerzy Kulczycki. He became famous not only in view of his heroic defense of Vienna against Turks but also he miraculously transfigured his prize – useless brown grains into coffee. One of the first cafes in Europe was opened in Lviv, and this city was called "the coffee capital of Poland" for many years. Because coffee is the quintessence of Lviv. Wonderful aroma of this strong and mild brew fills little cafes situated in the old city.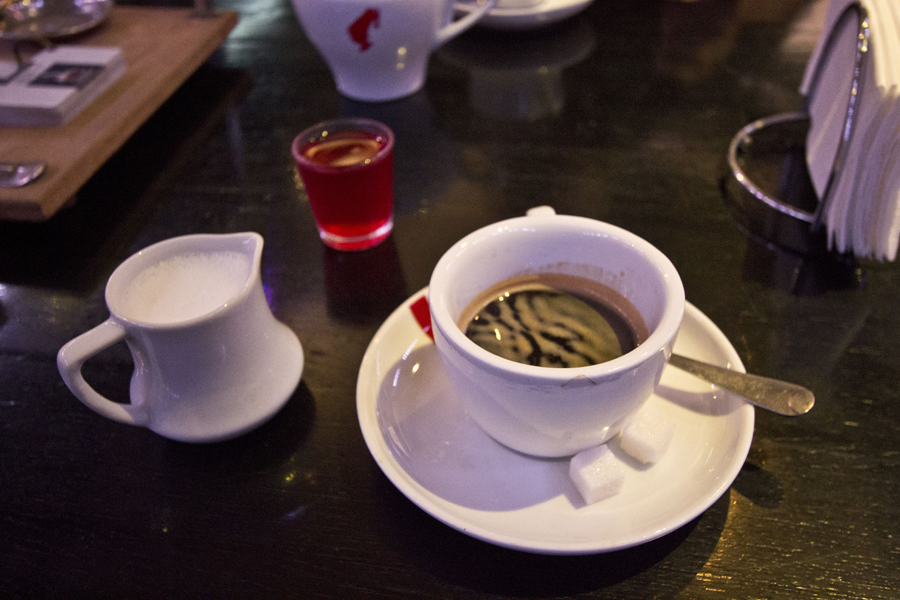 The amount of cafes in Lviv is enormous but there's one place which deserves more attention. It revolutionized the way we used to perceive the process of brewing coffee.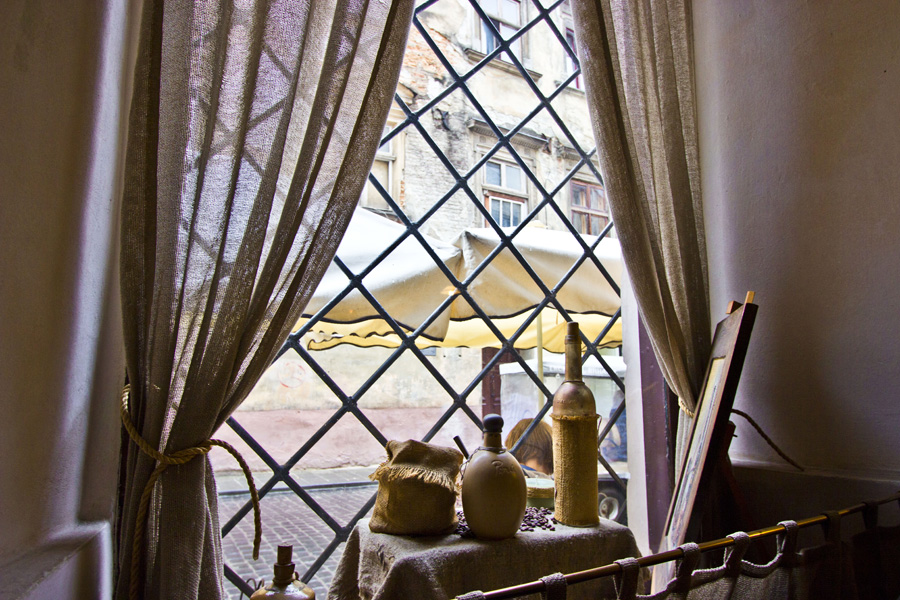 It's a small, inconspicuous Armenian cafe called Virmenka. It's decorated in the cosy old – fashioned style but the service seems to be irritated at the sight of customers, but that's not the point.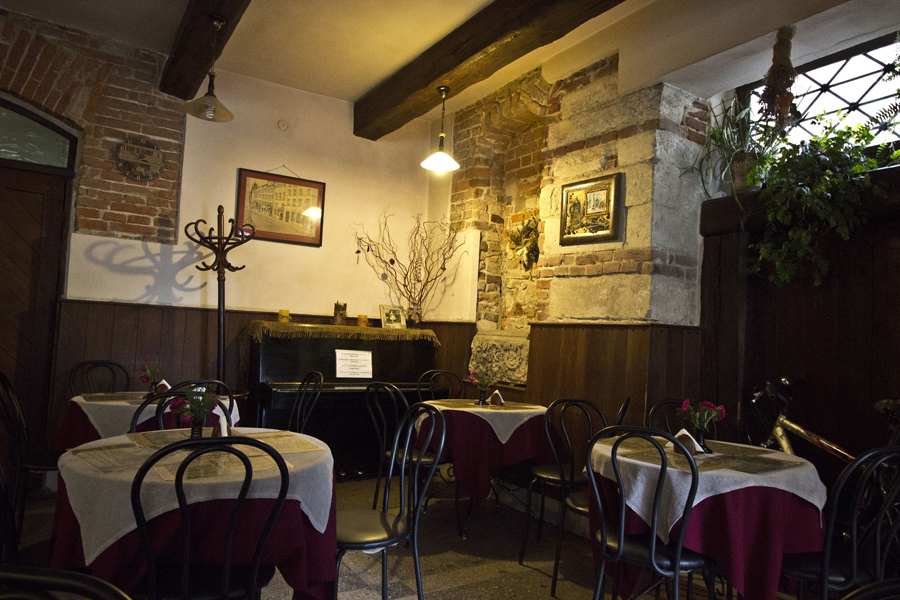 The amazing smell of coffee prepared here in a Turkish way, can hypnotize everyone. To brew it you need a special pot called cezve. What's interesting finely grated coffee grains (almost for a dust) are mixed with cold water. This mixture is poured only to the half of the cezve. Then it's placed in the special vessel filled with sand and placed on embers. It helps to keep an ideal temperature for brewing.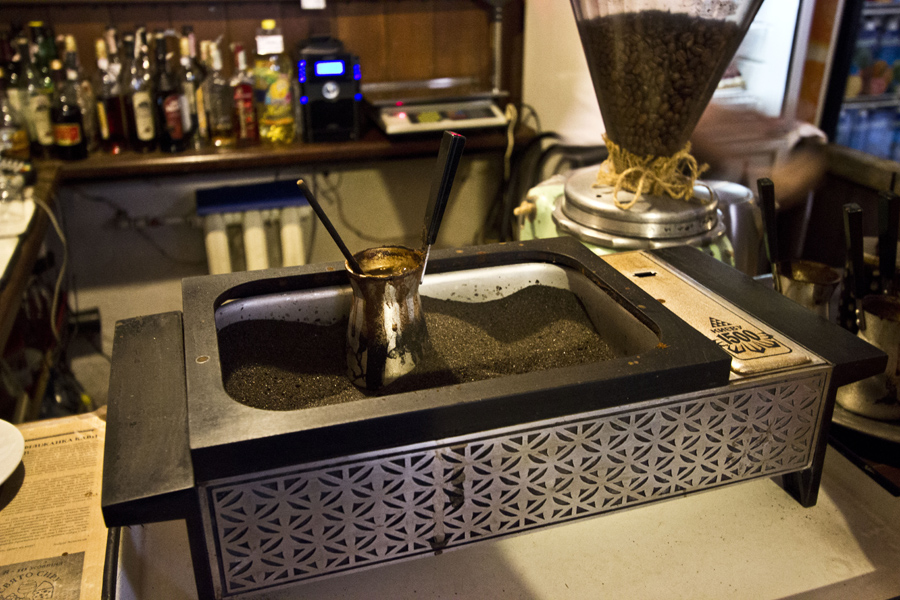 Preparing coffee in this way requires a lot of agility because during warming up the mixture starts frothing (froth is necessary to keep an inimitable aroma). If it's brewed too long it becomes bitter.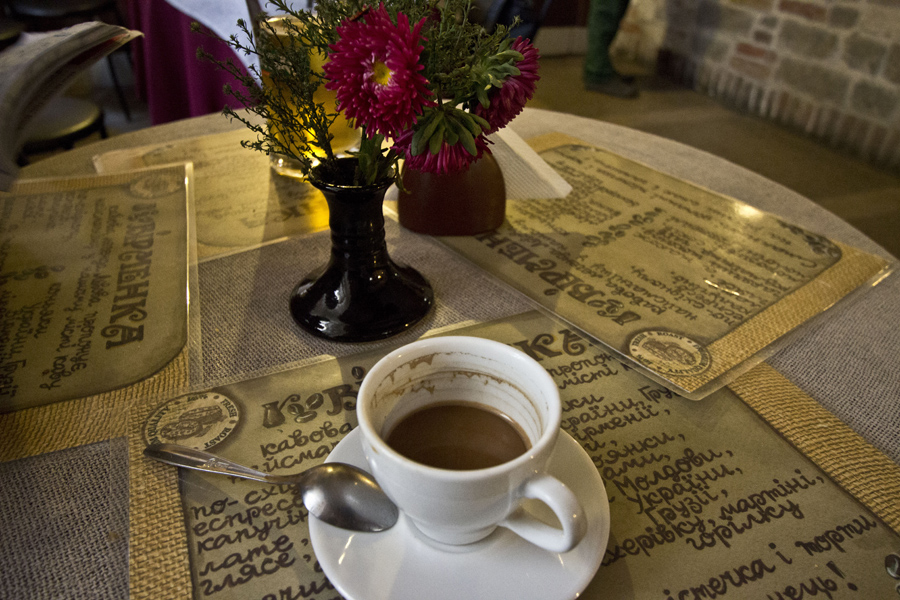 The effect is thick, essential coffee with unique intensive but also a mild taste. It was similar to coffee in Vietnam but without chocolate tang. What's more coffee in Viermanka is very cheap. It costs 15 – 25 UAH (aroun 1 $ or €). You don't belive it? Just take a look at the menu: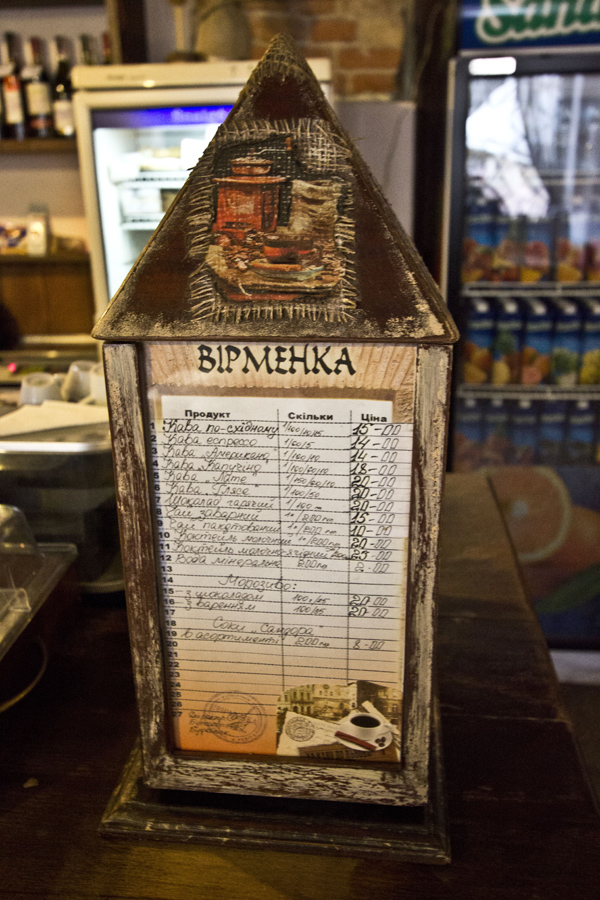 Another interesting place is Lviv Coffee Mining Manufacture, located in the Old Town Square, more precisely in the basement of Lubomirski Palace. It's the biggest café in Lviv, and in our opinion the most crowded.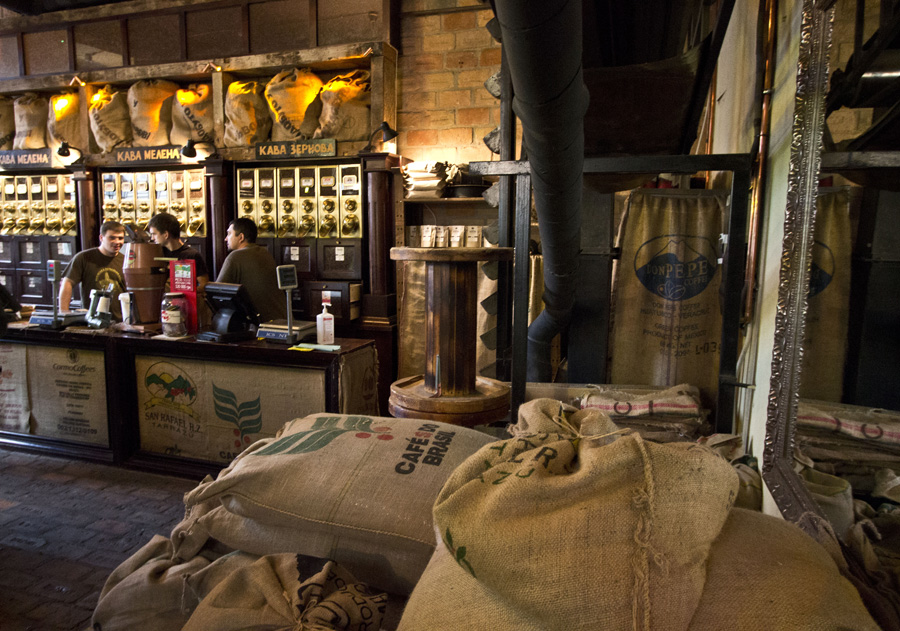 At the entrance everyone receives helmet and a torch which are necessary to explore the mine where coffee is excavated.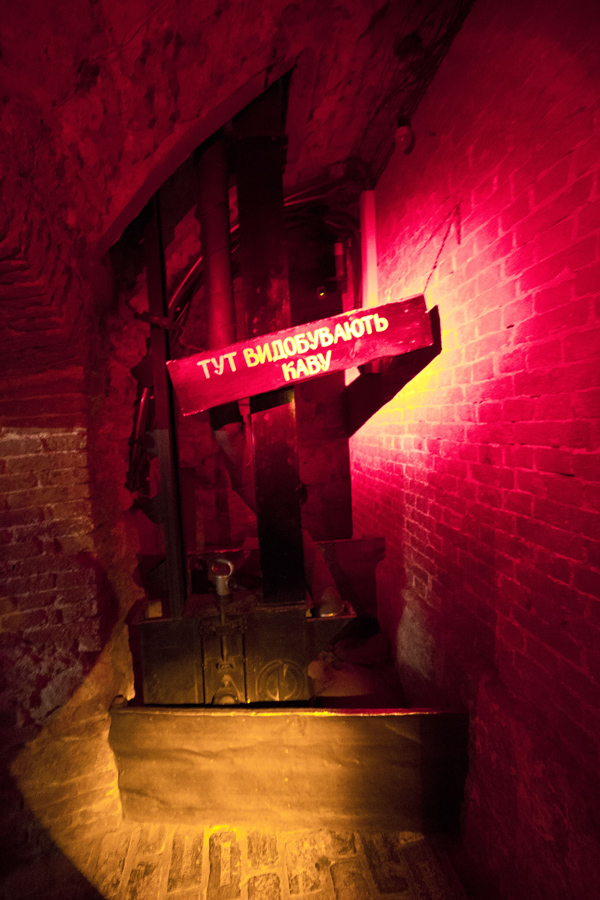 During sightseeing some people seemed to believe in the underground coffee origin but the rest was really amused.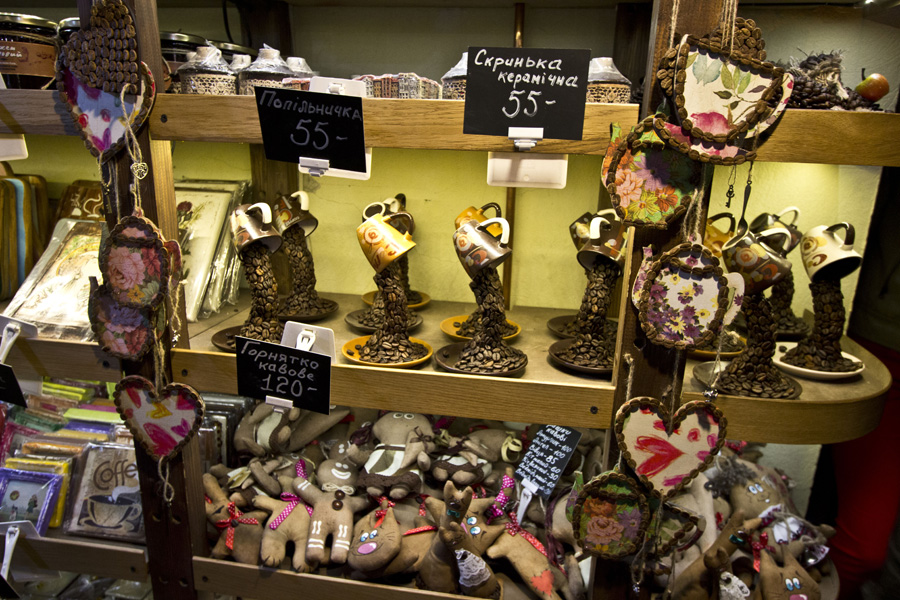 After delicious coffee it's time for chocolate. Lviv has been famous for perfect chocolate since 19th century. Ukraine chocolate products were highly valued in Europe.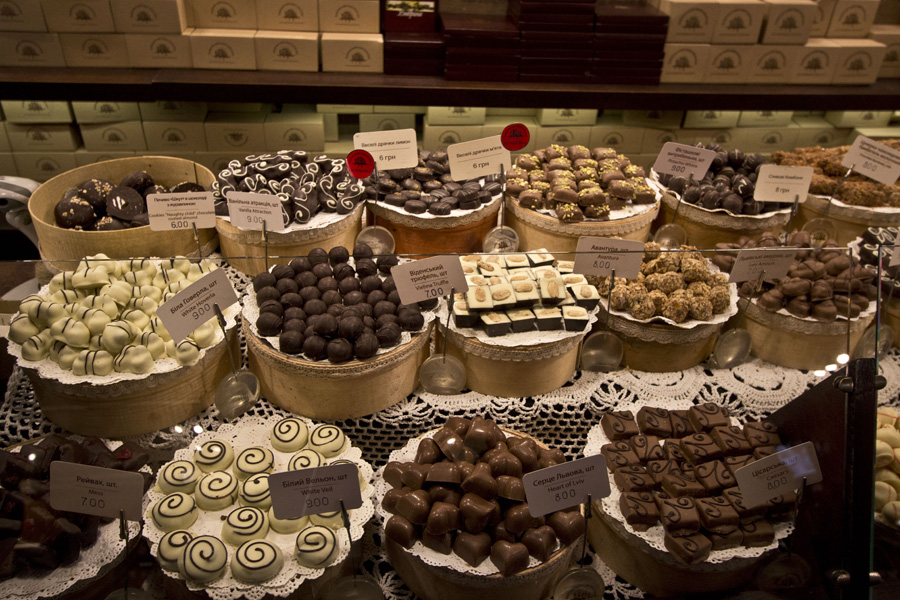 Delicious chocolate you can find in Chocolate Manufacture (Serbska 3 st.)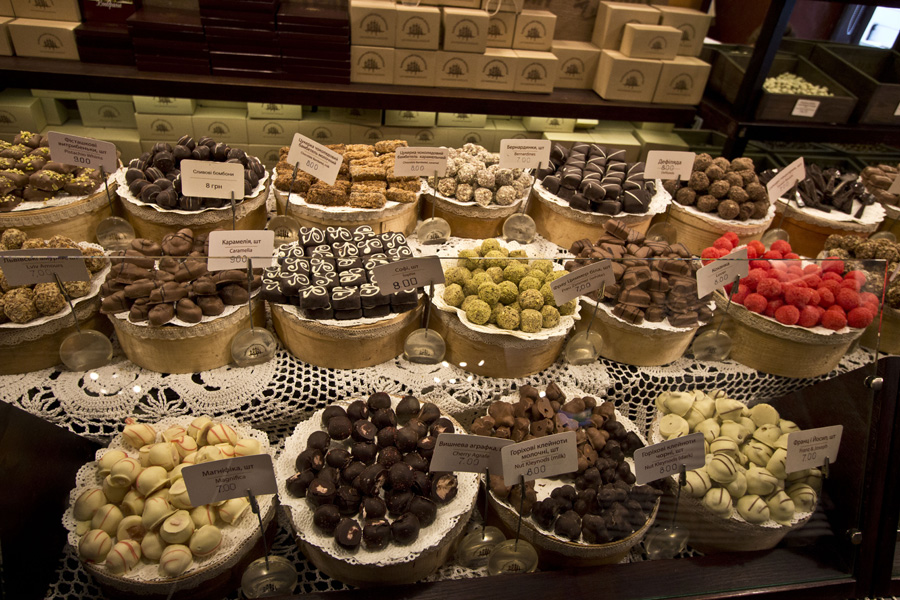 The trip starts just in front of the Manufacture in the exterior display. There you can see how chocolate is made.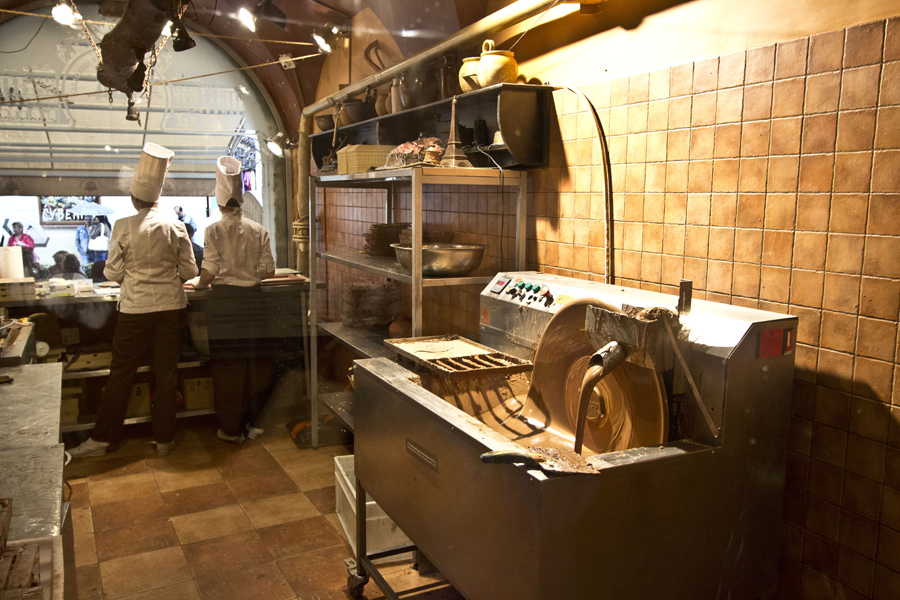 Inside a lot of confectionary masterpieces such as pralines, huge chocolate blocks and chocolate balls, bears or even high – heels are located in the 5 – floor building.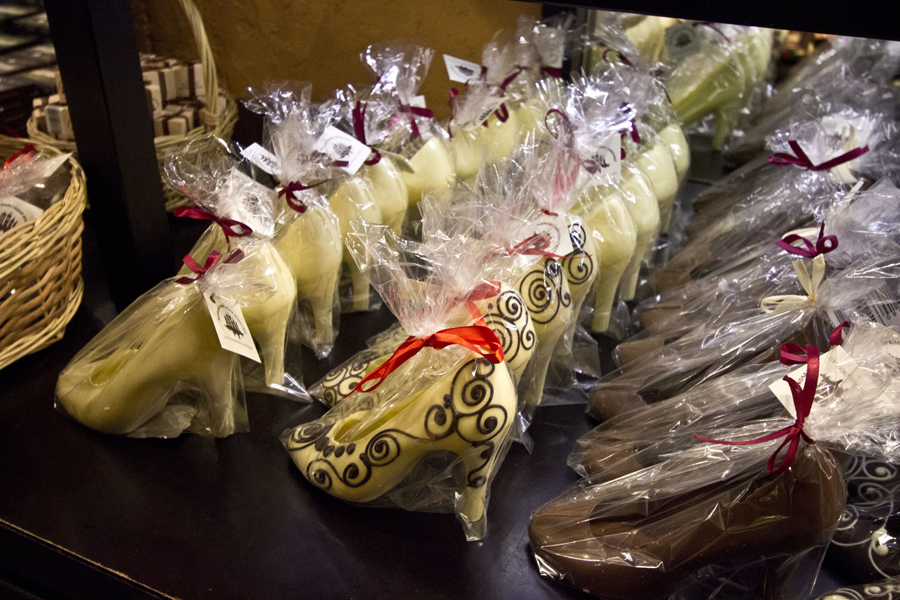 On the last floor there's a bar where you can sip delectable hot chocolate.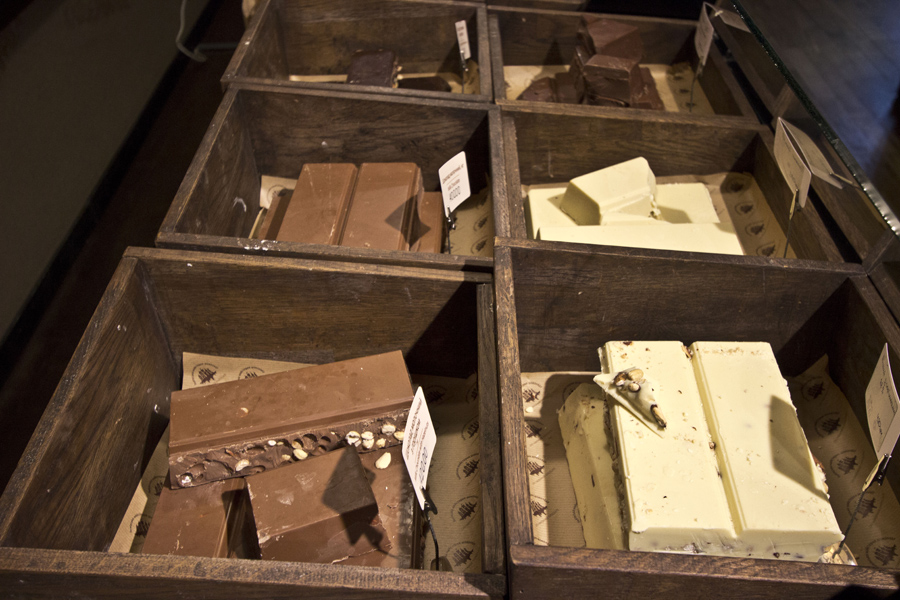 A trip to Lviv can't go without tasting a traditional strudel. The best are in the café called Lvivski Plyatski (Rynok 13 st.).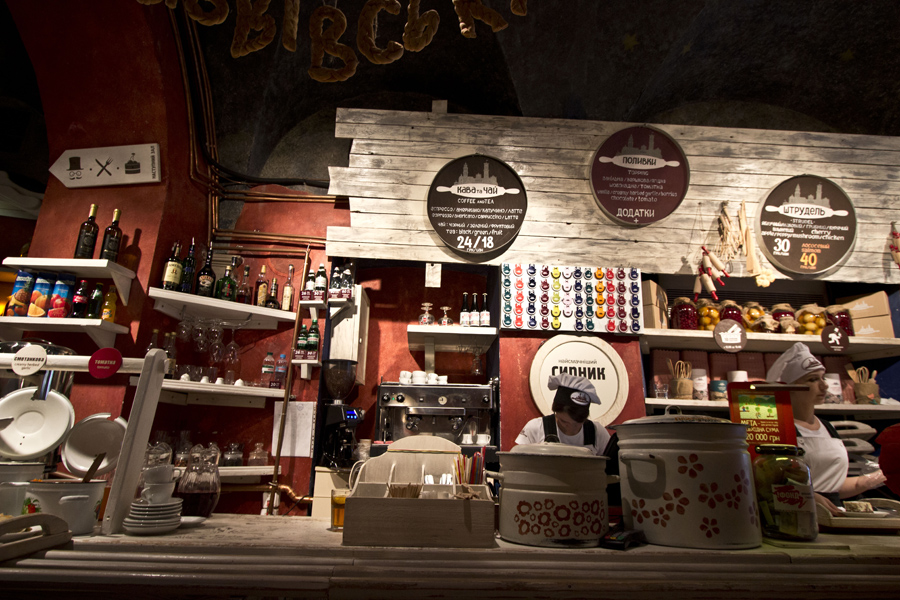 They're served hot in various combinations with cherries, poppy-seed, apples, chicken with mushrooms and salmon with spinach (cost 30-40 UAH aroun 1,5 $/€).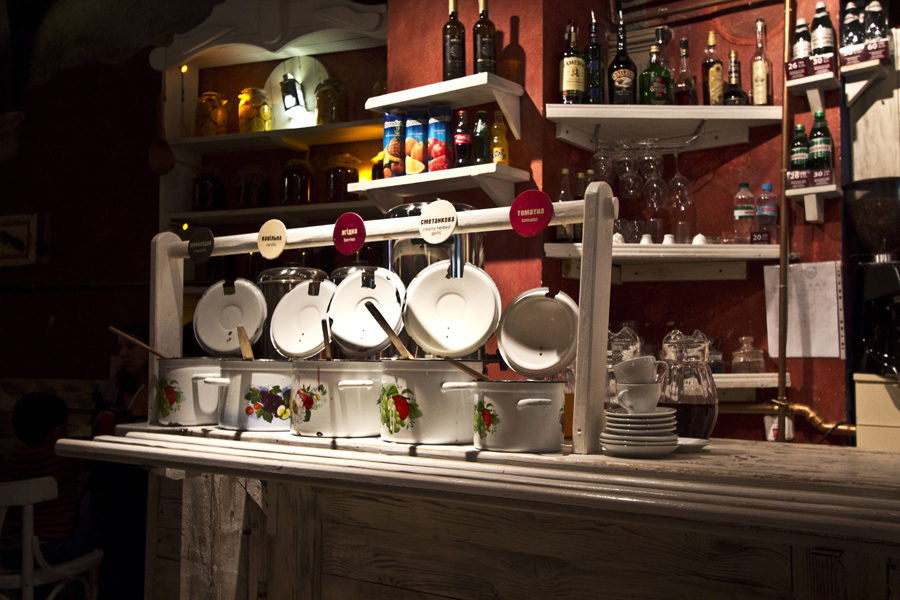 And this taste…. indescribable, you must go there and taste it.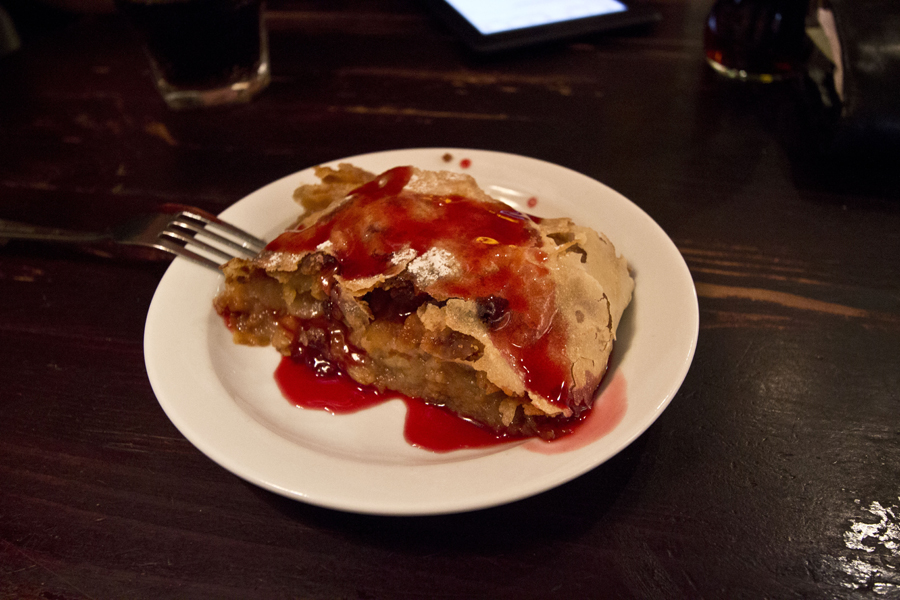 Lvivski Plyatski is also a very cozy place.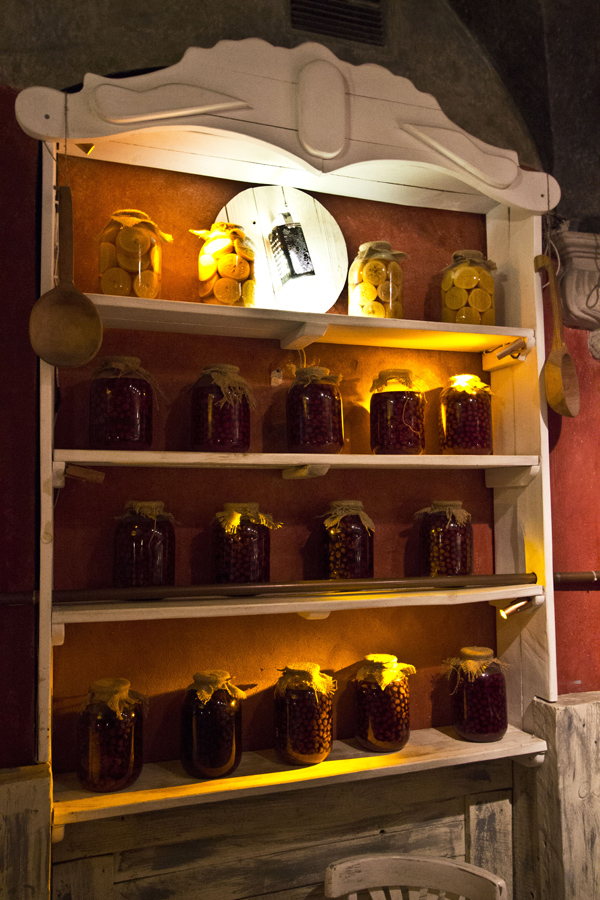 Accesories such as rolling pins, grinders and, shelves with preserves and lamps made of graters, decorate claret walls.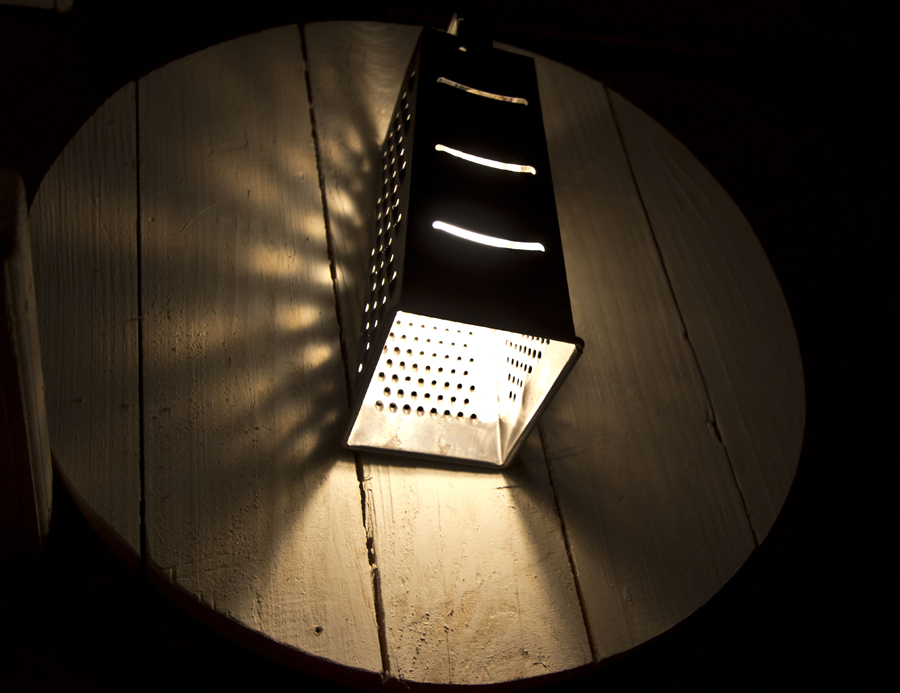 Who would have thought that Lviv is a paradise for coffee and chocolate– lovers? Only one day trip was enough for us to fell in love in it. The atmosphere of old buildings, narrow lanes, trams which run at the 5 km/h in view of contorted rails, homelike cafes with delightful coffee aroma, taste of chocolate or strudels can't be described even in the best tourist guide or blog J Let's find it out by yourselves!