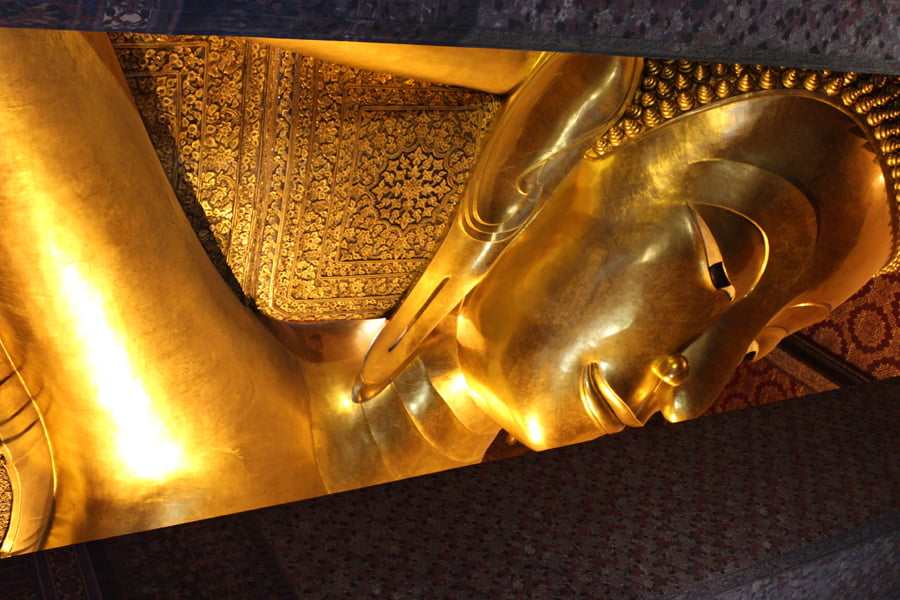 "One night in Bangkok and the world's your oyster" Murray Head sings about the capital of Thailand. In fact this place attracts like a magnet a lot of tourists who want to experience unforgettable night.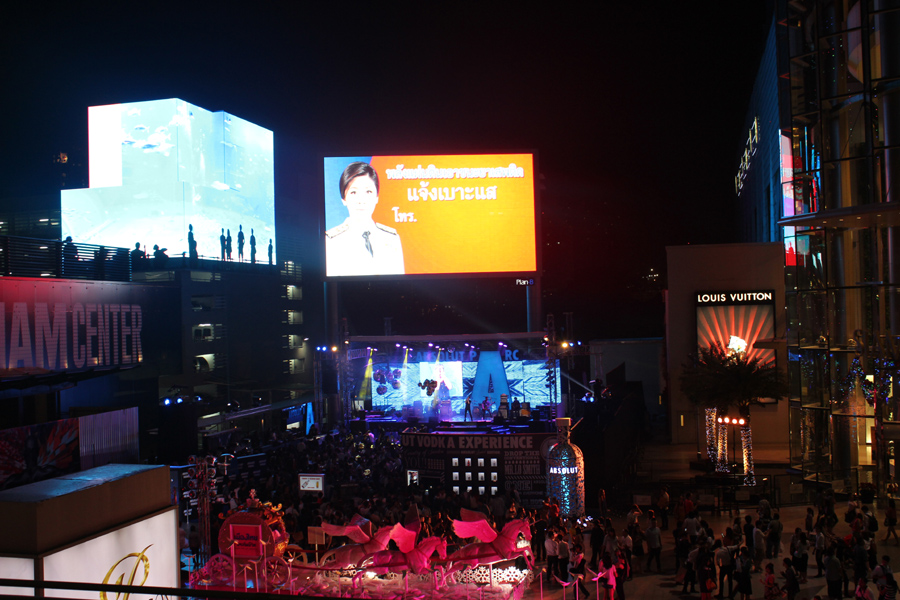 Famous district Pat Pong, illuminated by red lanterns, massage parlors (not only this traditional), ping pong shows or the sight of young, sometimes even juvenile Thais going arm in arm in the accompany of foreign tourists. Actually it's hard to judge equivocally who is supported, girls who barely standing on a mountainous heels or old chaps. In a word every possible taboo in this Buddhist country seems to be broken. On the other hand in this amazing and sometimes even shocking city is also the place for magnificent Buddhist temples, called wats.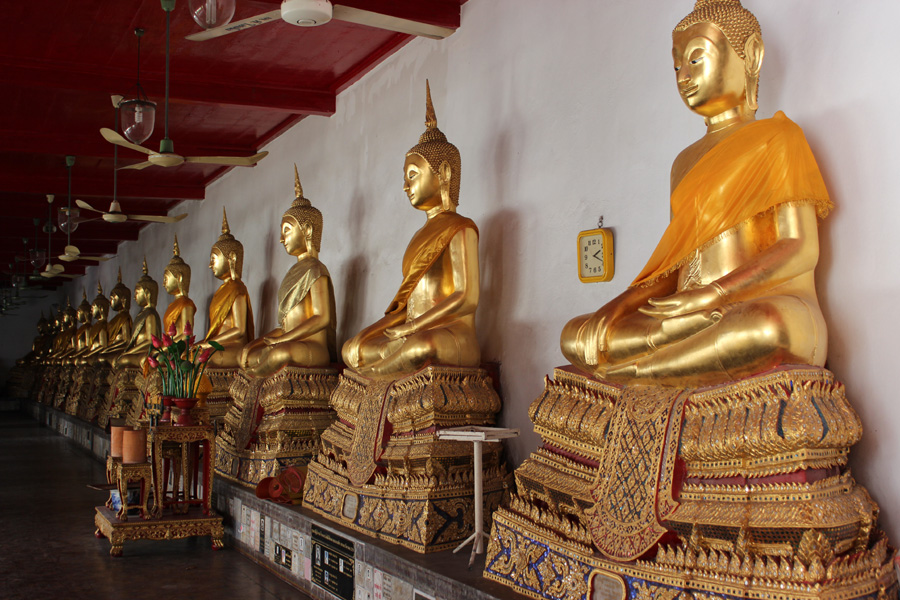 Wat is a sacred place where Buddha image is located. It refers also to other shrines, for instance the term wat chin – is used for a Chinese temples and wat farang – for Catholic churches.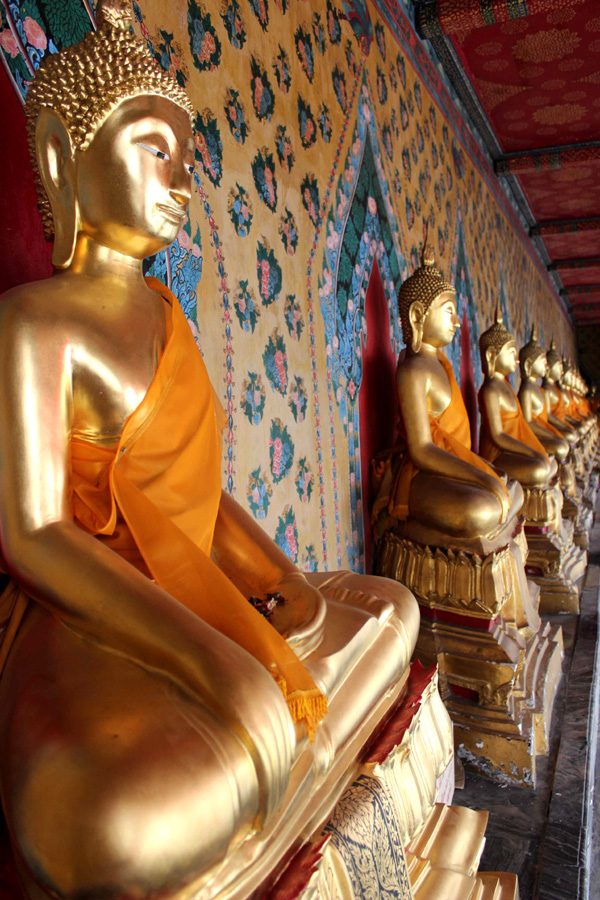 So what does farang mean? This term is used in the same way as gringo in Mexico. It means "white man" and applies to tourists.
Similarly to Bangkok streets, wats can be shocking for foreign tourists. The ambience there differs a lot form well known shrines.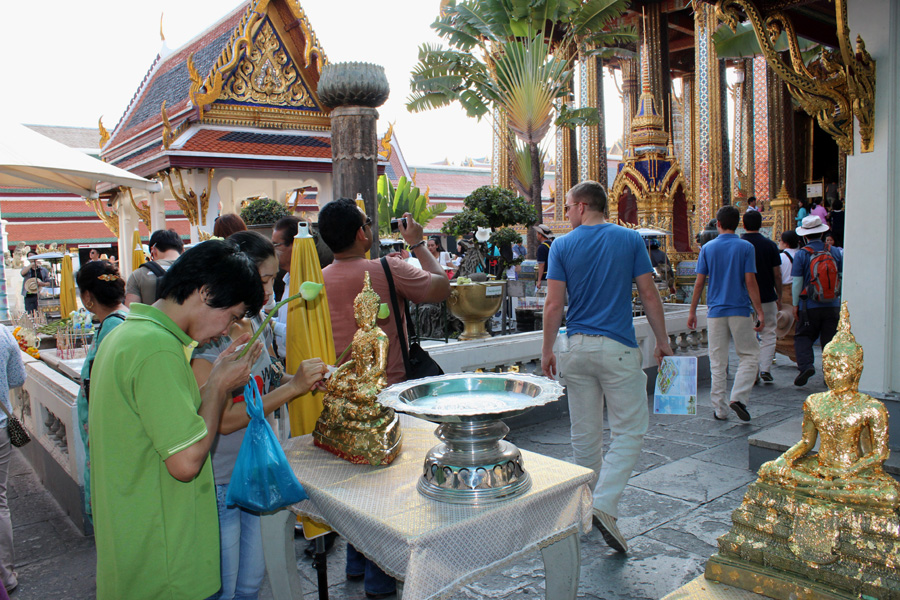 Even at the entrance, poor farang can be surprised. Before going inside the shoes must be taken off. This easy activity can lead to fa- reaching consequences when it's done automatically. Take our word for it, that finding own sandals in the pile of the same shoes probably made in the same factory, in such popular tourist spots is like looking for a needle in a haystack.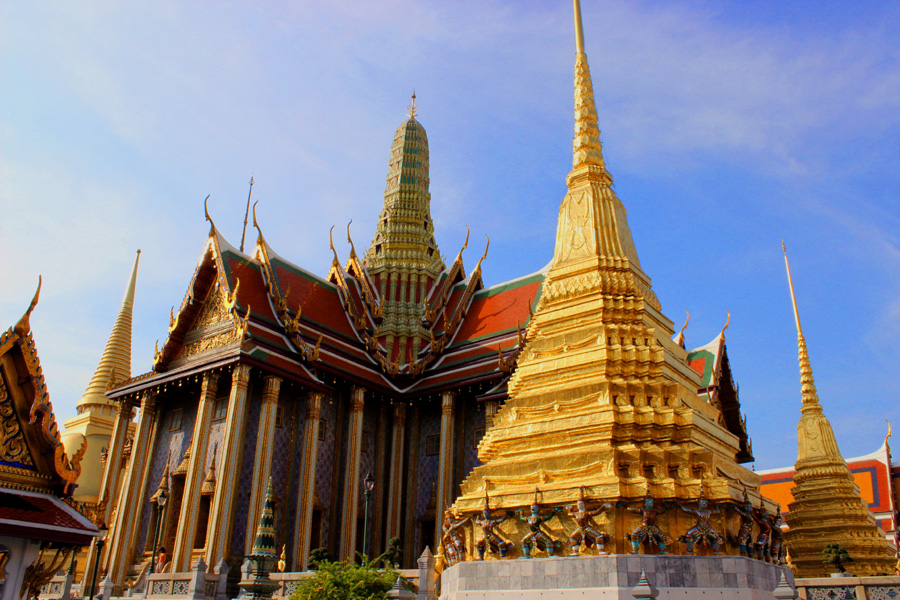 Another trap can be a threshold, located at the entrance to wat. If you don't want to disturb ghosts which live there is better not to stand on it but make a big leap above it.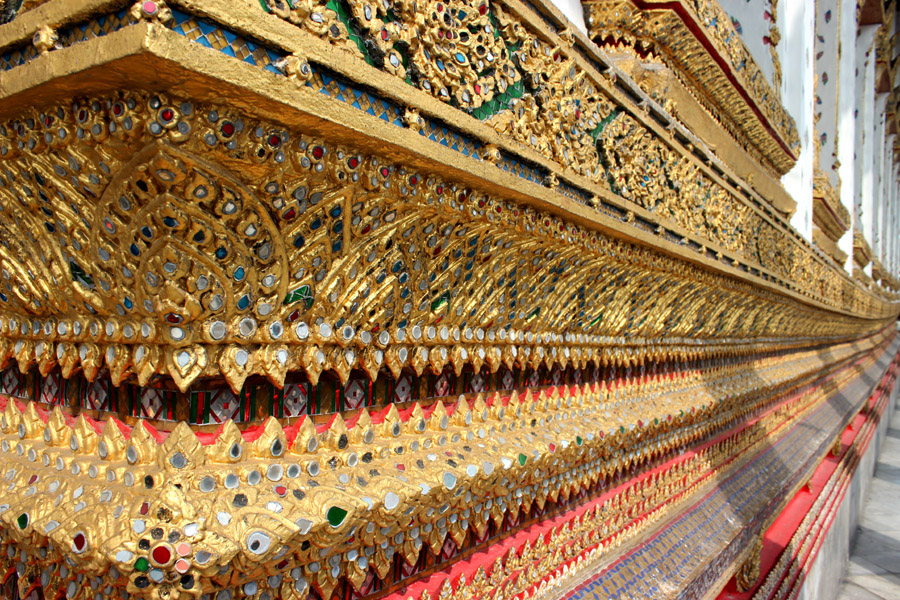 You would think that's the end, but unfortunately not. In view of the fact that there's no chairs or pews inside, everyone must sit on the floor. Here's another trap. If by chance our feet are directed towards Buddha statue or monk it will be perceived as a lack of respect or to make matters worse as a profanation of sacred place. Feet in Thai culture are regarded as unclean in contrast to head which is the place of the soul and the most important part of the body.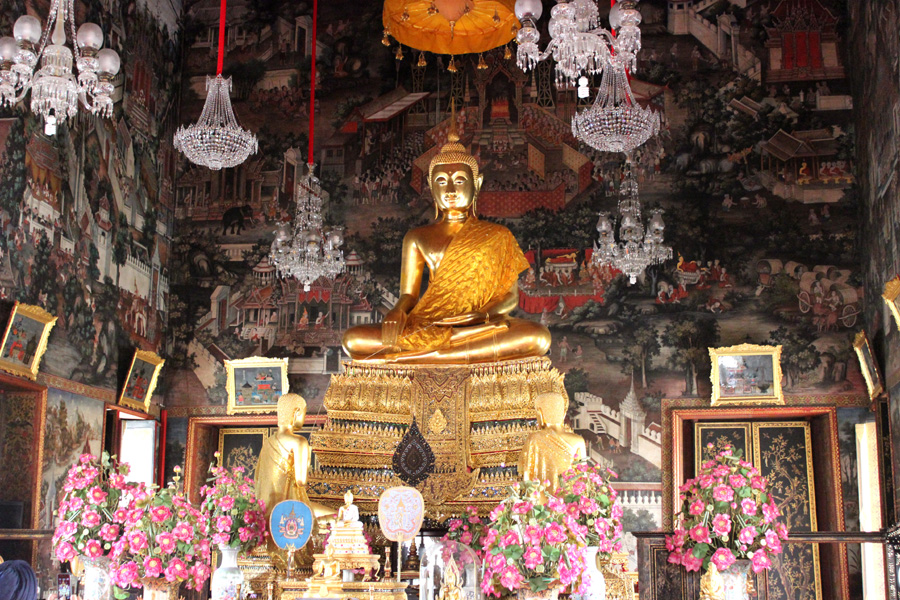 As we are at the head topic, it's the only part of the body which cannot be touched. Stroking even a child's head is forbidden.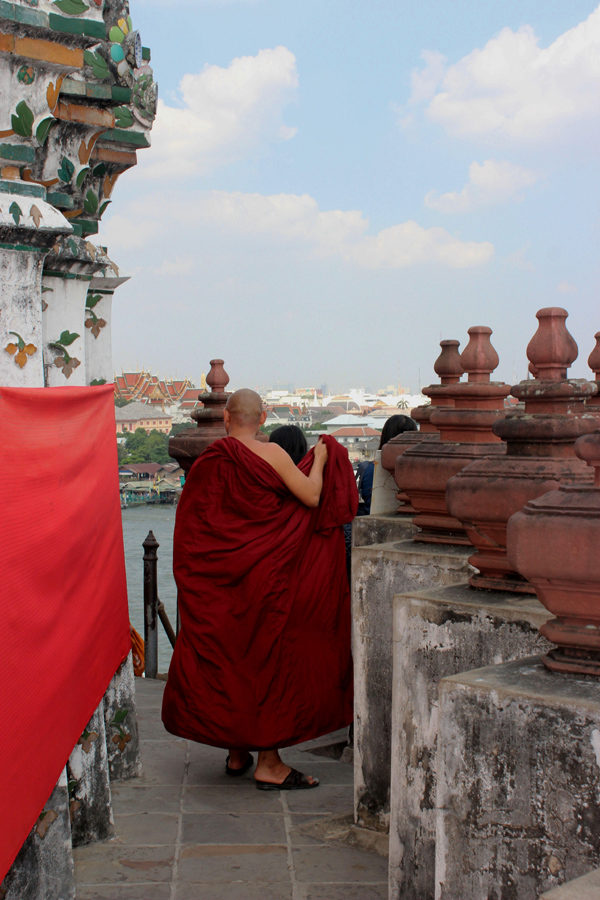 What's more what should we do we a monk appears on the horizon? If you're a man you have luck because apart from "head and foot rule" no other taboos apply to you. In the case of women is more complicated. Before all, they can't touch monks and their robes, sit together or even hand them alms. During visiting Buddhist shrines one can see monks who entwine sacred treads on women wrists but this activity must be also done without touching hands.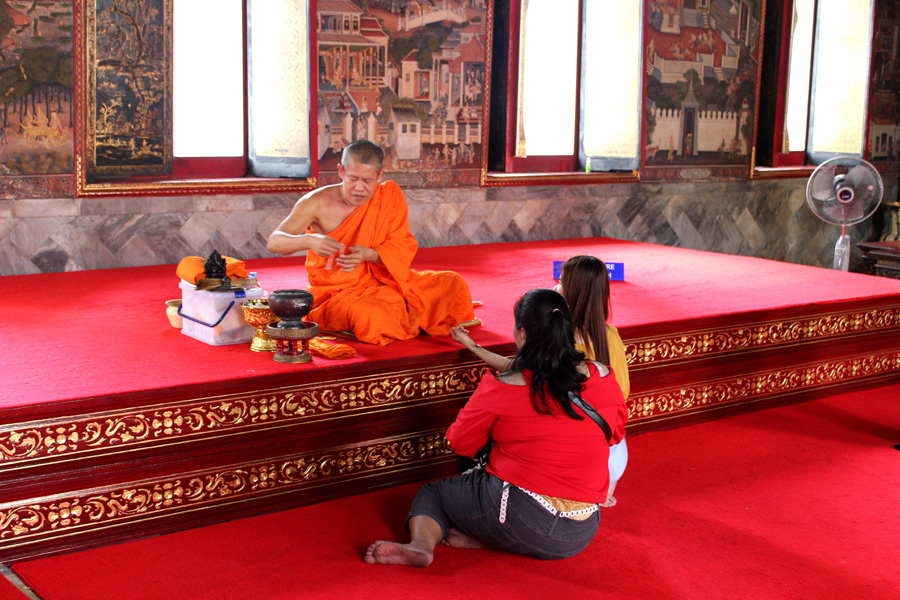 So that's the end of the Buddhist savoir vivre. Wats are besieged by thousands of tourists who often don't know how to behave there. In a away, Thais accustomed to farang's ignorance and even they sometimes seem to evade Buddhist rules. For instance some monks, known for ascetic life, use cellphones.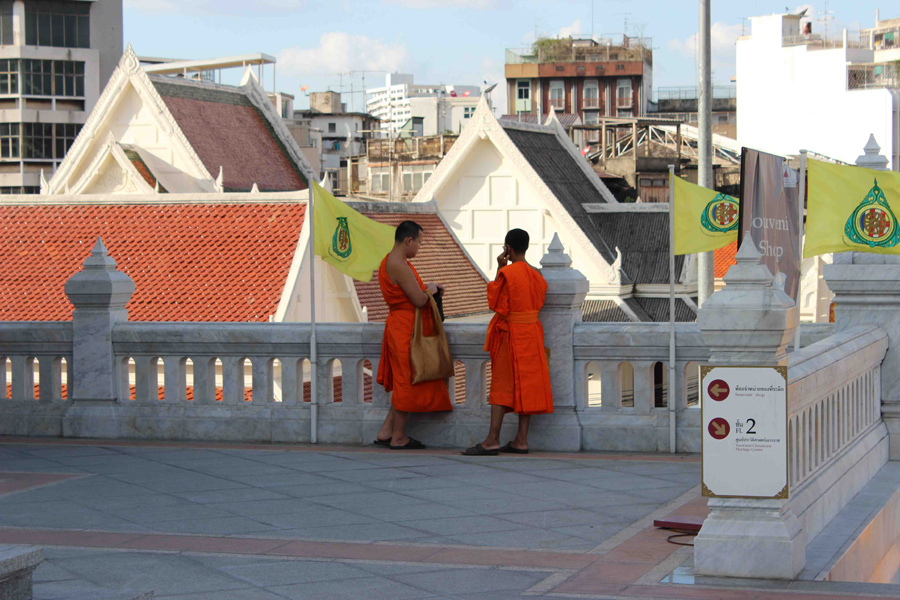 It doesn't change the fact that if we don't want to be perceived as ignorant, we should be familiar with these principles.
So where in Bangkok this knowledge can be helpful?
The most important and beautiful is Wat Phra Kaew – The Temple of the Emerald Buddha.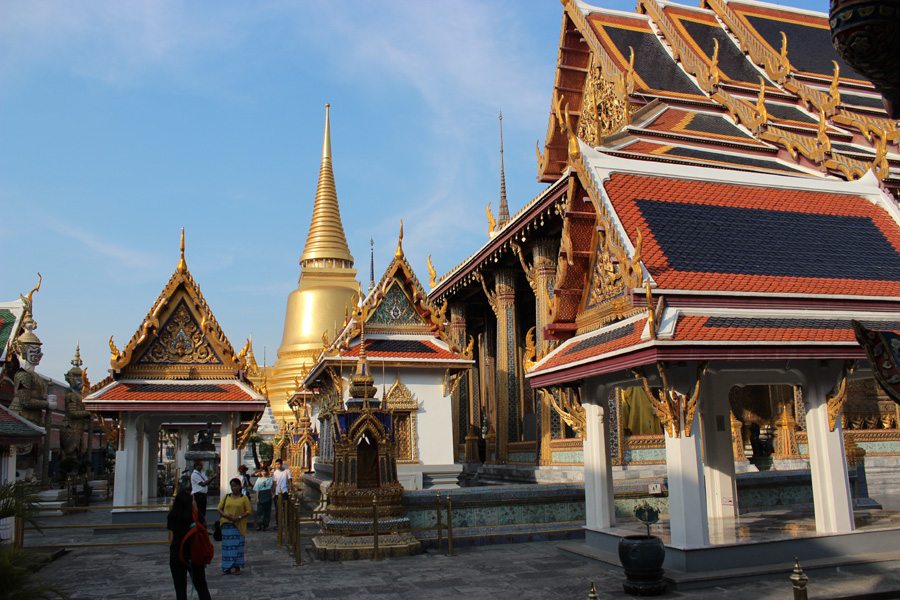 It's a compound of sacred and profane buildings built in 18th century. Just after passing the gate one can enter to a fabulous world. Colorful mosaics, pagodas and elaborated shrines dazzle by the amount of gold and color palette.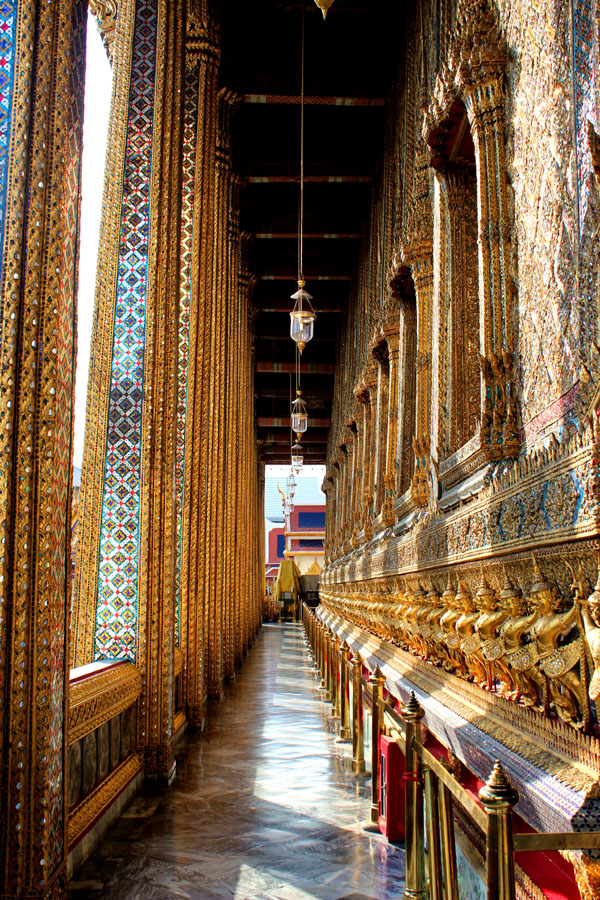 In the main shrine you can see the statue of the Emerald Buddha – the symbol of Thailand independence.
The statue is rather small, it measures 3,2 ft. and additionally it isn't made of emerald but jade. Buddha is dressed in robes which are chosen accordingly to the current season. Every changing of the garment is connected with a special ceremony presided by the king who is the only person entitled to do it.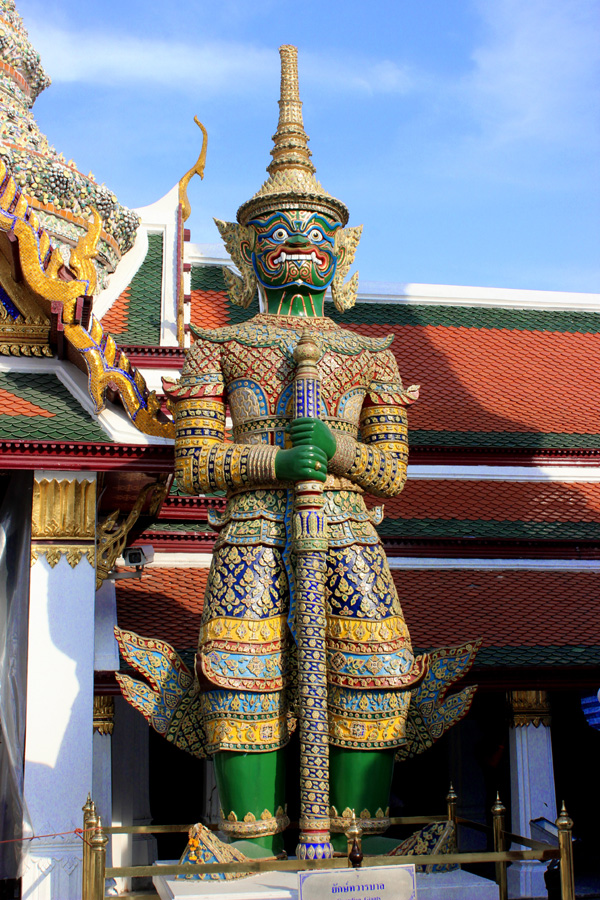 The entrance to the shrine is guarded by mythological giants (demons). There's also the replica of Angkor Wat – famous Cambodian temple.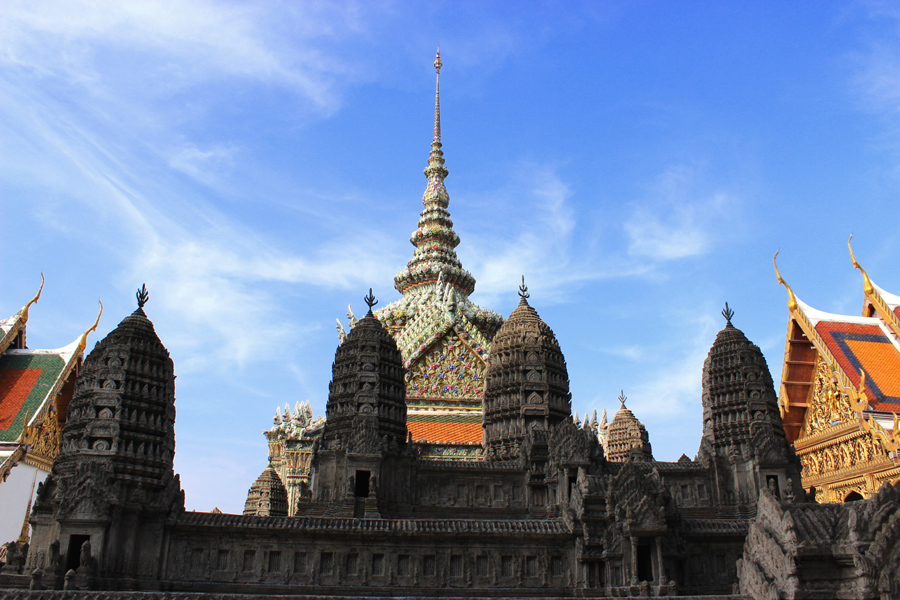 According to popular belief, Buddha's relics are placed in the gold stupa called Phra Rattana Chedi.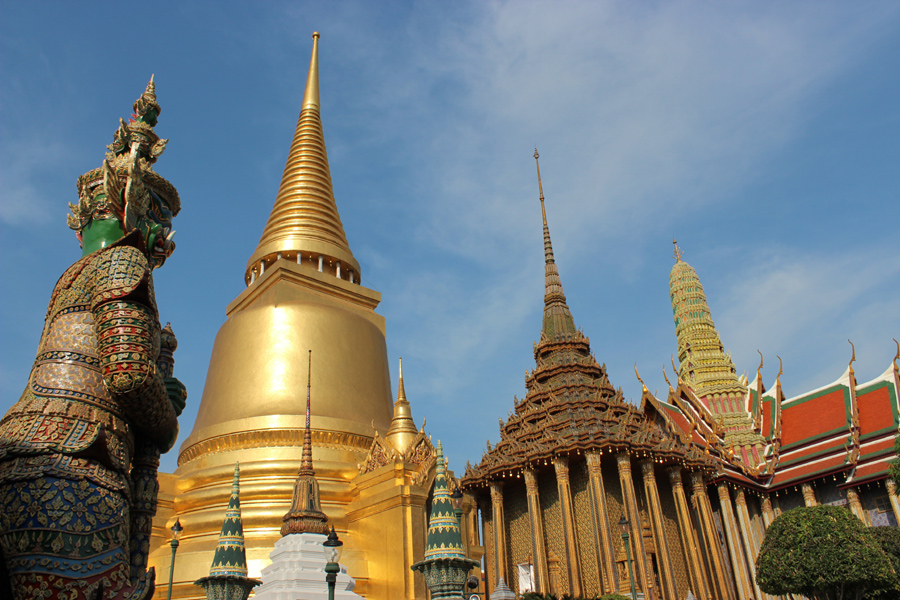 There's also the Grand Palace, where the king used to live.
Around Wat Phra Kaew you can see the statues of white elephants which symbolize independence and strength.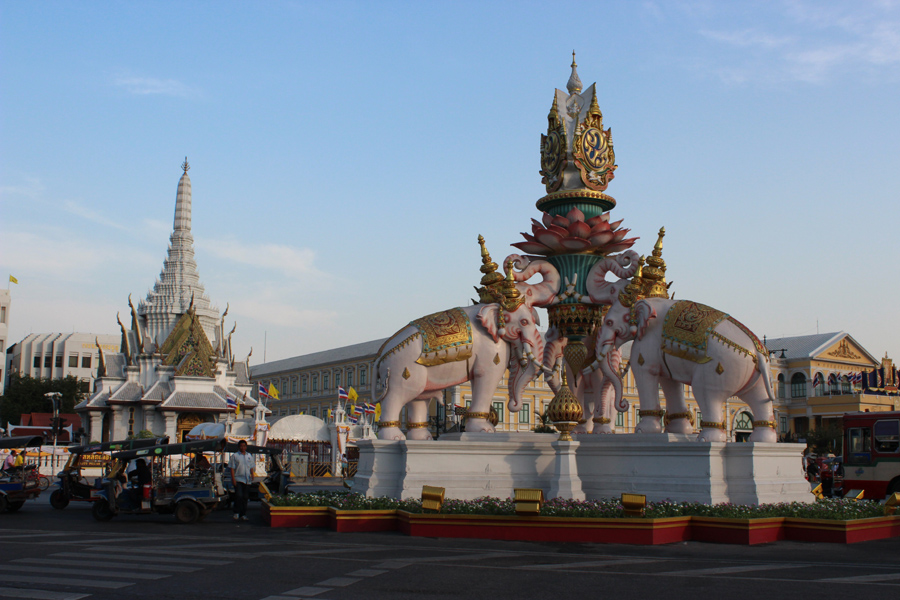 Just across the river Chao Phraya is Wat Arun Ratchawararam Ratchawaramahawihan, for short Wat Arun.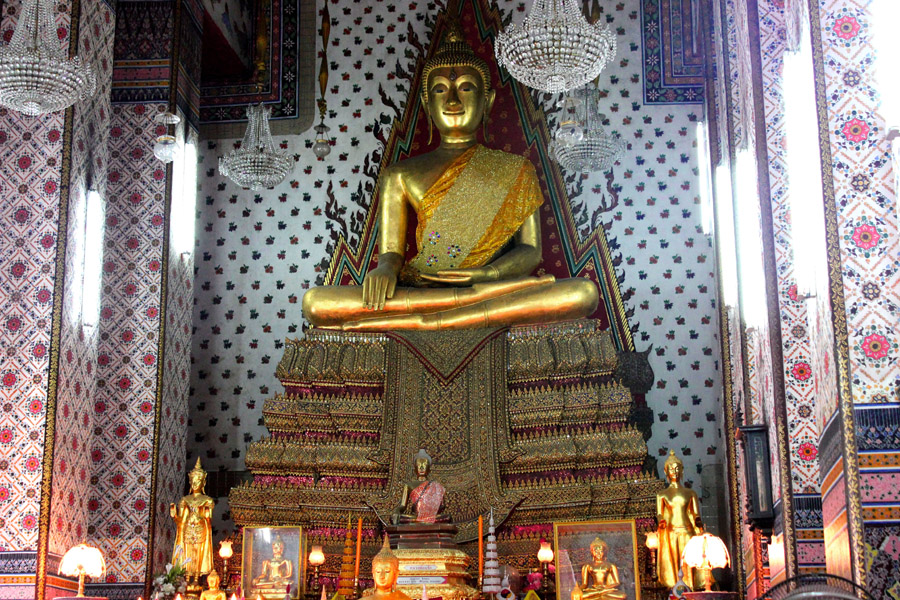 It's the symbol of Thailand, well known from amazing photos taken during dawn and sunset. The main point of the shrine is a prang – high tower decorated with seashells, colorful Chinese porcelain (which was used as a ballast for the boats which cruised from China to Bangkok) glittering in all shades in the sunbeams.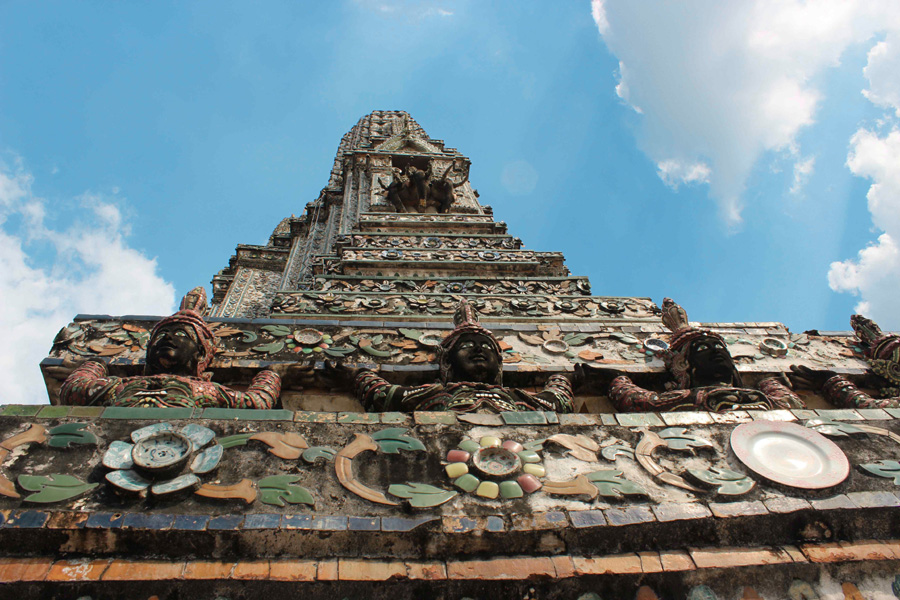 Steep steps lead to its top from where you can see a beautiful view of the Bangkok and nearby Wat Phra Kaew.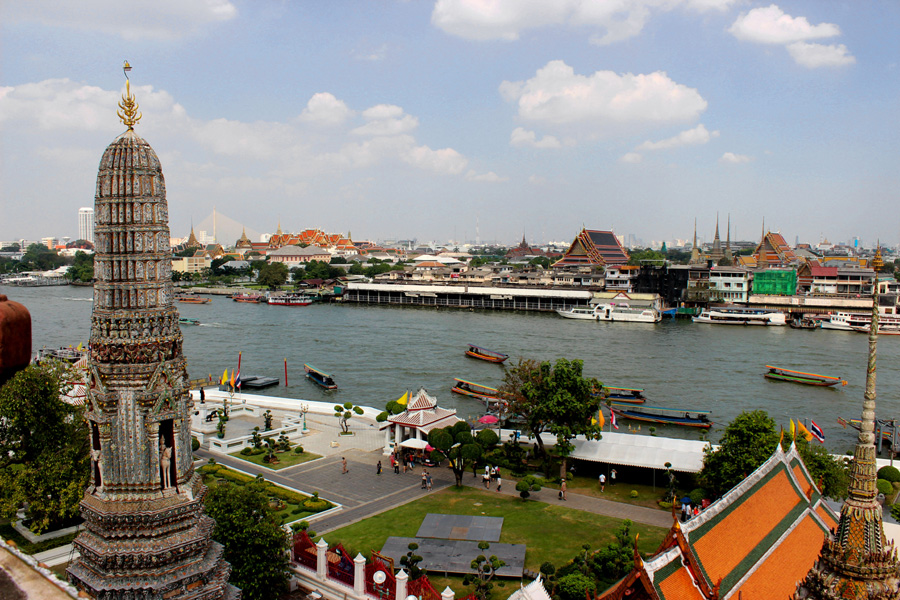 Another beautiful wat called The Temple of the Reclining Buddha (Wat Pho) is located close to the Wat Phra Kaew. It's one of the oldest and the biggest in Bangkok.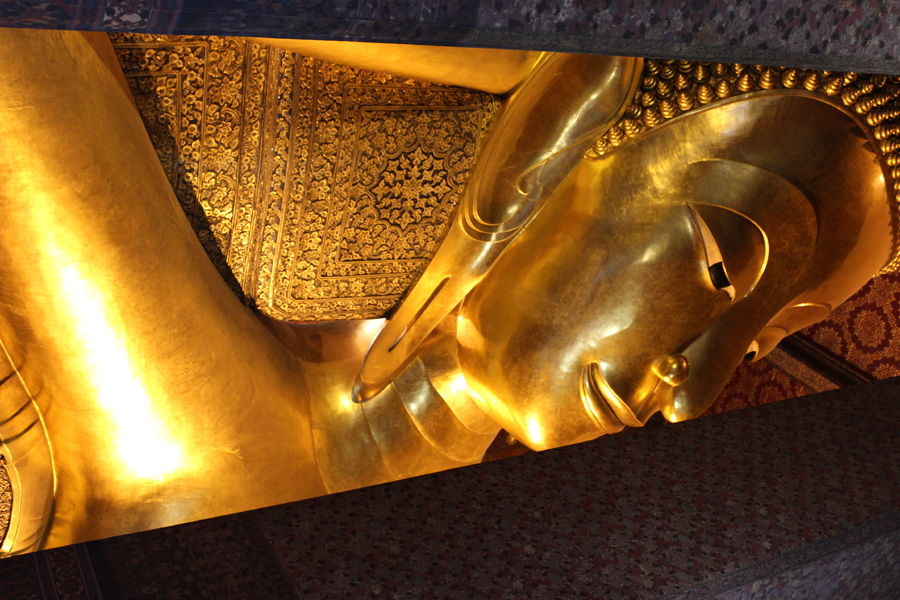 Similarly to Wat Arun, it's decorated with a mosaic made of Chinese porcelain.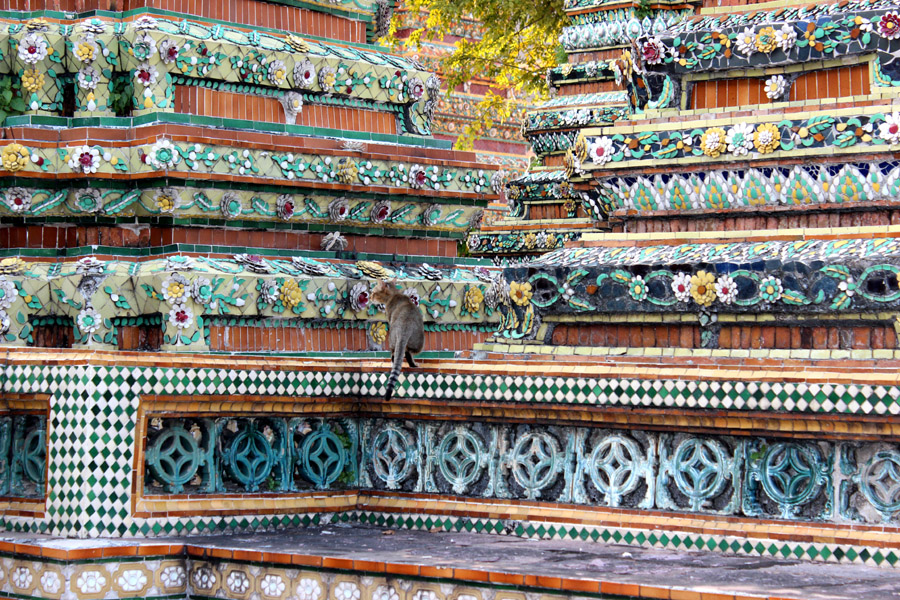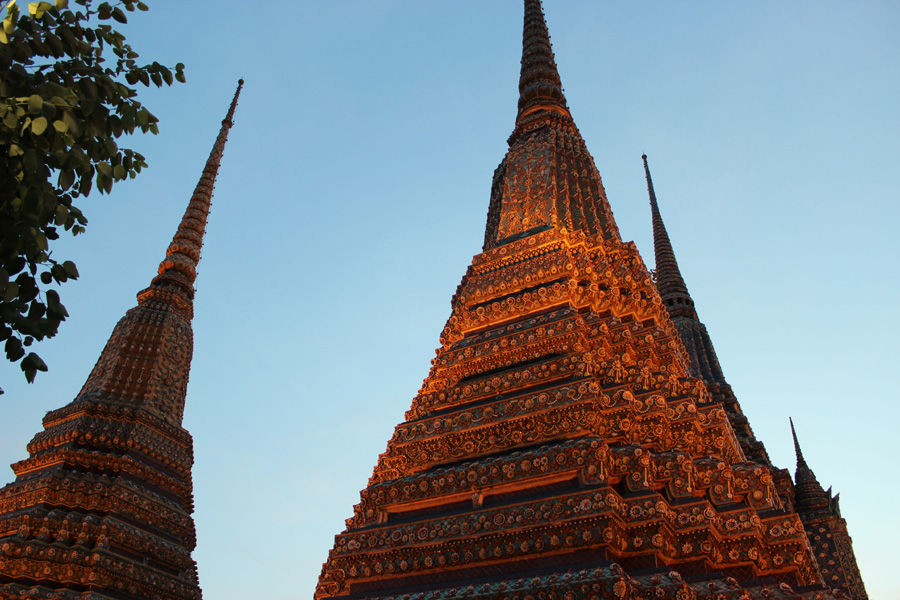 Inside you can find a statue of the reclining Buddha in the state of nirvana. It's 150 ft. long and 50 ft. wide. His feet are 9 ft. high and 16 ft. long.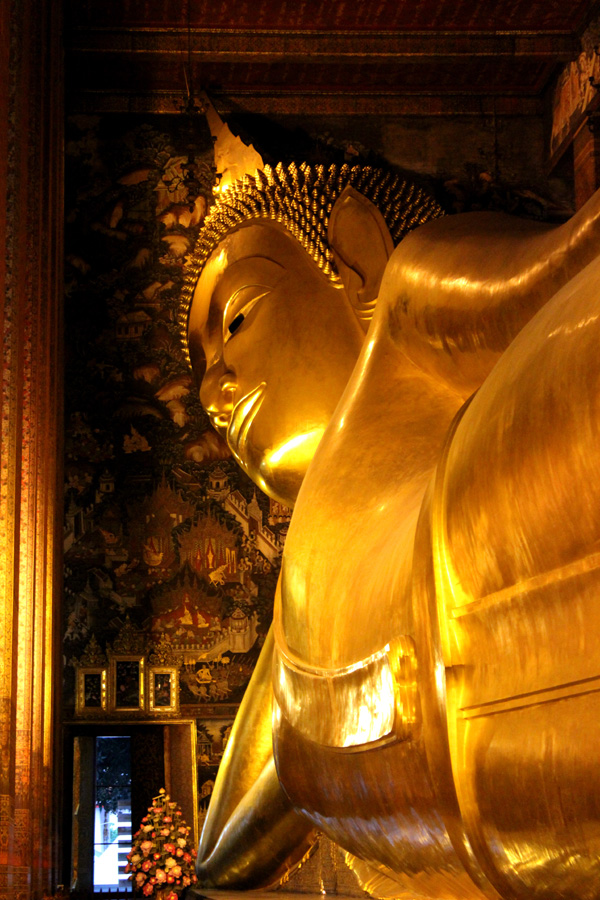 They're made of mother-of-pearl and decorated with Chakra – energy points in the body.