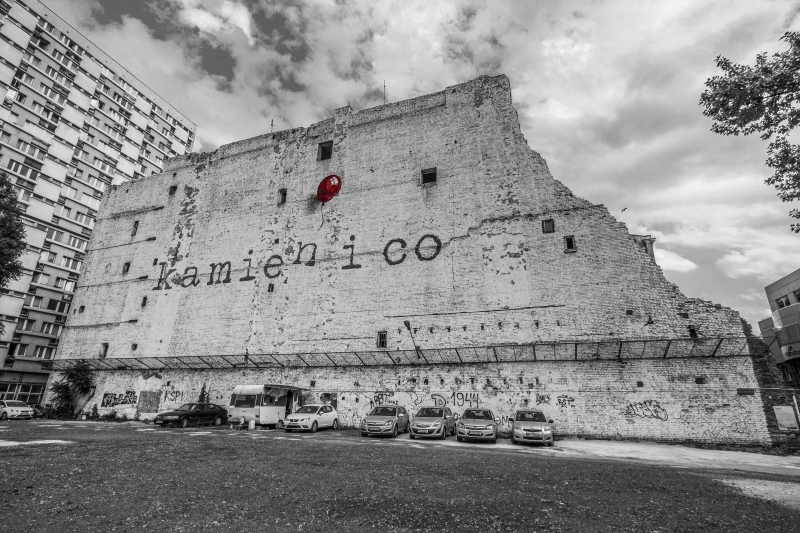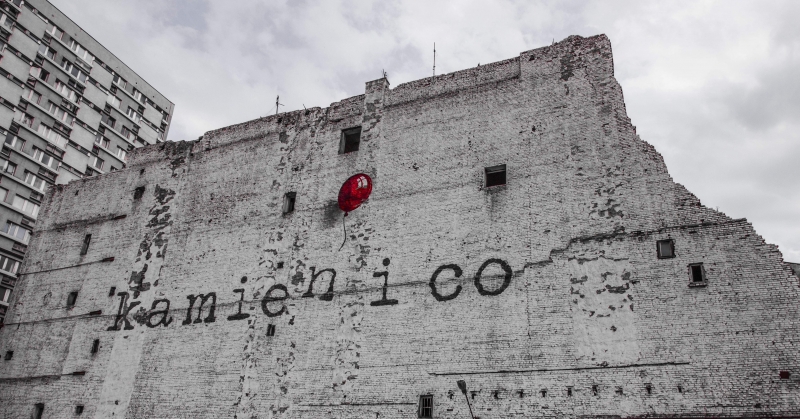 Warsaw keeps surprising me everyday. It's nice to see how it transforms into modern metropolis which in my humble opininion can compete with other famous European capitals. This modernity relies not only on urban infrastructure development but also on public space diversification. Street art is one of these components which create city atmosphere.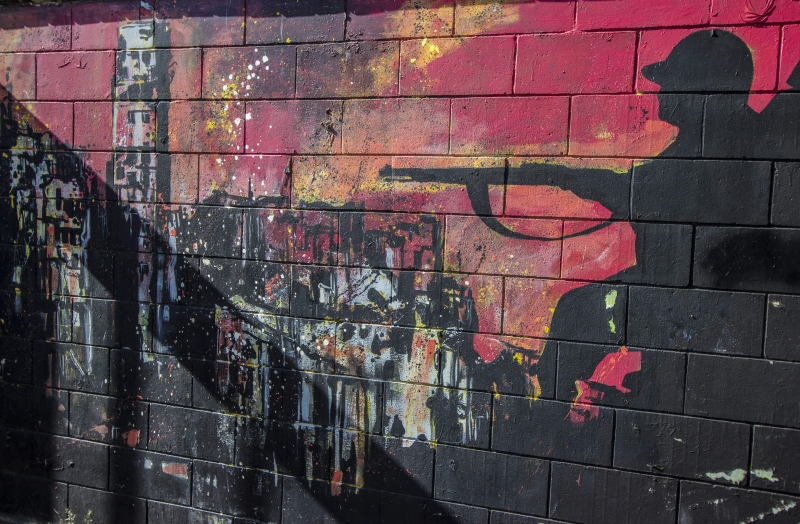 Interesting murals can be found in various places in Warsaw such as gates or walls. What's more, they aren't only art for art's sake but also they present an alternative and interesting way of depicting Warsaw history and people who lived here. The best way to see this uniqe pices of art is a bike tour, just take a look!
Stop 1: Kasprowicza 59
On the wall of the building one can see a mural presenting bear and rooster/cock. This sweet picture has covered previous controversial image of a red creature in a crown, strolling along the buildings roofs with the inscription: "Zbyniu don't go this way".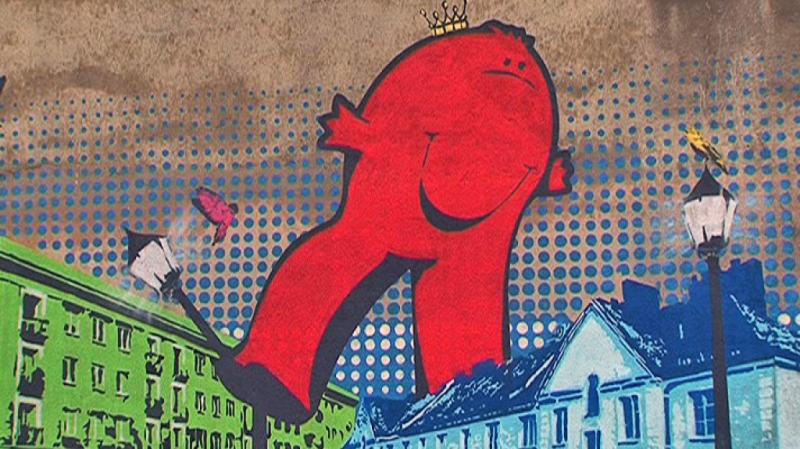 The archetype of this figure was a mayor of Bielany (District of Warsaw) – Zbigniew Dubiel who decided to build here an apartment complex regardless of residents' protests. As you can see, mural which had been made by residents turned out to be a perfect argument in discussion. Current work is somewhat a symbol of reconciliation.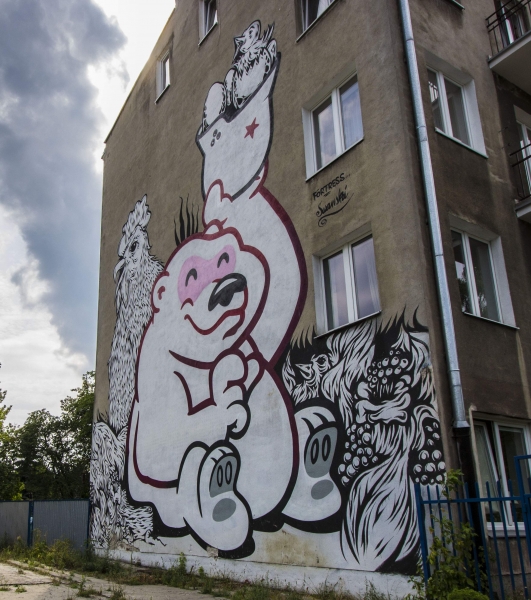 Stop 2: Aleja Zjednoczenia 15
The bear is not the only one fabulous character in Old Bielany.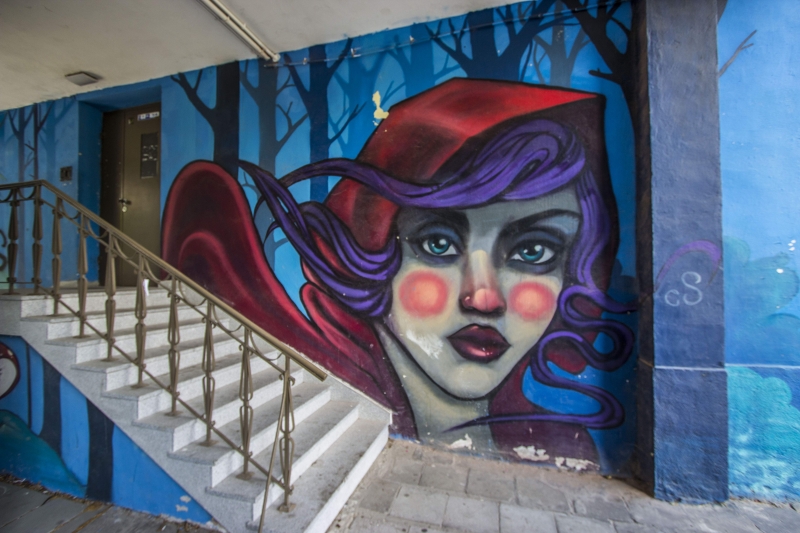 Passageway at the Aleja Zjednczenia 15 carries to a fairy – tale world.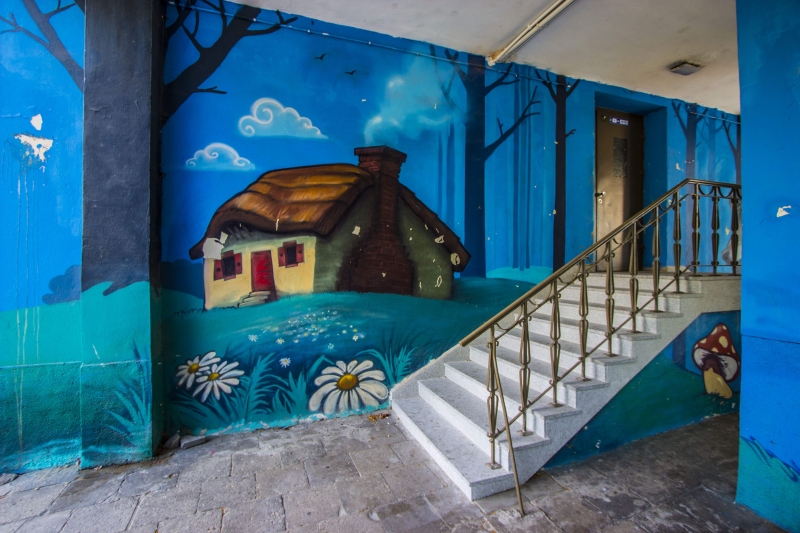 Depressing and ugly corridor was decorated with fabulous characters: Little Red Riding Hood and the wolf.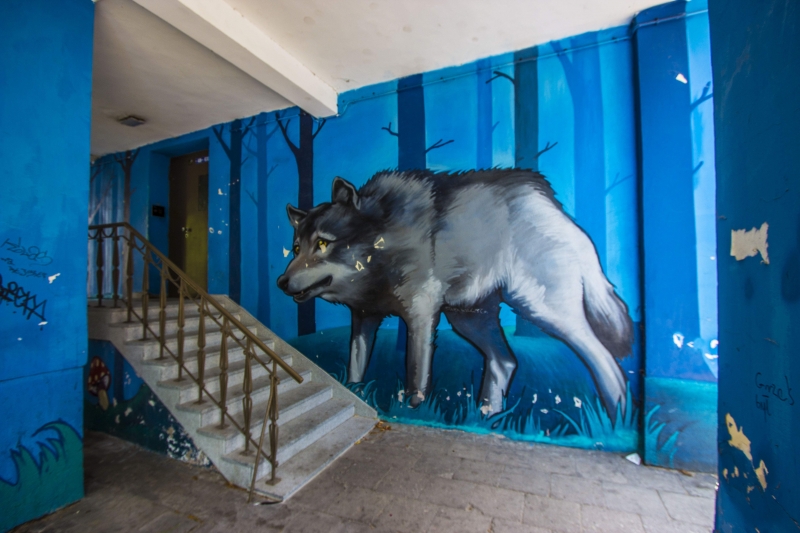 Stop 3: Koźmiana 6
You can spot such a picture in the picturesque Kępa Potocka: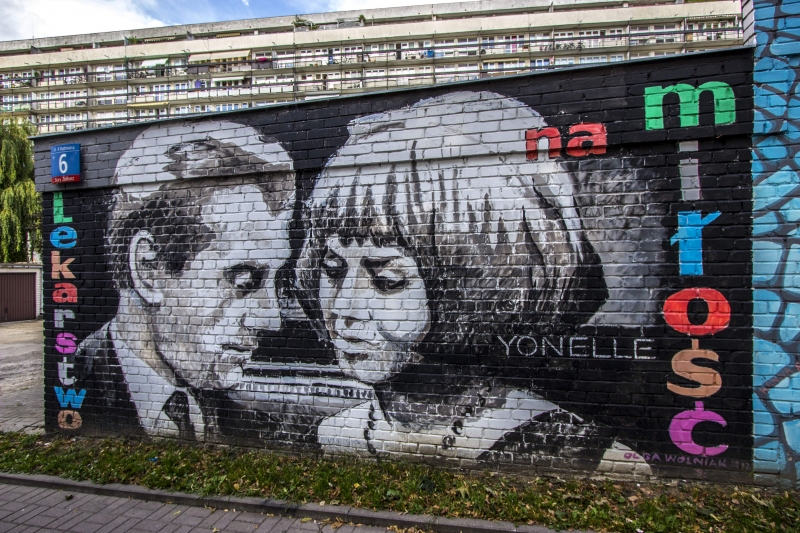 Stop: 4 Andersa 27
The gate of the building is decorated with a mural presenting colorful crayons. Nothing indicates here, that this work was in fact made in memory of Janusz Korczak. When you go inside you can see this famous educationalist's quotes:
"Tell a child that he is good, that he can"
and
"When a child smiles, all world smiles"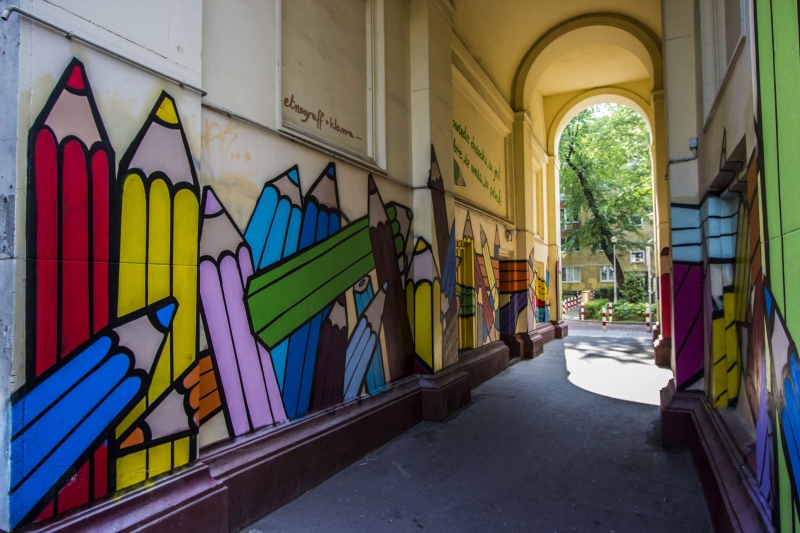 Stop 5: Nowlipki 2a
A little bit farther from "the pencil box gate" is one of my favorite murals, so called "international gate". This work presents women representing various cultures. This is a symbol of the Warsaw cosmopolitan character.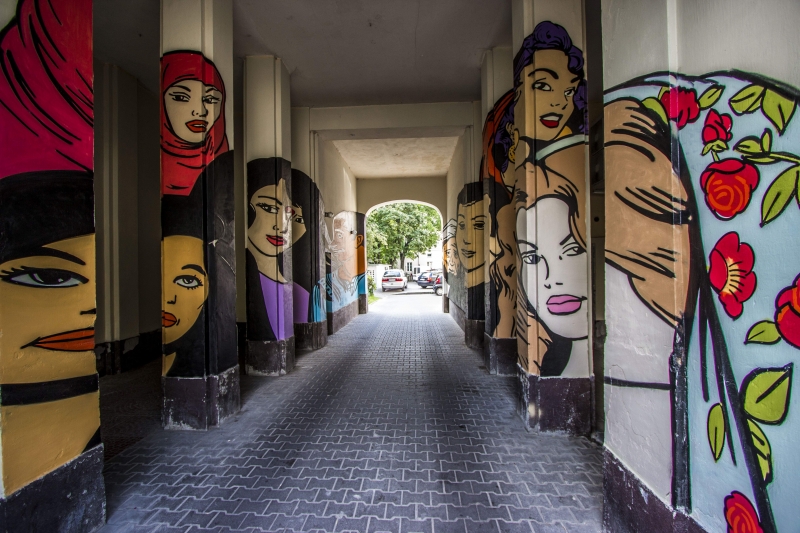 Stop 6: Nowolipki 9B
At Nowolipki 2B street you can see a group of musicians.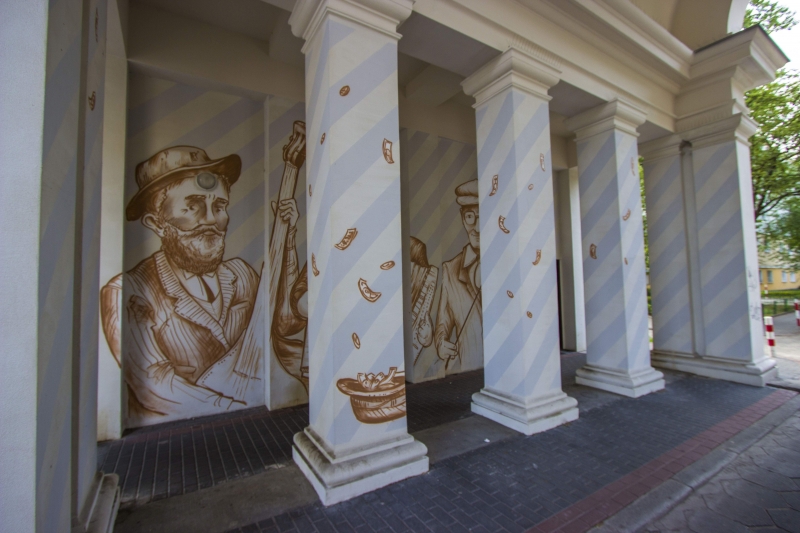 Stop 7: Aleja Solidarności 78
The mural located in the gate of the building, presents the history of Solidarności avenue, former Leszno street. Here you can find famous "Moving Church" (located nearby) or defunct Femina Theatre/Cinema.
Mural shows famous people connected with Warsaw ghetto: Marek Edelman and Stefania Grodzieńska.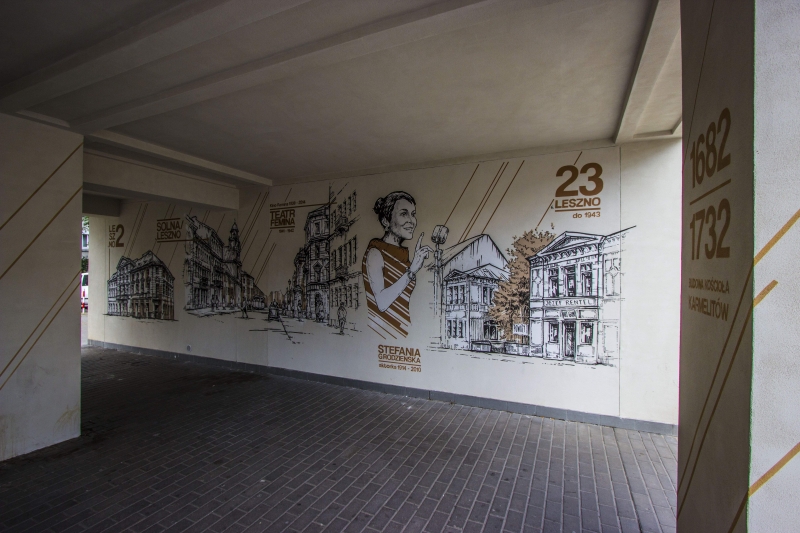 Stop 8: Aleja Jana Pawła 44
Another mural presenting famous residents of the Leszno but in a fancy way.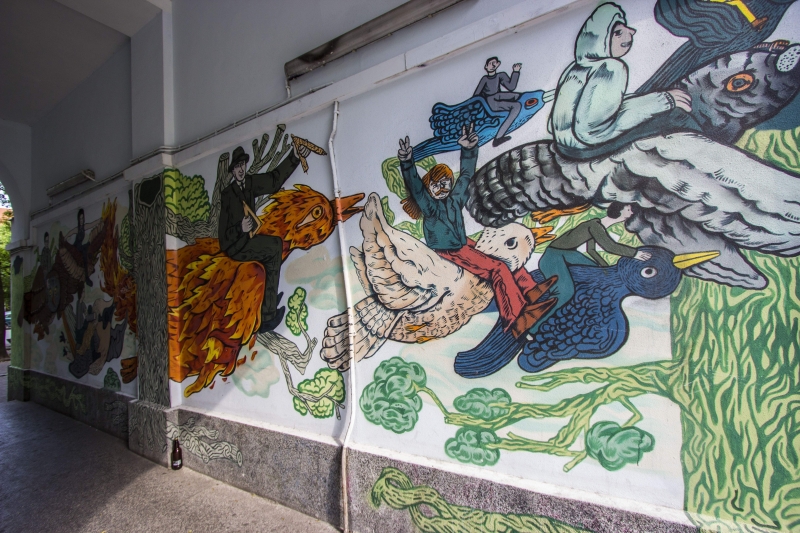 One can spot here famous Polish writers: Cyprian Kamil Norwid or Bolesław Prus sitting on birds which are flying among trees.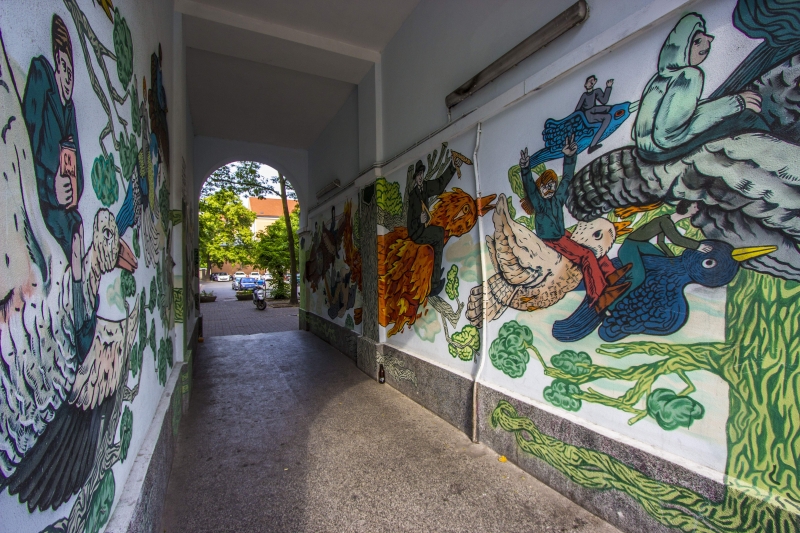 Stop 9: Chłodna 34
The wall of the Epidemiology Institute it's an ideal place for the mural presenting lungs. In my opinion this image could be used on the cigarettes labels as well.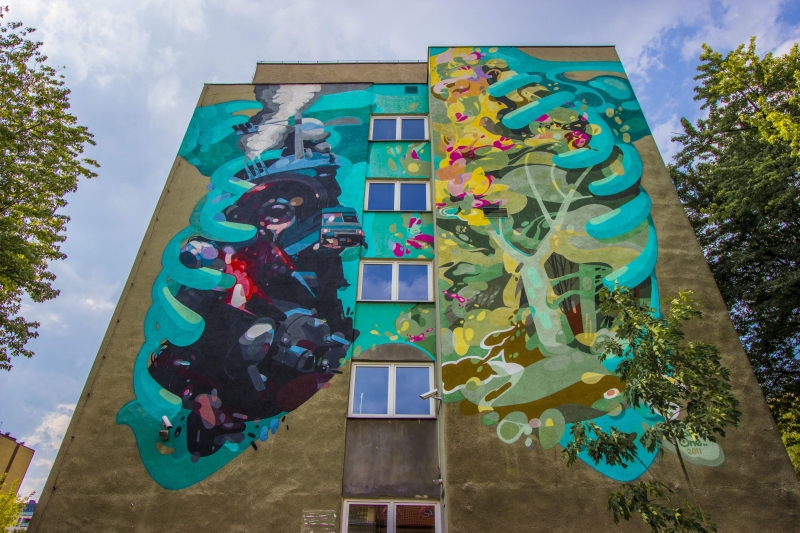 Stop 10: Waliców 14
This is my favorite mural. I walk here at least once a week but every time it impresses me greatly.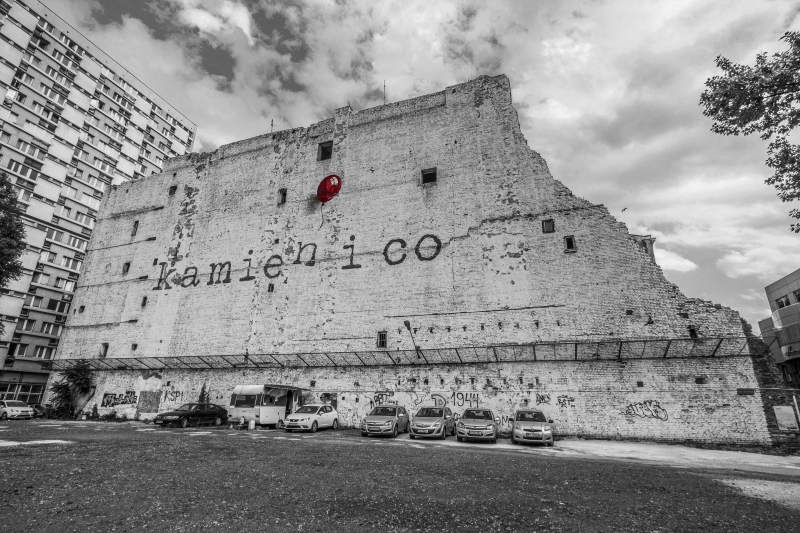 It's located on the wall of the house ruined during WWII. There's an inscription "Stone and what". It's a kind of Polish word – play because by joining these words you can receive the word townhouse. It's worth to know that during WWII, after the Warsaw Uprising, SS chief Heinrich Himmler told that:
"This city must completely disappear from the surface of the earth and serve only as a transport station for the Wermacht. No stone can remain standing. Every building must be razed to its foundation".
In my opinion simplicity and suggestiveness of this mural impress the most. Inscription and this red balloon can be interpreted in many ways.
Stop 11: Sienna 45
On the Wall of the famous "House under the Sails" is one of the biggest murals in Warsaw. Soldiers here, look like puppets.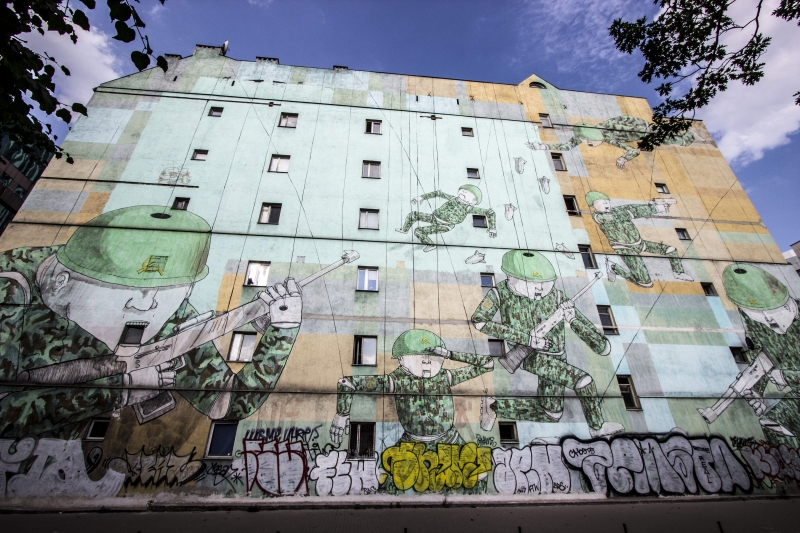 Stop 12: Emilii Plater 13
Here you can see a controversial mural which shows insurgent against a background of a liquor store.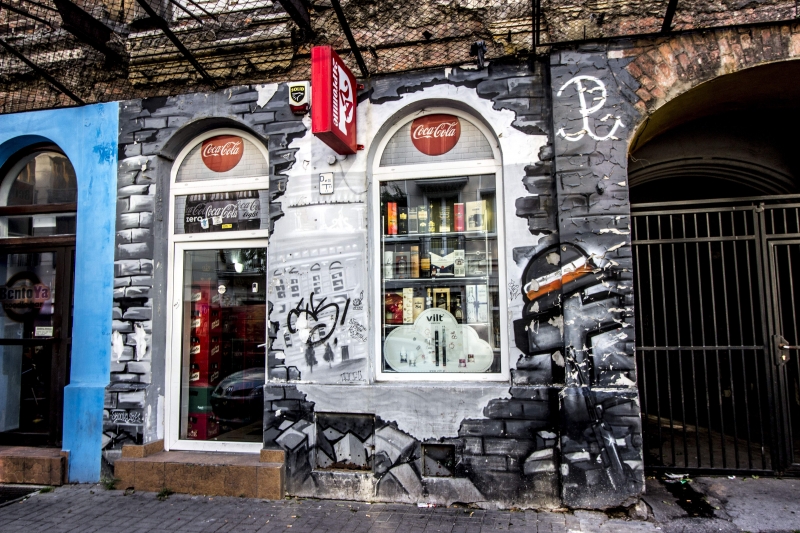 Stop 13: Chmielna 35
Famous Warsaw shopping avenue was decorated with well-known Muppet.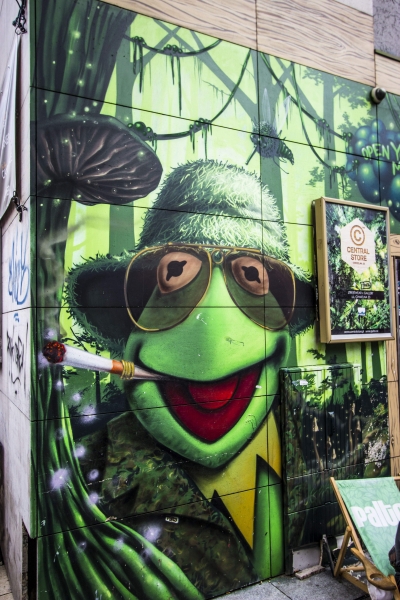 Stop 14: Tamka 37
Next to the Fryderyk Chopin Museum one can admire a mural with this famous Polish composer.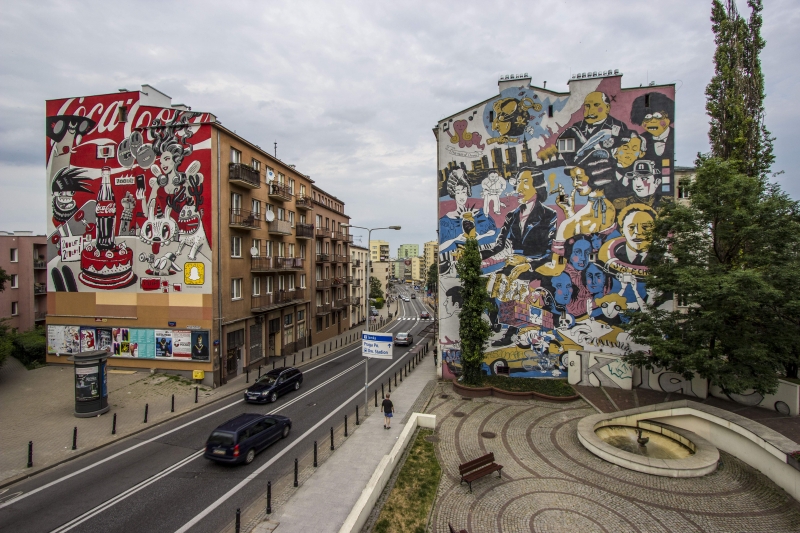 Stop 15: Zajęcza 8
On the wall you can see Captain America.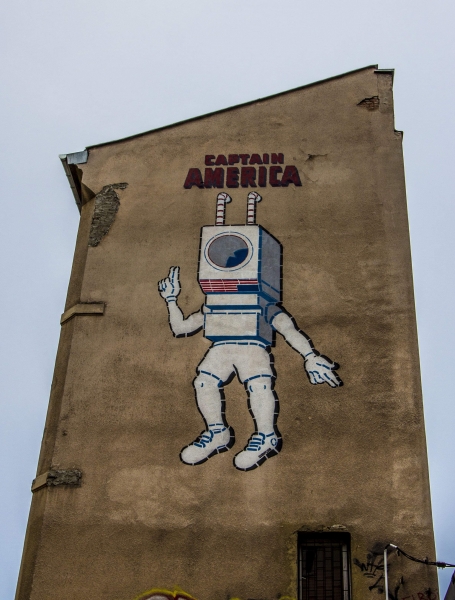 Stop 16: Podzamcze
Over the famous Old Town fountains you can see mural connected with the Warsaw Uprising.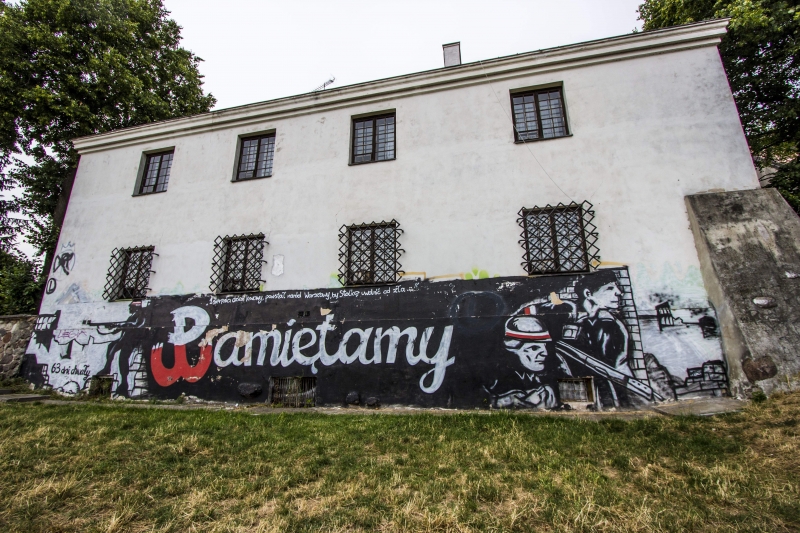 Stop 17: Freta 16
The Old Town building is decorated with the mural in memory o Maria Skłodowska – Curie. It indicates the place of birth of this famous Nobelist.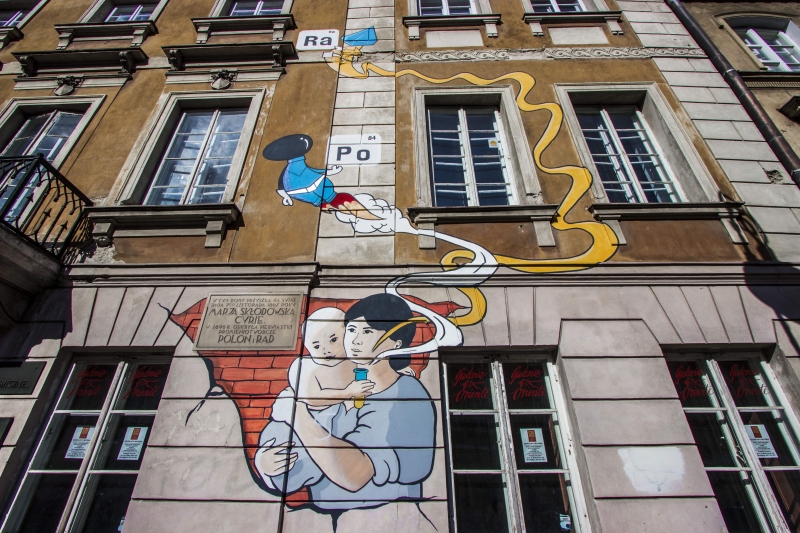 Stop 18: Konwiktorska
On the walls of Polonia Stadium you can see more murals connected with the Warsaw Uprising.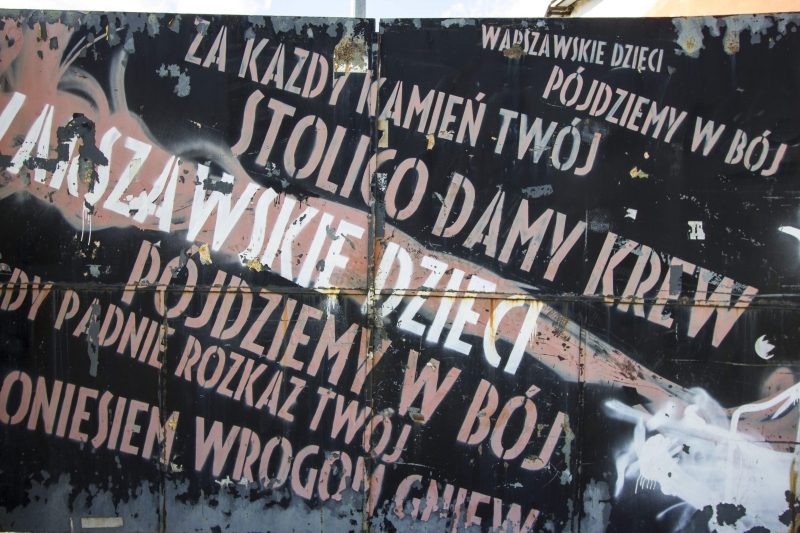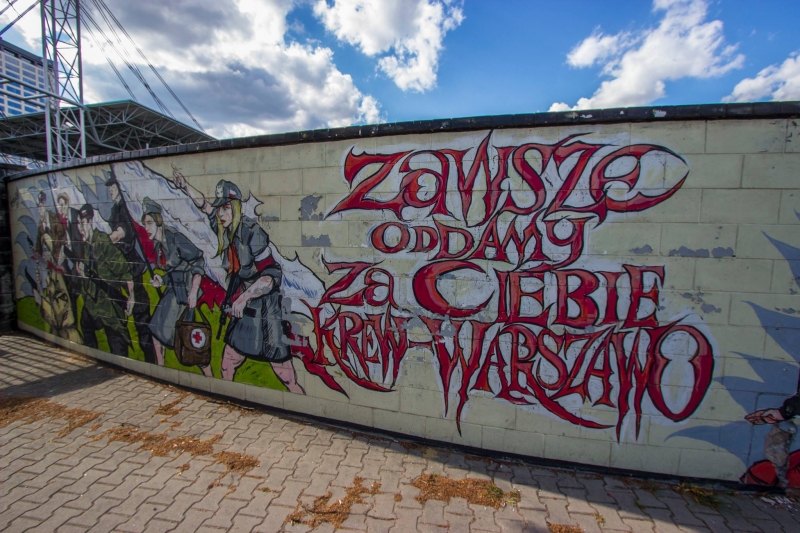 It's not the end of Warsaw murals. I will try to present the rest in further articles. Day after day new works are created in Warsaw, you only need to go off the beaten path or just raise your head! If you see an interesting mural, please share your finding here 🙂