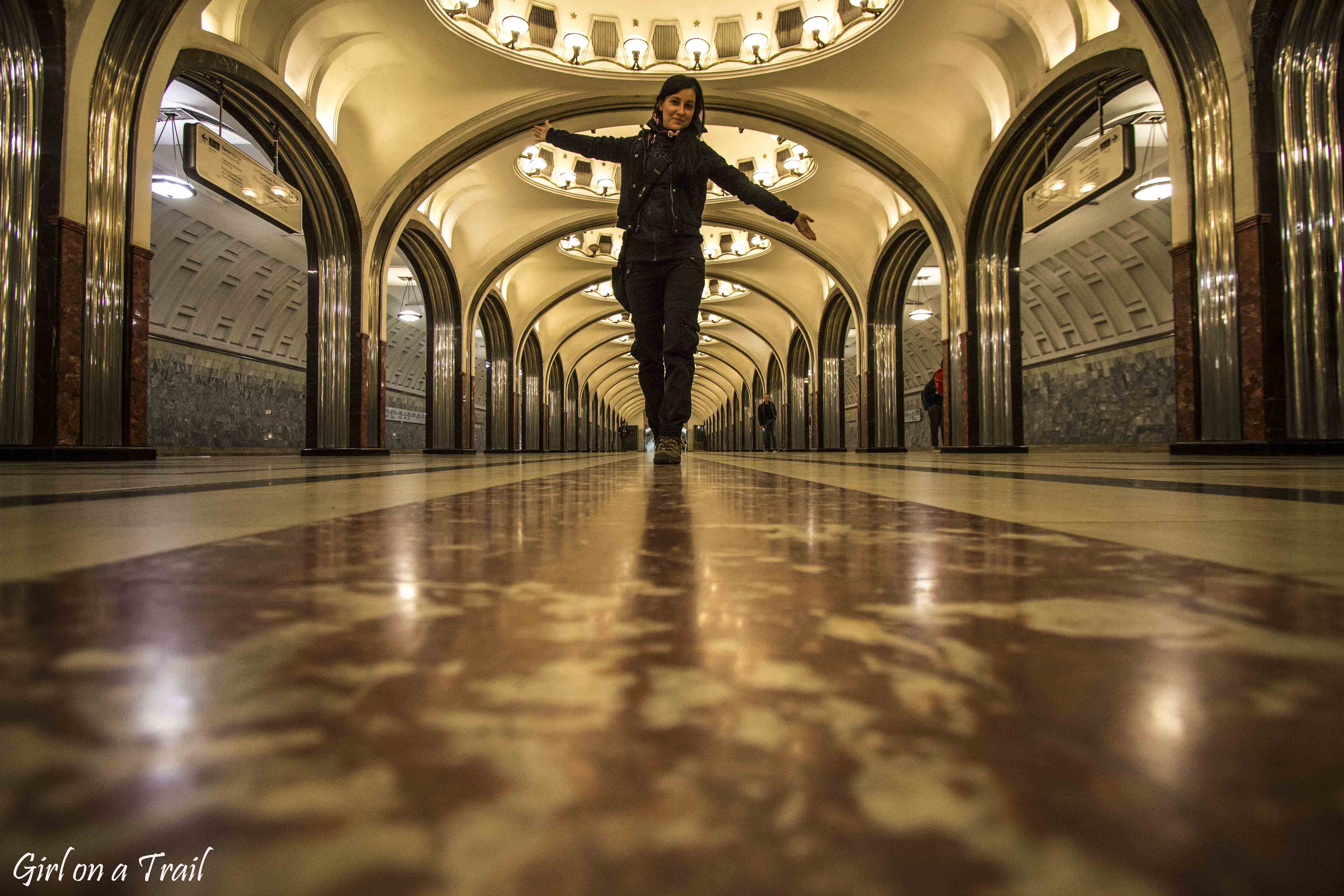 Moscow metro – welcome to royal chambers!
I didn't take me long  to decide what my first post from the trip to Moscow would be about. Of course I heard a lot about the Moscow metro before visiting it, but you need to see this place to believe! 😉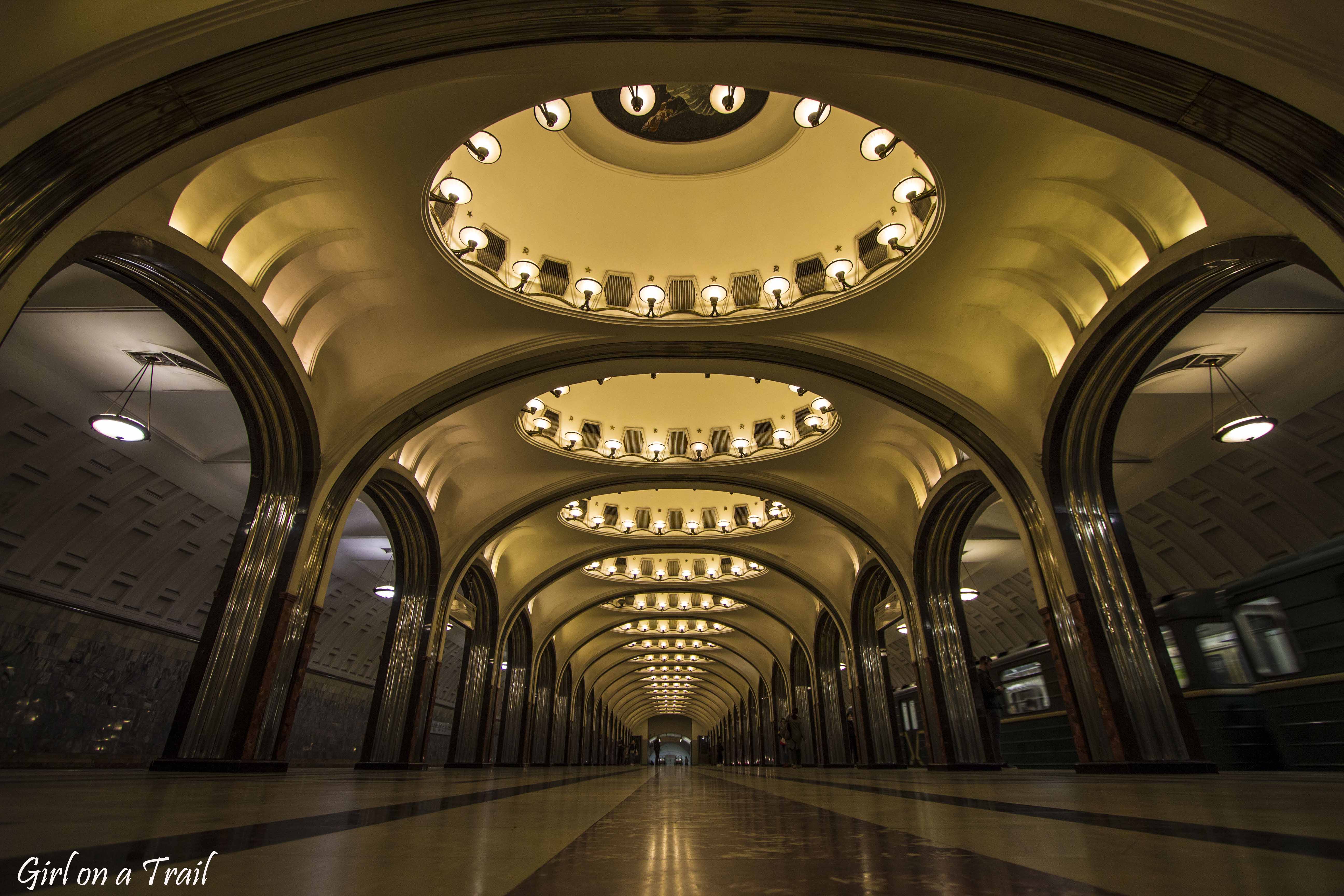 Some facts
The entire system consists of 12 lines, with a length of more than 300 kilometres and includes more than 200 stations. Some stations are transfer points even for 3 or 4 lines. What's more, the metro is constantly under construction. Currently the extensive second ring line is underway.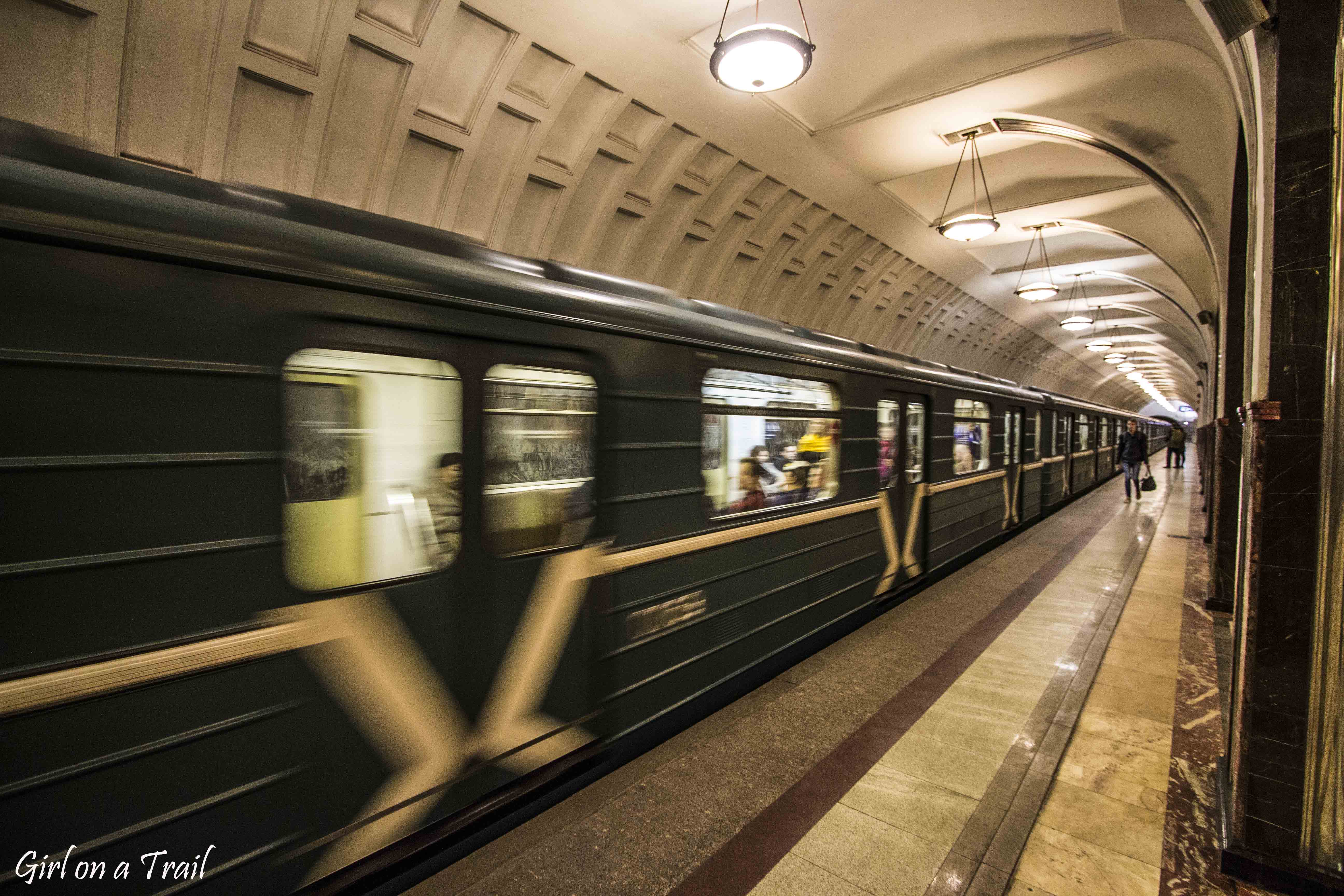 Some stations are so deep that the connections between them can consume a lot of  time, especially during rush hours. There's also an unimaginable amount of people commute every day. It's said that more than 7 million passengers use the subway daily!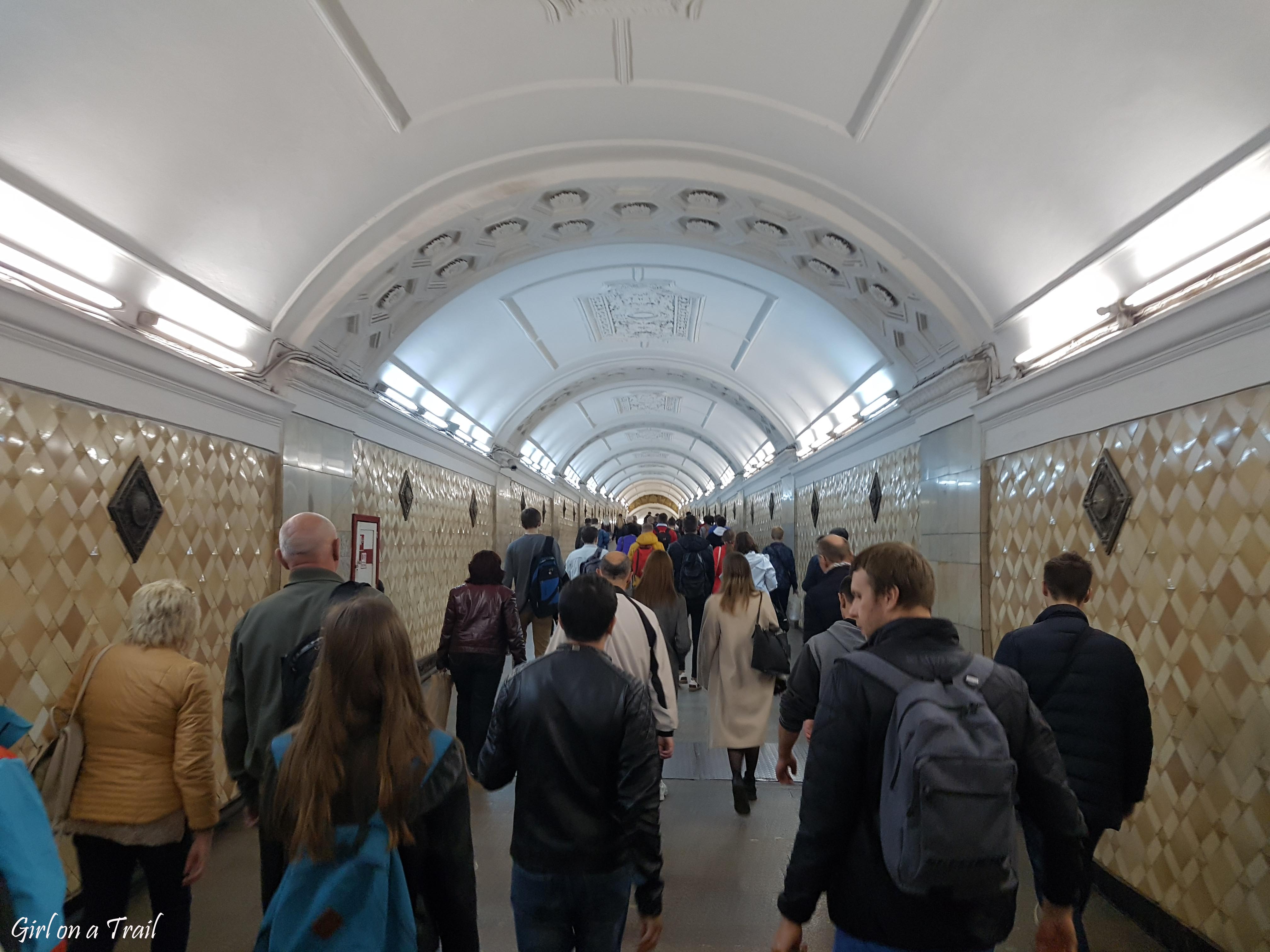 In order to alleviate underground traffic, passengers follow the designated routes. Don't even try to go under the current, I experienced it once and I don't recommend it 😉 In addition, on each station you can encounter special railings marking the directions of entry and exit.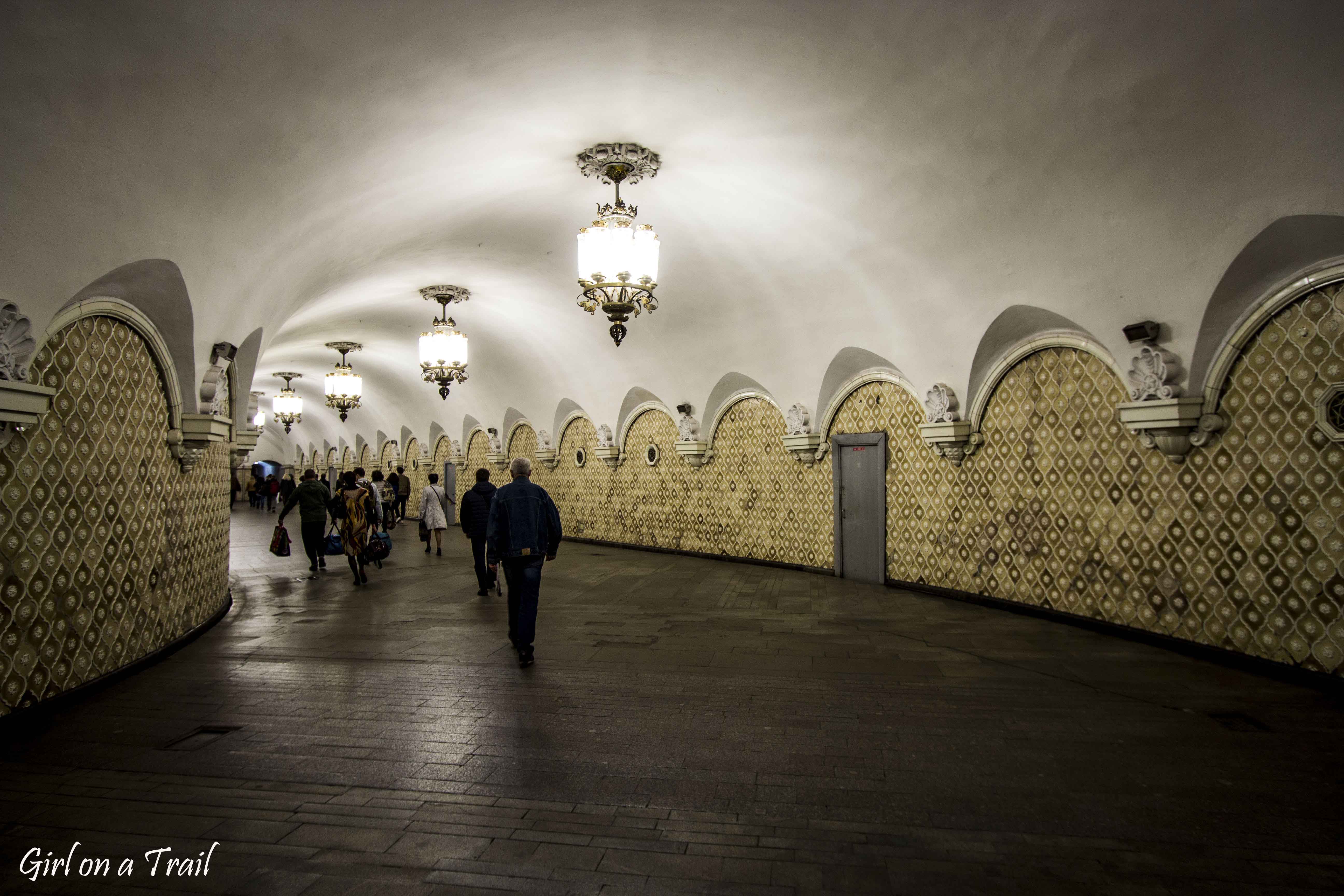 Some history
The first subway line was built long time ago. It was  opened by Stalin on 16 may 1935. Since then, Moscow metro has not operated only one dayon 16th October 1941, due to the threat of bombardment by the Germans.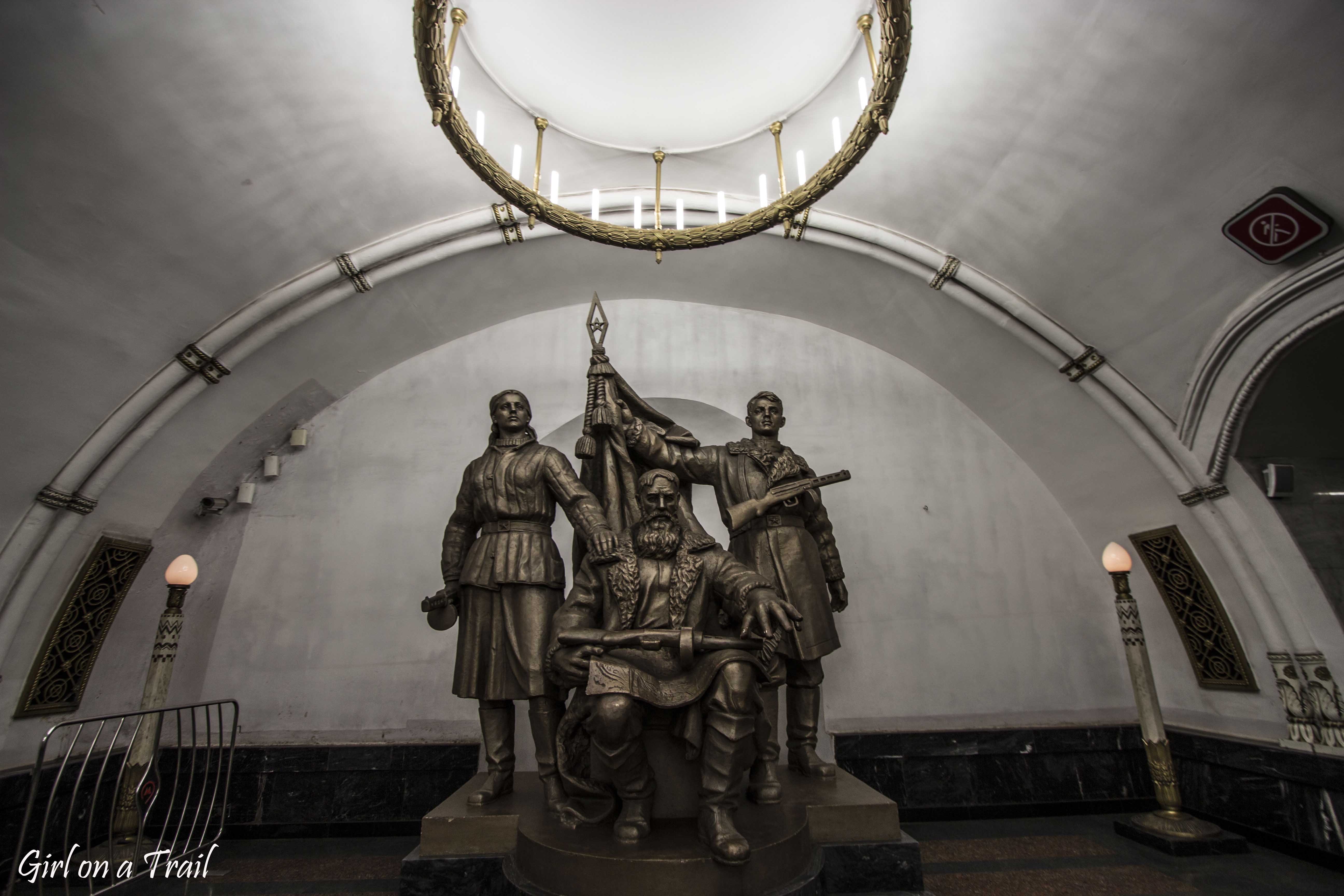 During World War II, the metro was used as an underground shelter. Moreover, it was even extended during this time!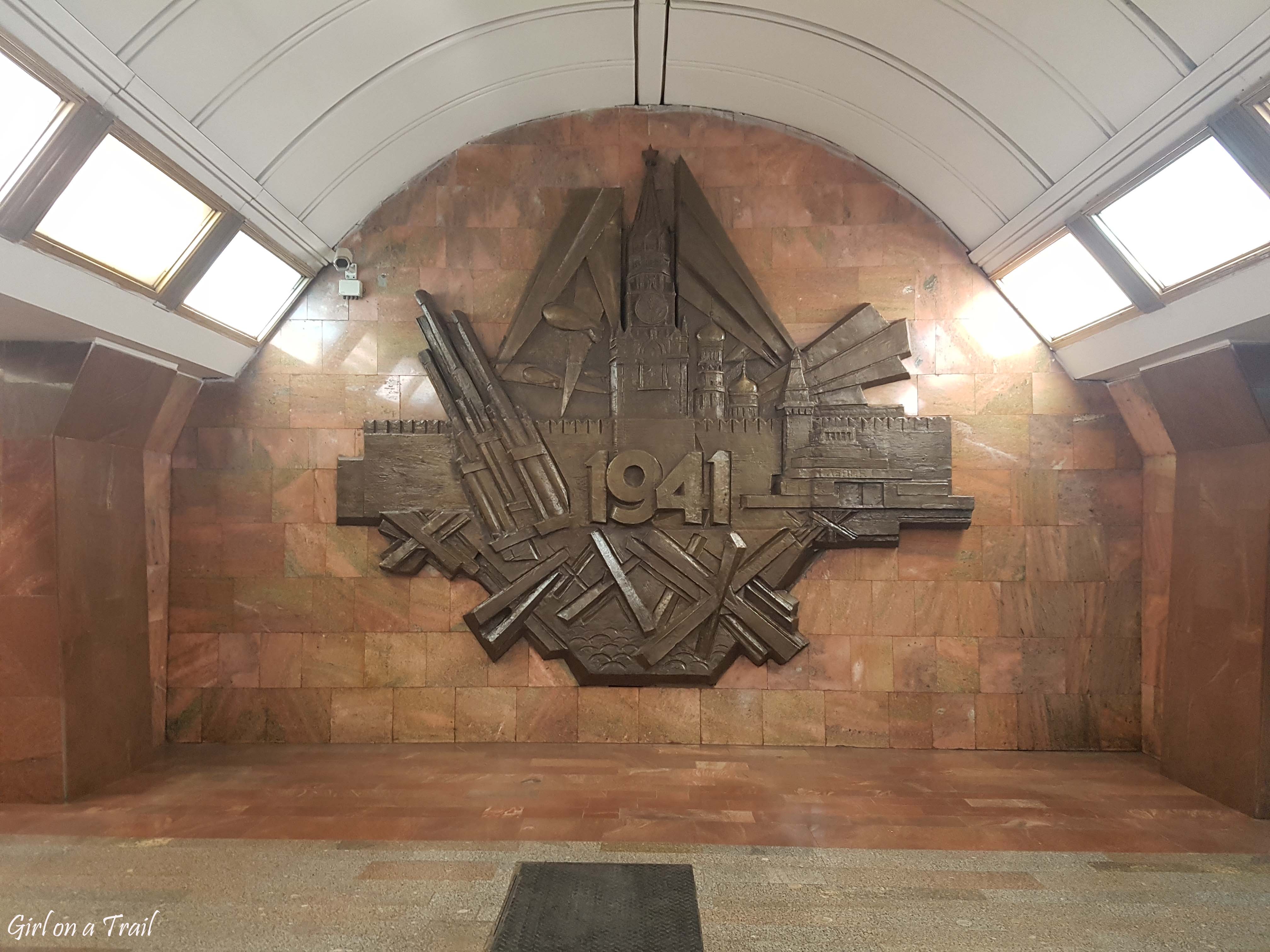 It's said that the subway stations were like underground towns then, there were numerous shops and service points, let alone library. Fans of conspiracy theory say there's a secret metro line in Moscow. According to them, it was built by Stalin, as a emergency way in the event of attack.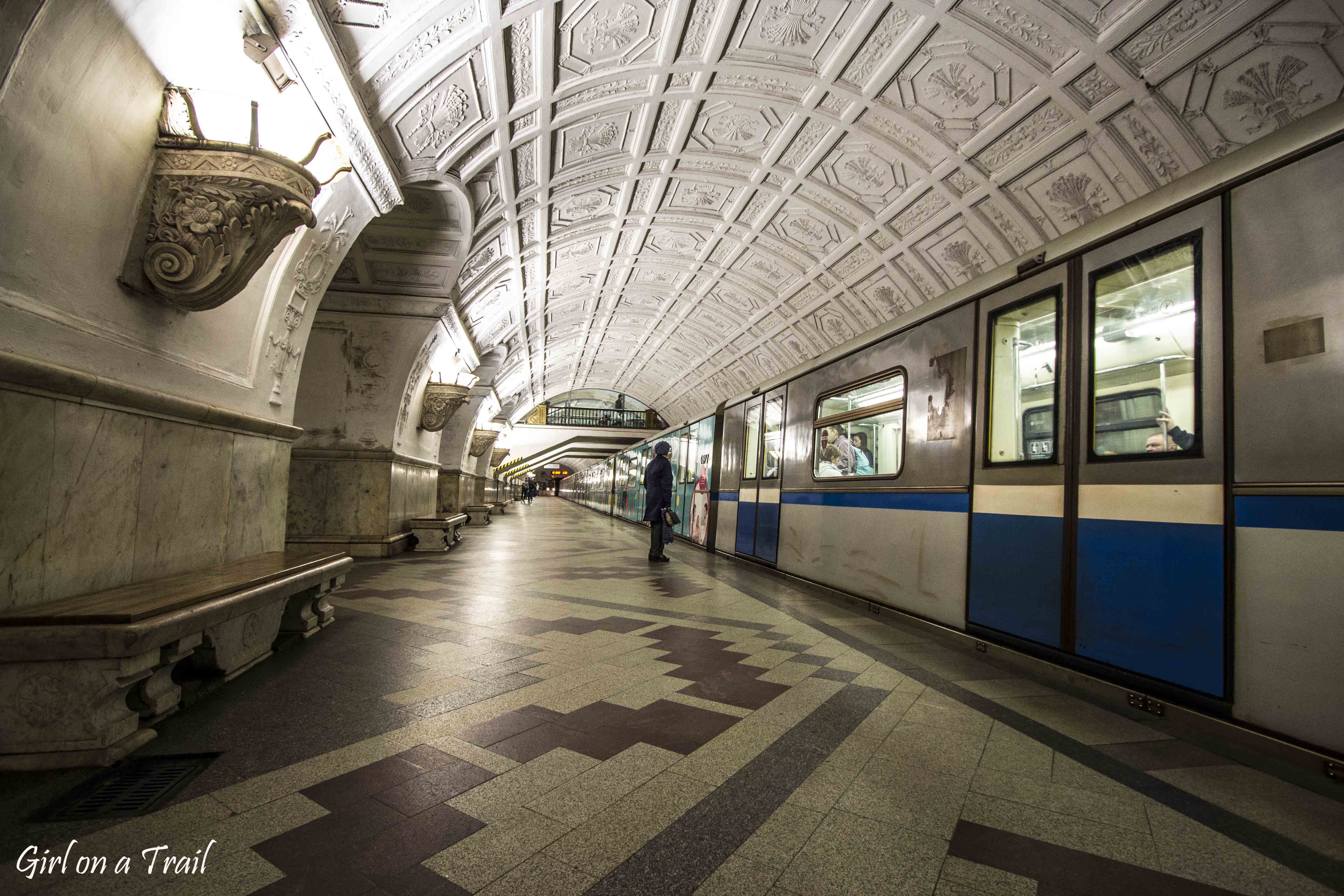 Let's get down to business
What makes Moscow metro exceptional are amazing interiors with various mosaics, sculptures and crystal chandeliers. It can take up to half a day to visit these chambers. It is best to start the trip as suggested by Lonely Planet guide.
Start the tour with the Komsomolskaya station on line 5 (brown) which surrounds the city and get on a train moving in the opposite direction of the clock, disembarking at each station. Komsomolskaya Station is literally breath-taking, its interior looks like a ballroom in Versailles. Huge crystal chandeliers, mosaics on the ceiling and interesting colours make this station unique.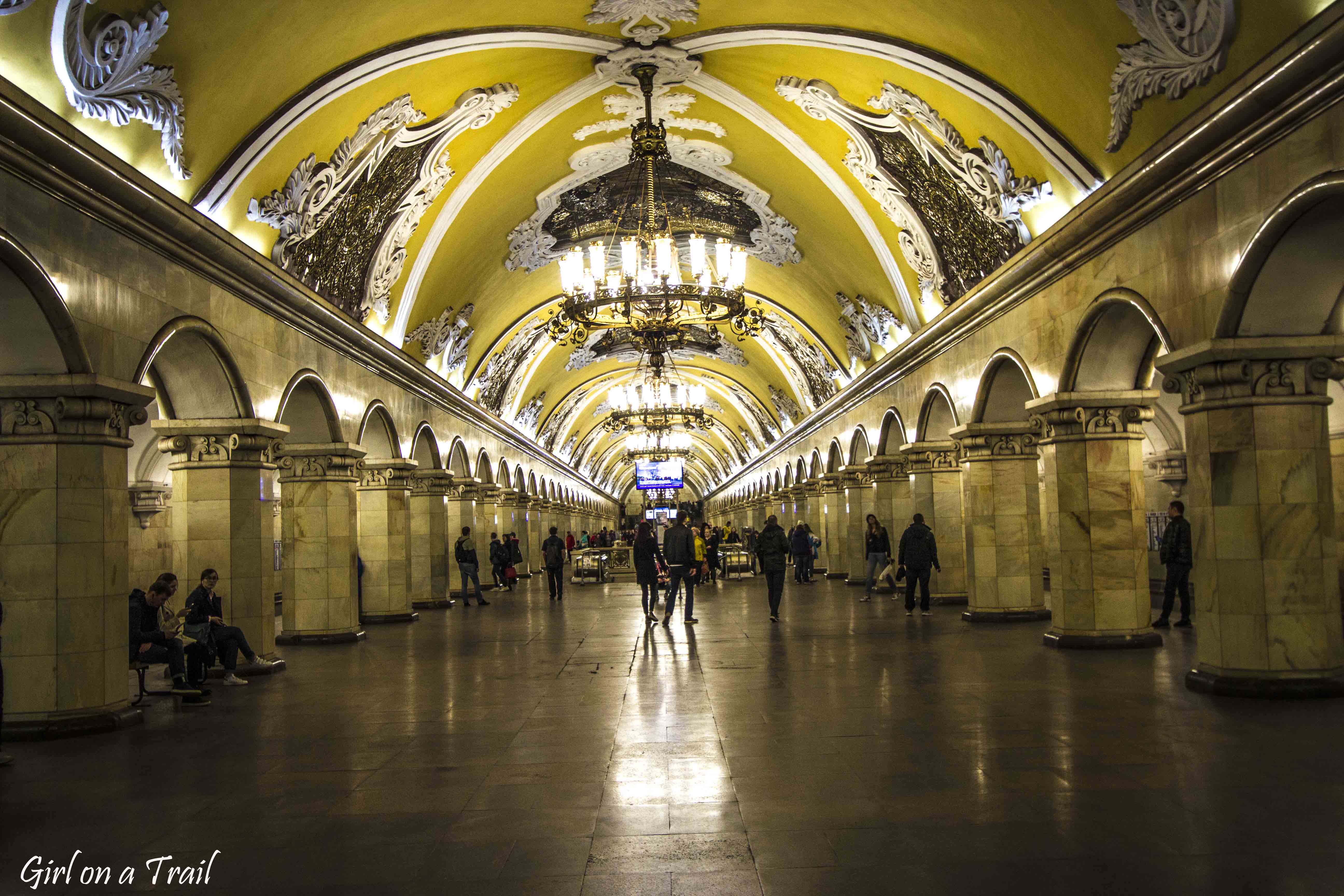 When looking closer, on the ceiling you can see mosaics showing Russian struggle for independence, while at the end of the station there's a bust of comrade Lenin.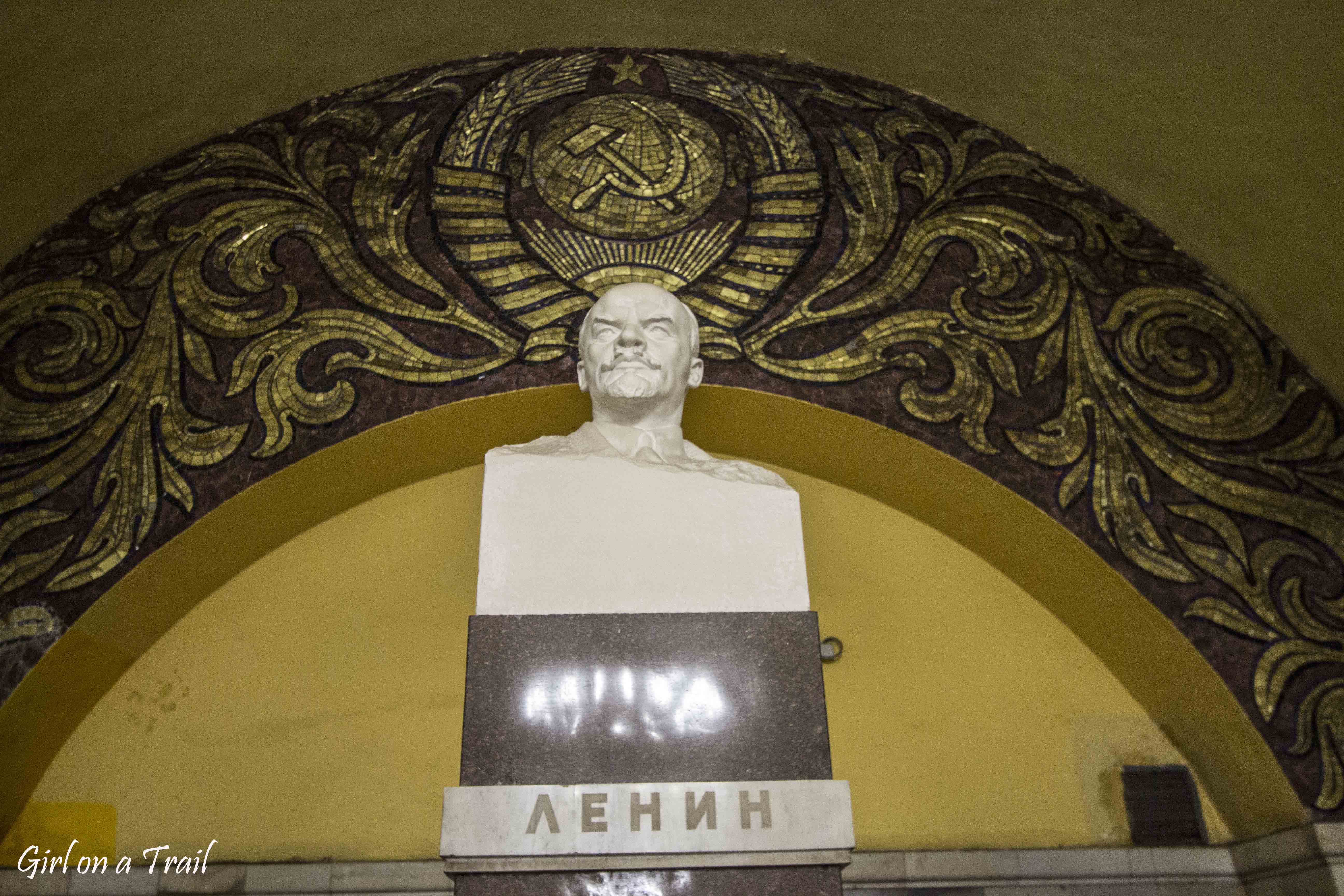 Mira Prospect station surprises with bright interior. Ceiling is decorated with coffers and crystal chandeliers.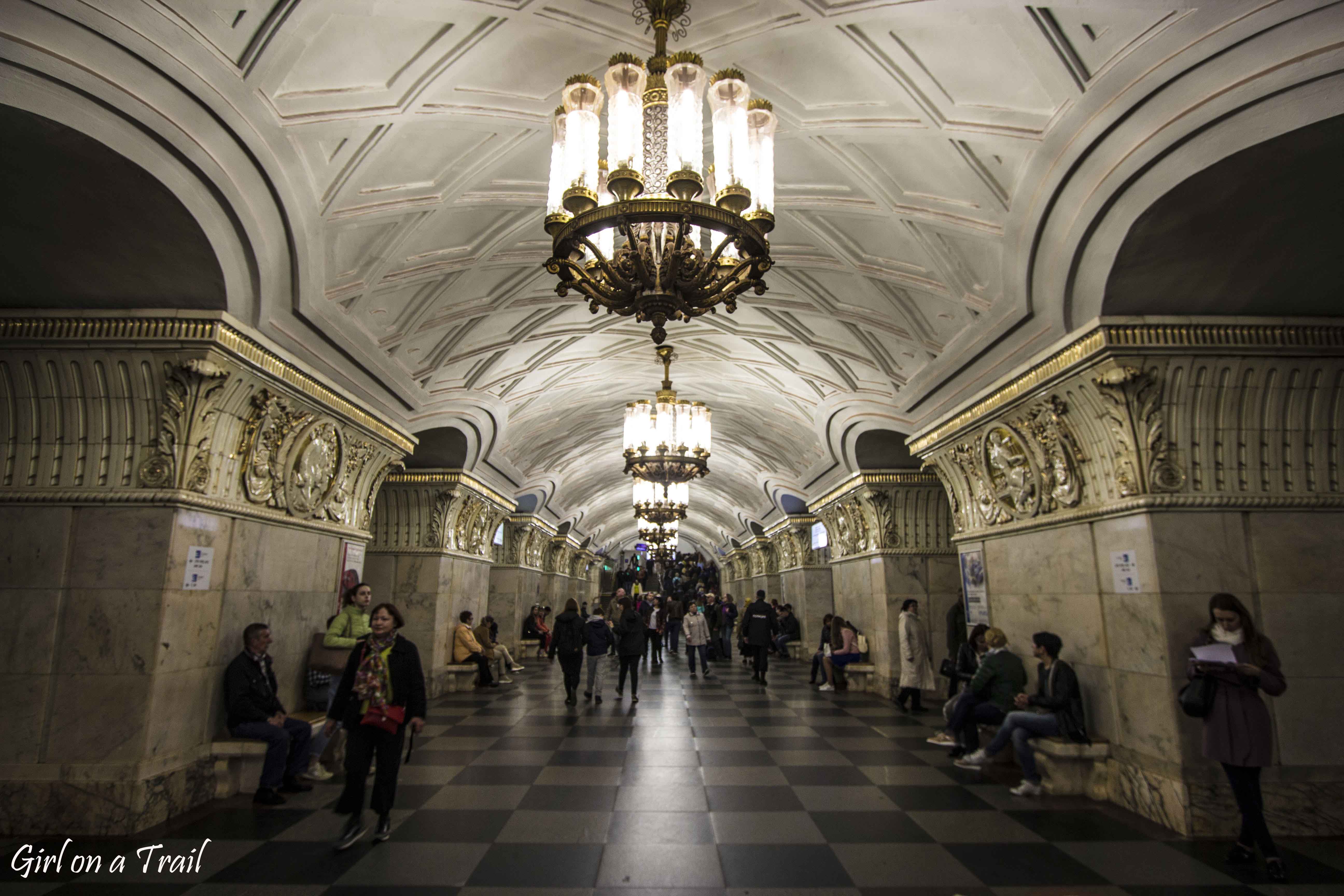 Another station – Novoslobodskaya, also known as " an underground fairy tale " is characterized by interestingly shaped columns, decorated with colourful stained glass.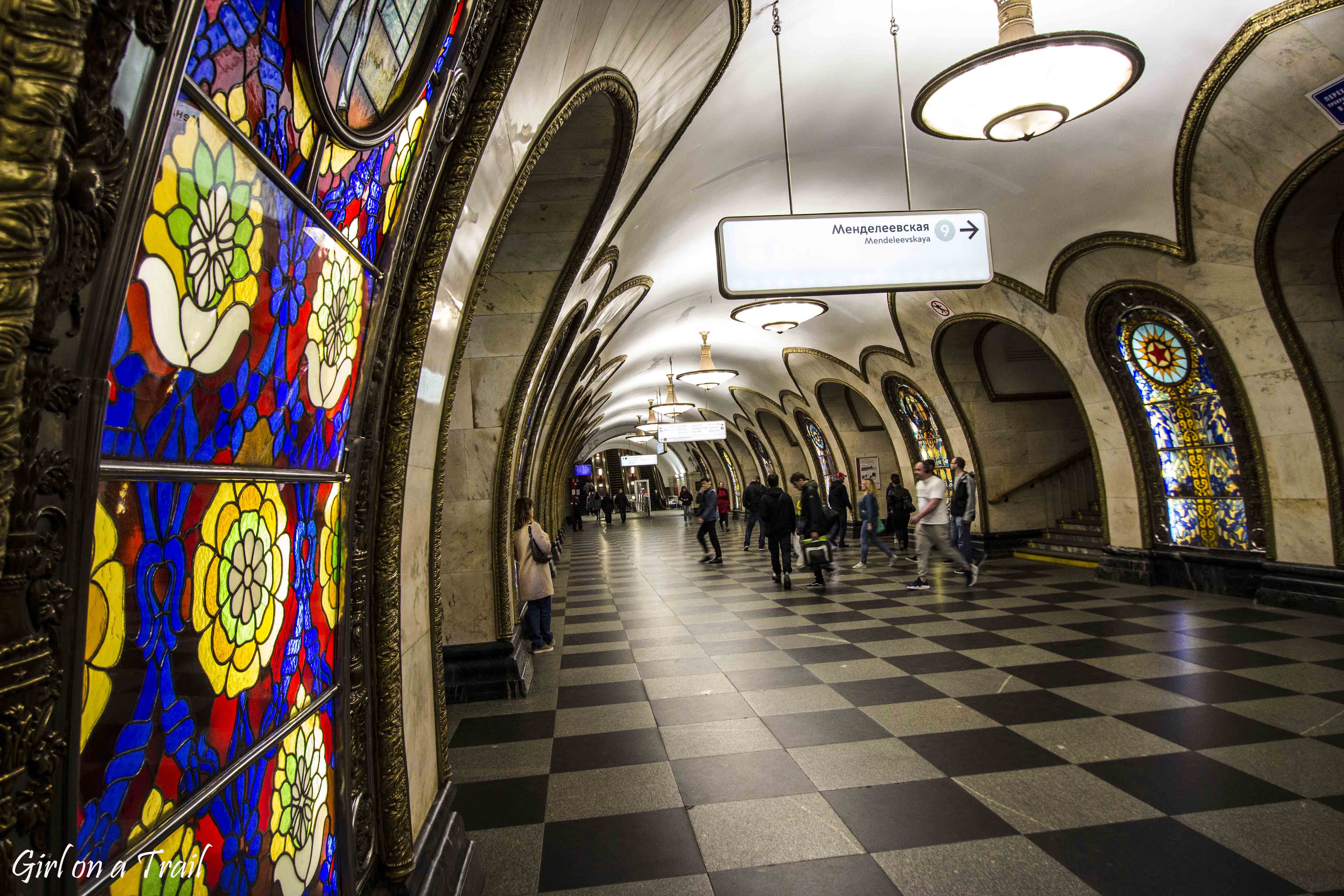 There's also an interesting mosaic called "Peace in the whole world".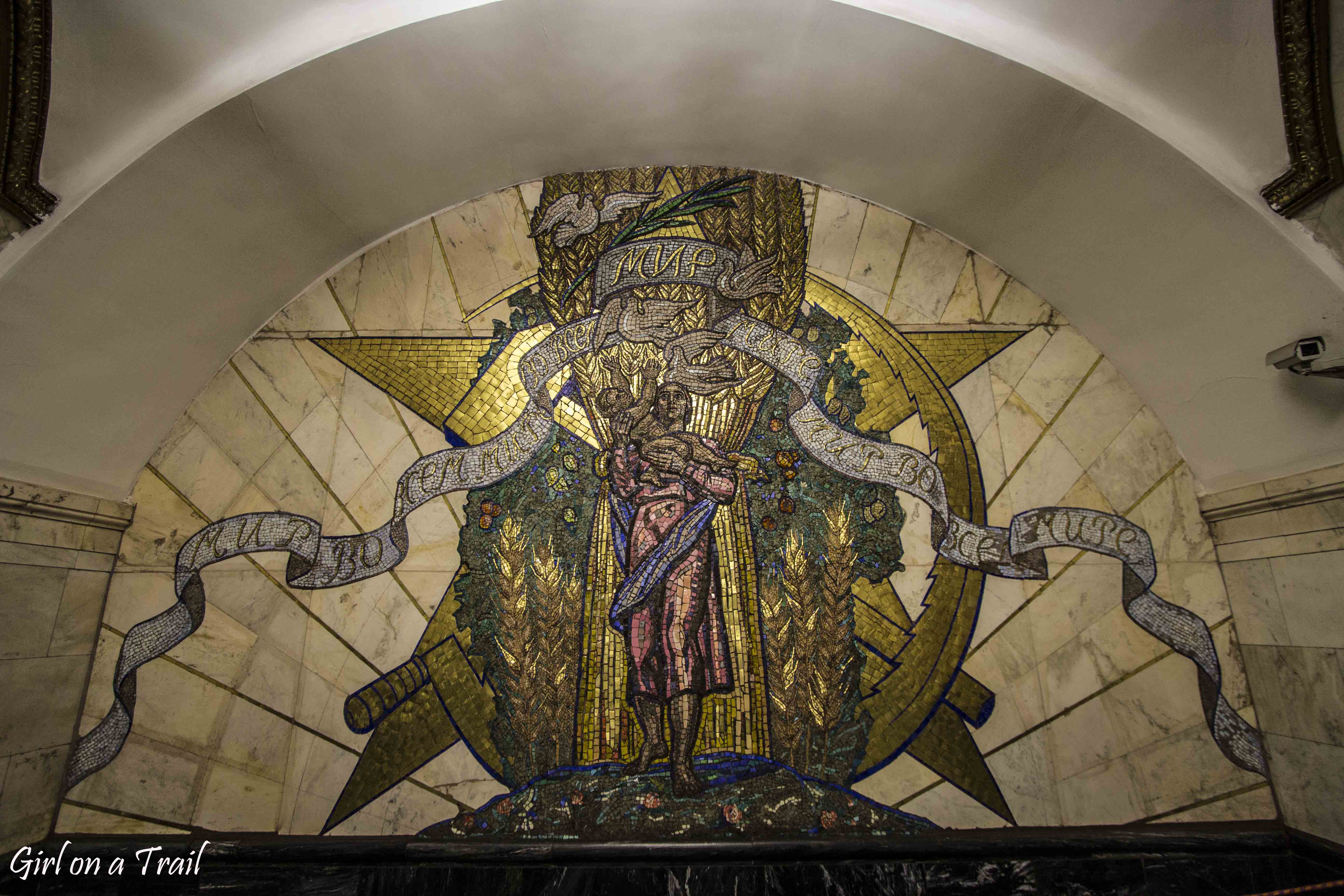 Belorusskaya station presents images related to the history and culture of Belarus, depicted on 12 ceiling panels.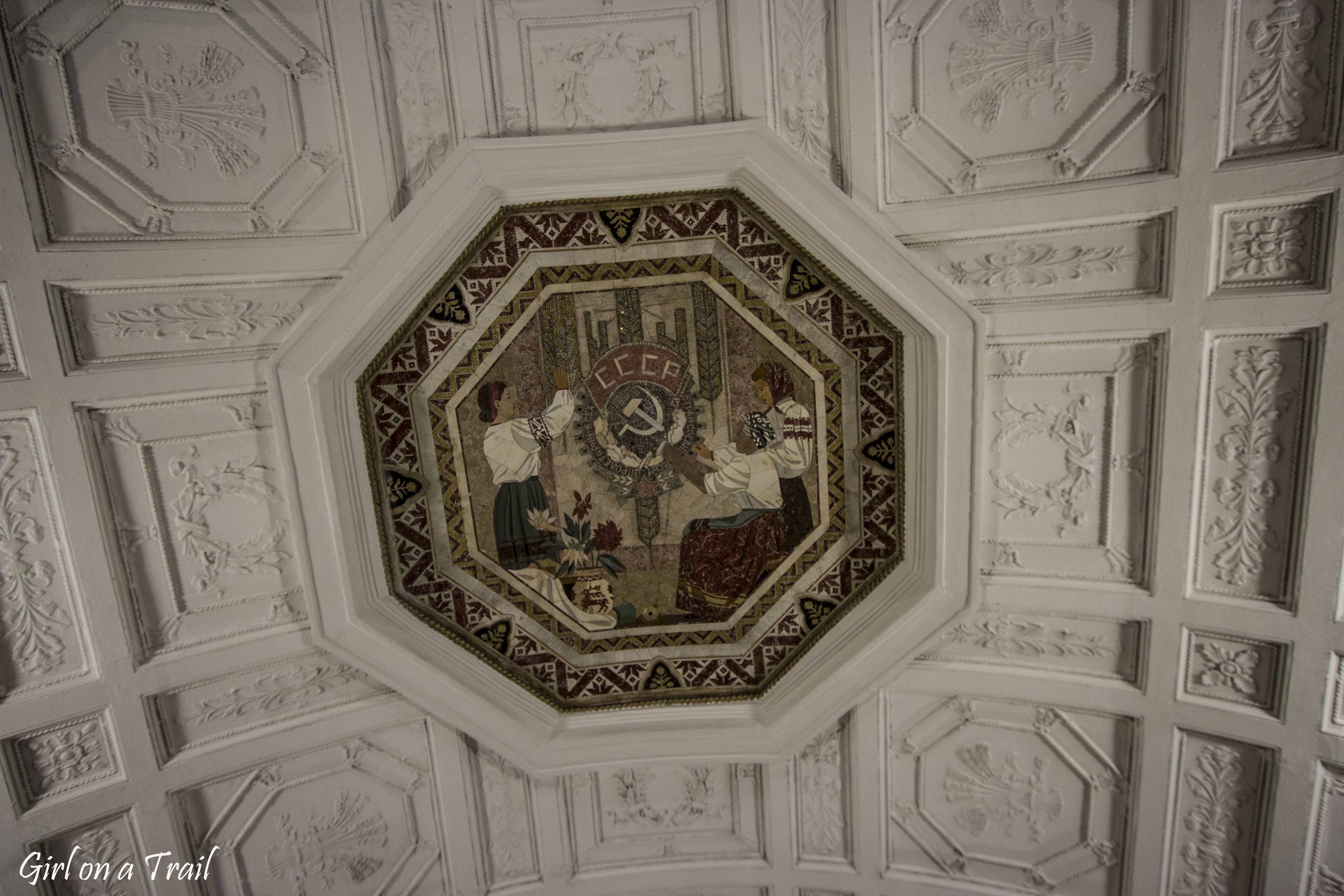 Here you can switch to green line 2 (Zamskvoretskaya) in south direction to the centre and then get off at the first station – Mayakovskaya.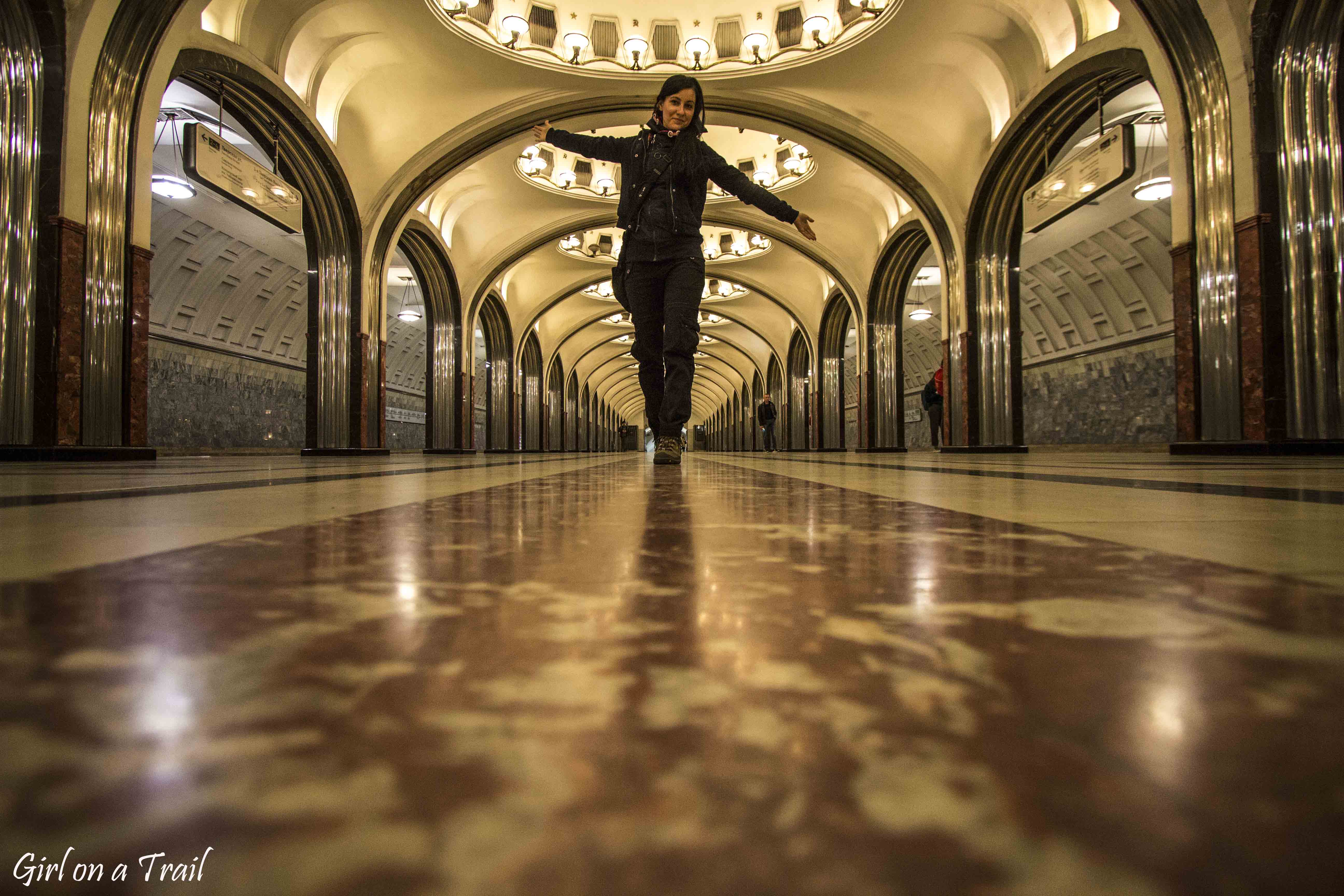 This station presents mosaics illustrating 24 hours on Soviet land. Its depth reaches 33 metres, which makes it one of the deepest stations in Moscow underground system.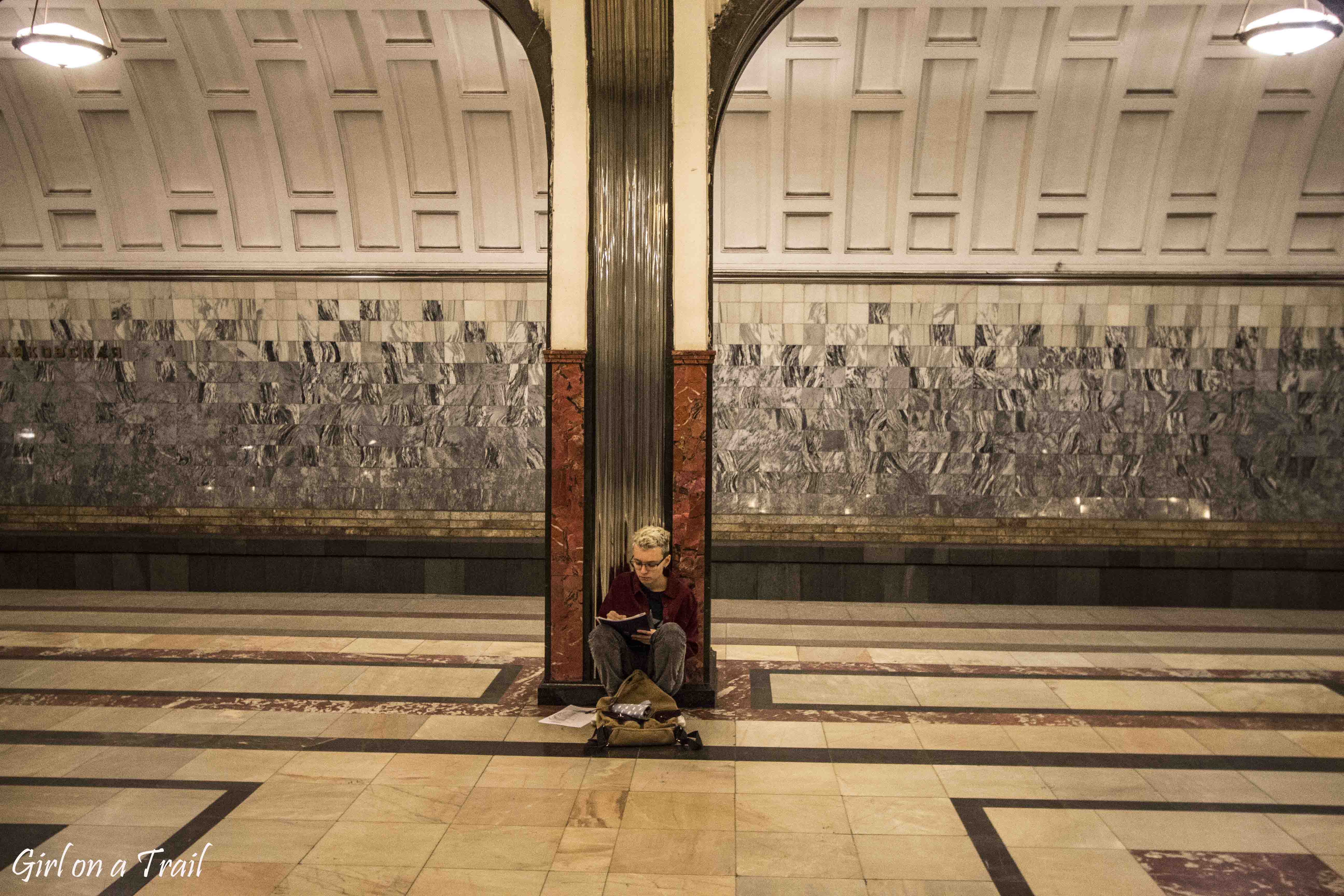 Following the green line, you should get off at the Teatralnaya station, where you need to switch to blue line 3 Arbatsko – Porovskaya. The equivalent of the Teatralnaya station for line 3 is Ploschad Revolyutsii station, which is decorated with numerous sculptures.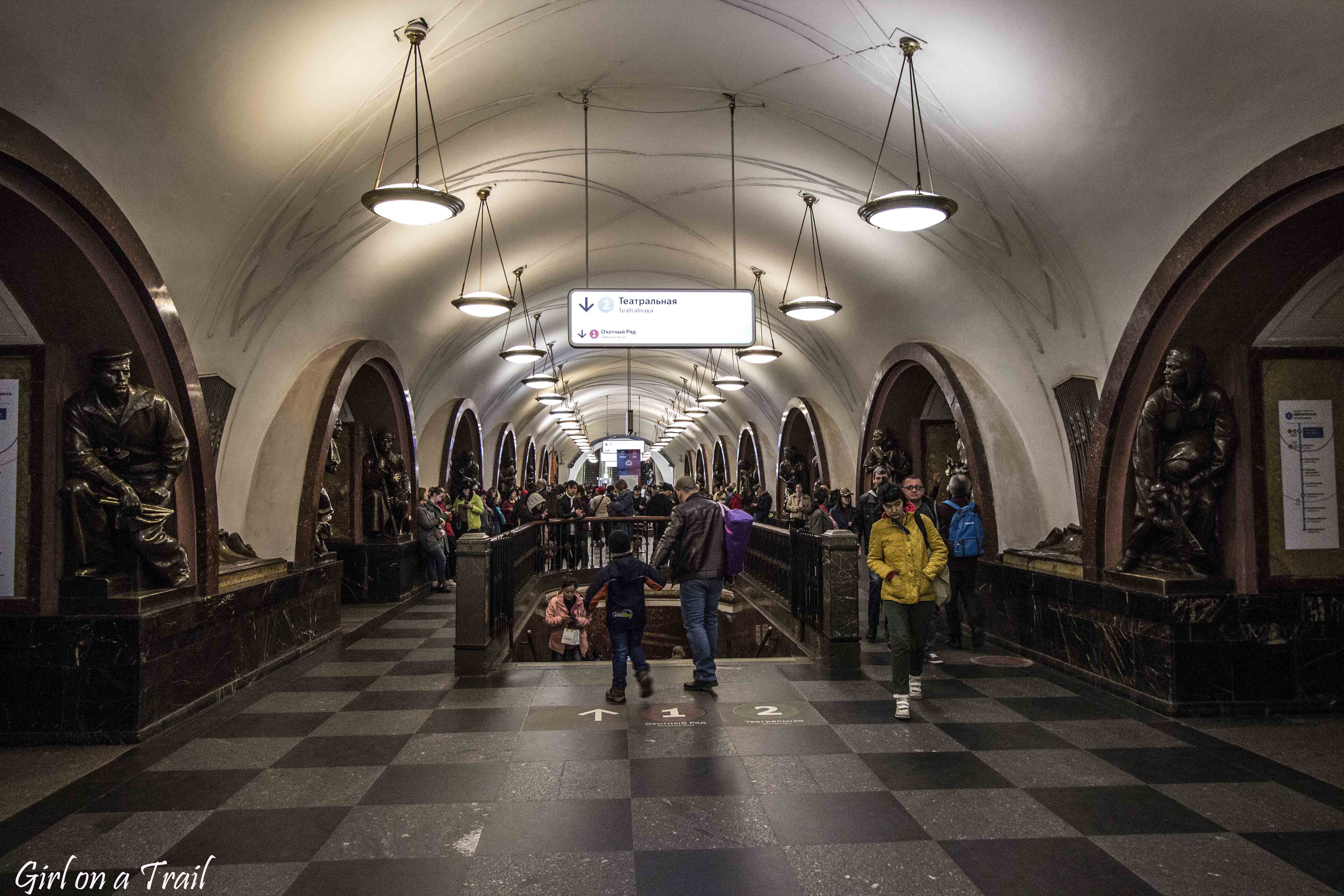 Next station – Arbatskaya, reaches 250 metres length which makes it the longest in Moscow undergound. It was bombarded by Germans in 1941.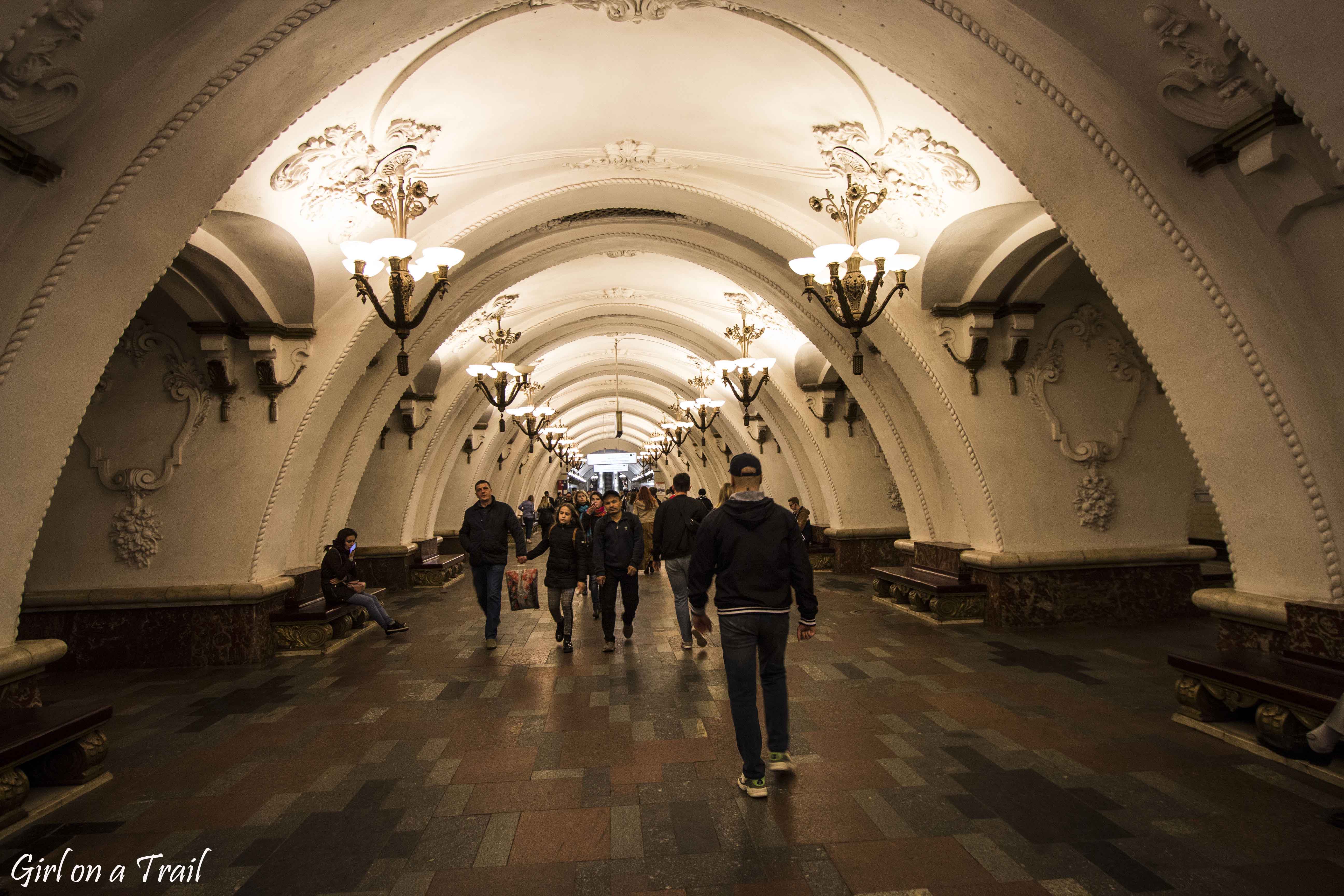 On the other hand on, Kievskaya station there're images presenting the 300-year-old Russians cooperation with Ukrainians.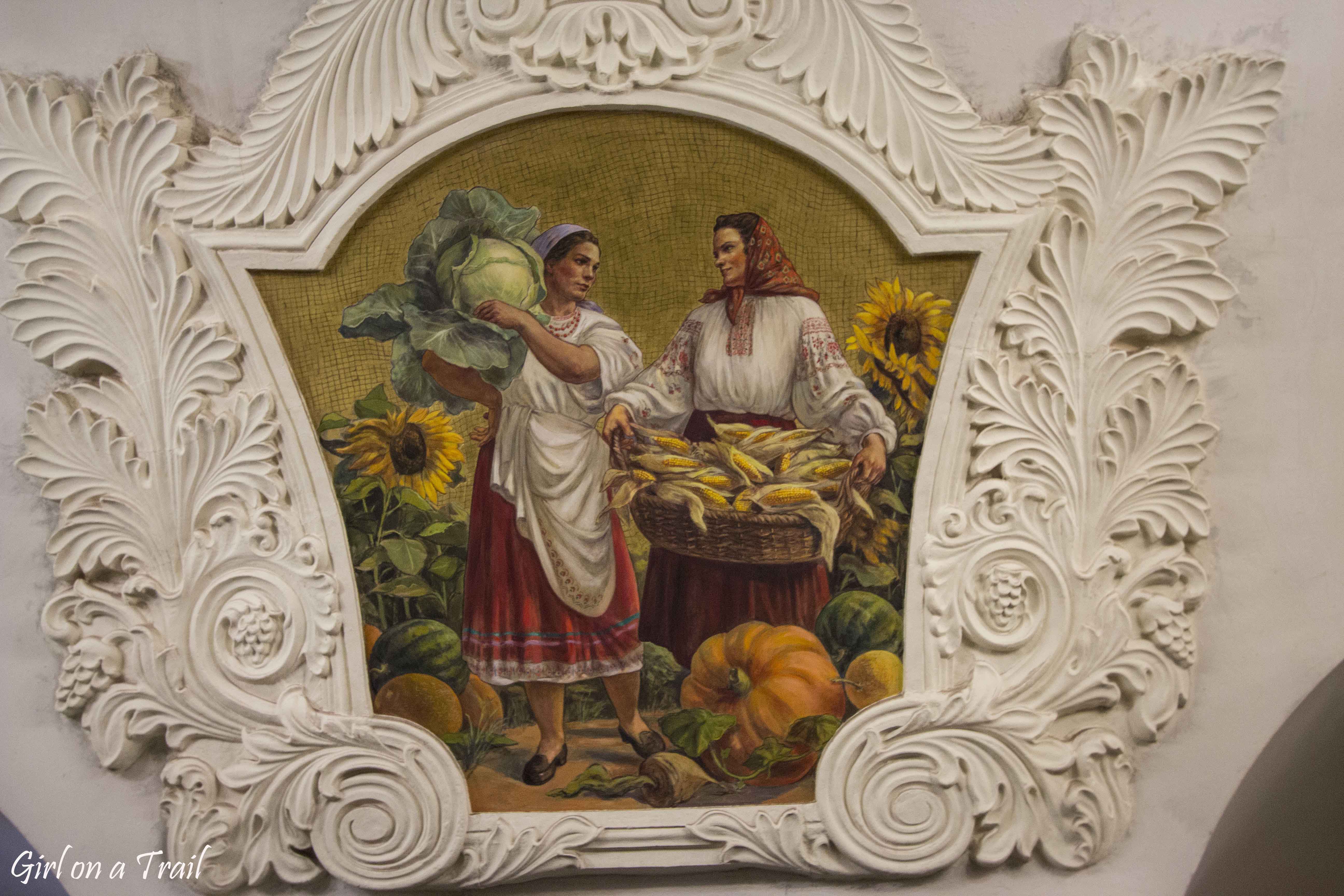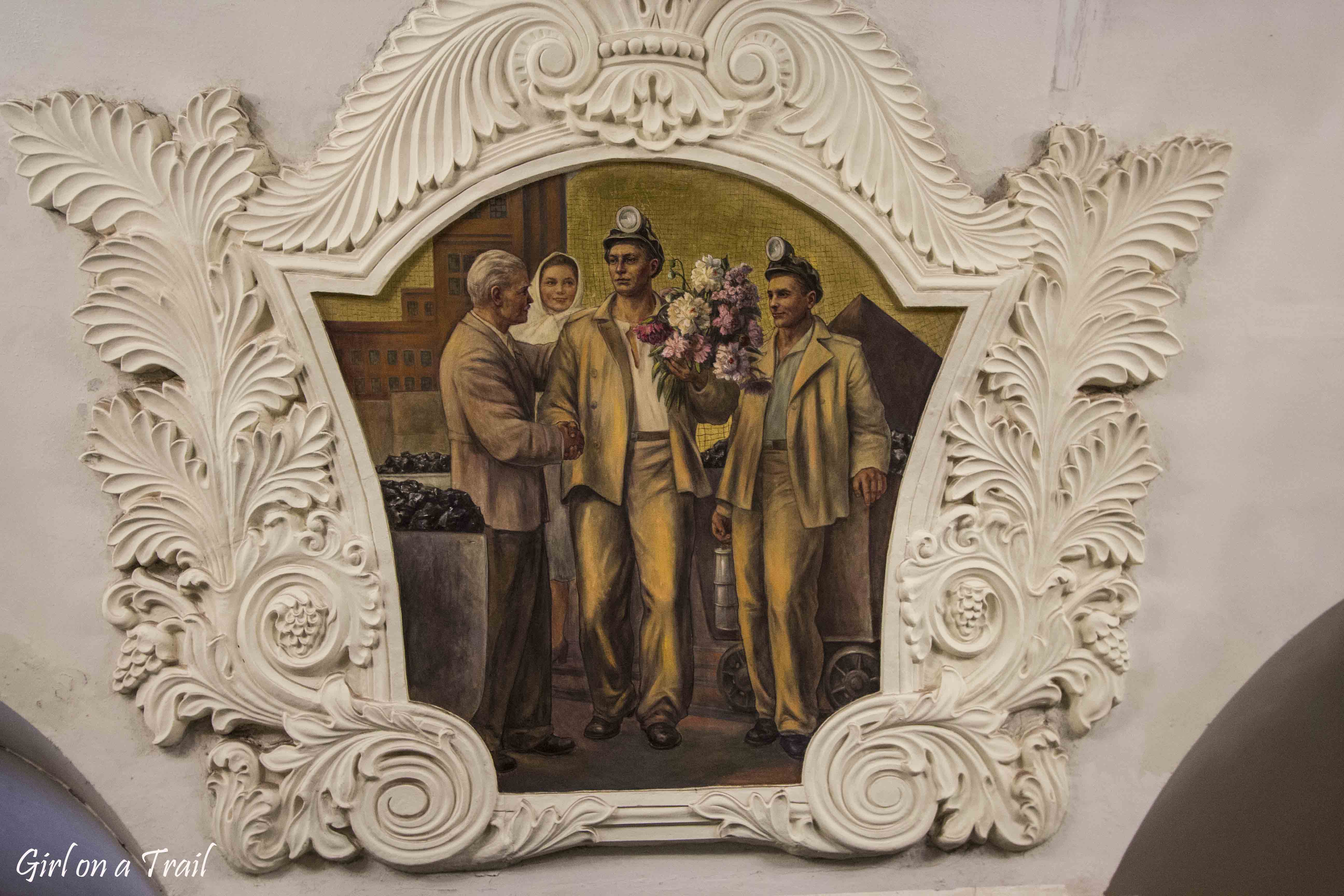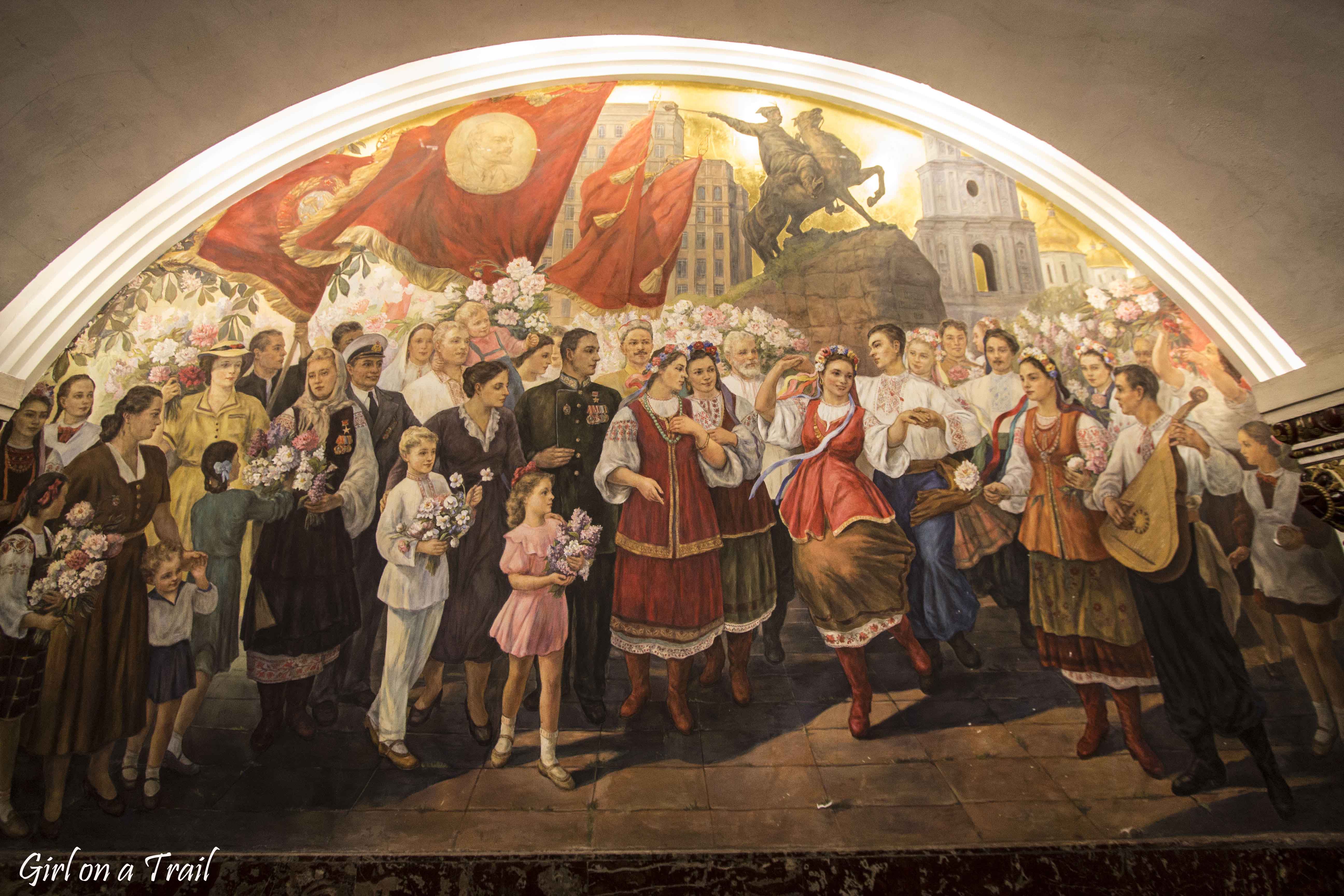 The last station – Park Pobedy is located at a depth of 84 metres and is the deepest station located in Moscow metro. You can access it via the longest escalator in Europe, which is 126 metres long. There's no problem with keeping the left side free for pedestrians there. I didn't see anyone willing to climb 740 steps 😉 However, it takes up to 3 minutes to ride by the escalator alone. At the station there're also two mosaics depicting  events from the war in 1812 and World War II.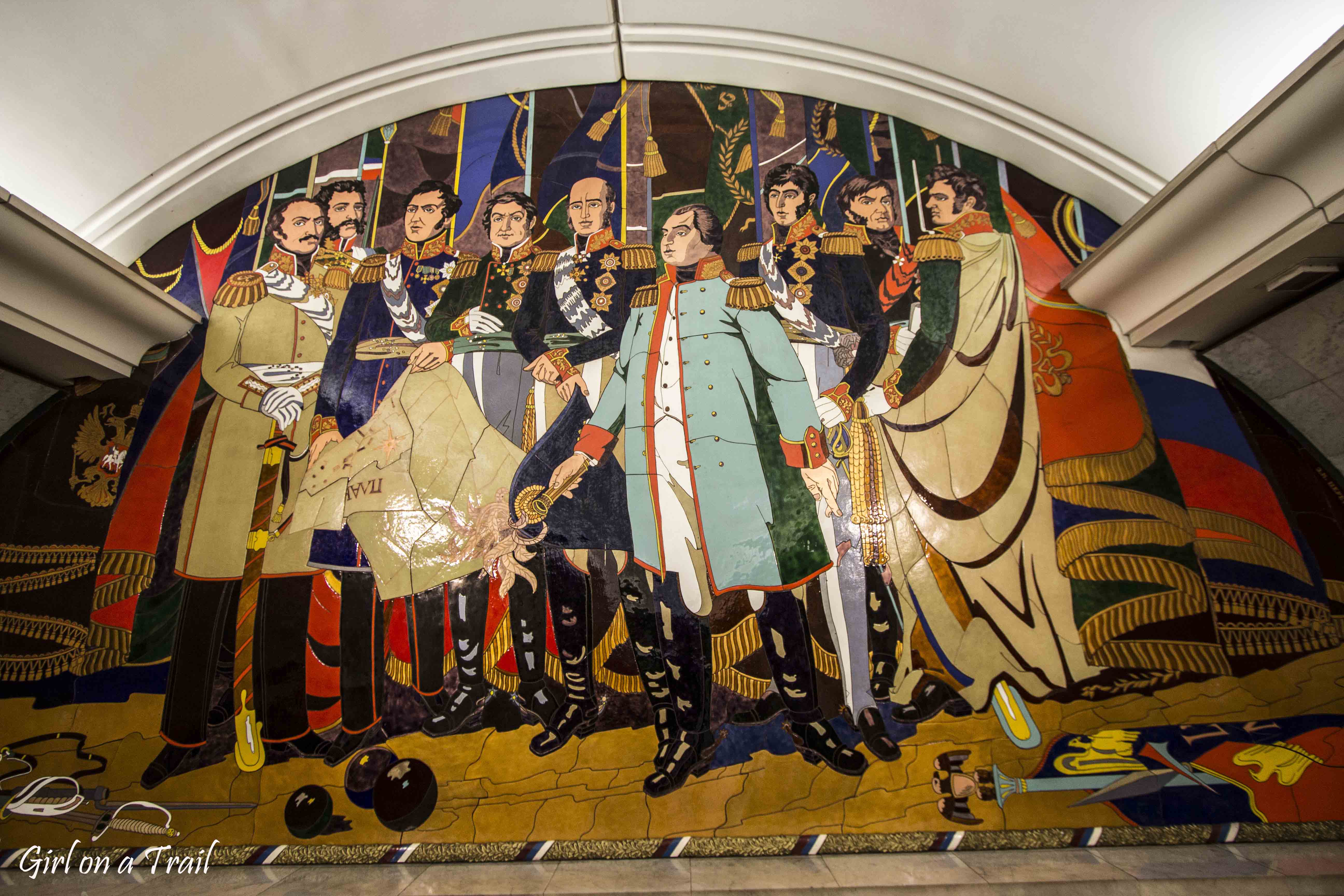 In addition, with any luck, you can spot special trains. The first called Aquarelle (Watercolor), is actually a gallery of art on rails, while the second one looks like trains from the 30's. Unfortunately, I didn't have luck to ride any of them and to make matters worse I was almost robbed two times! The metro is an ideal place for pickpockets because of the number of people and tourists' distraction by a lot of the attractions. In overcrowded trains and passages between stations, as well as when taking photos, special attention should be paid.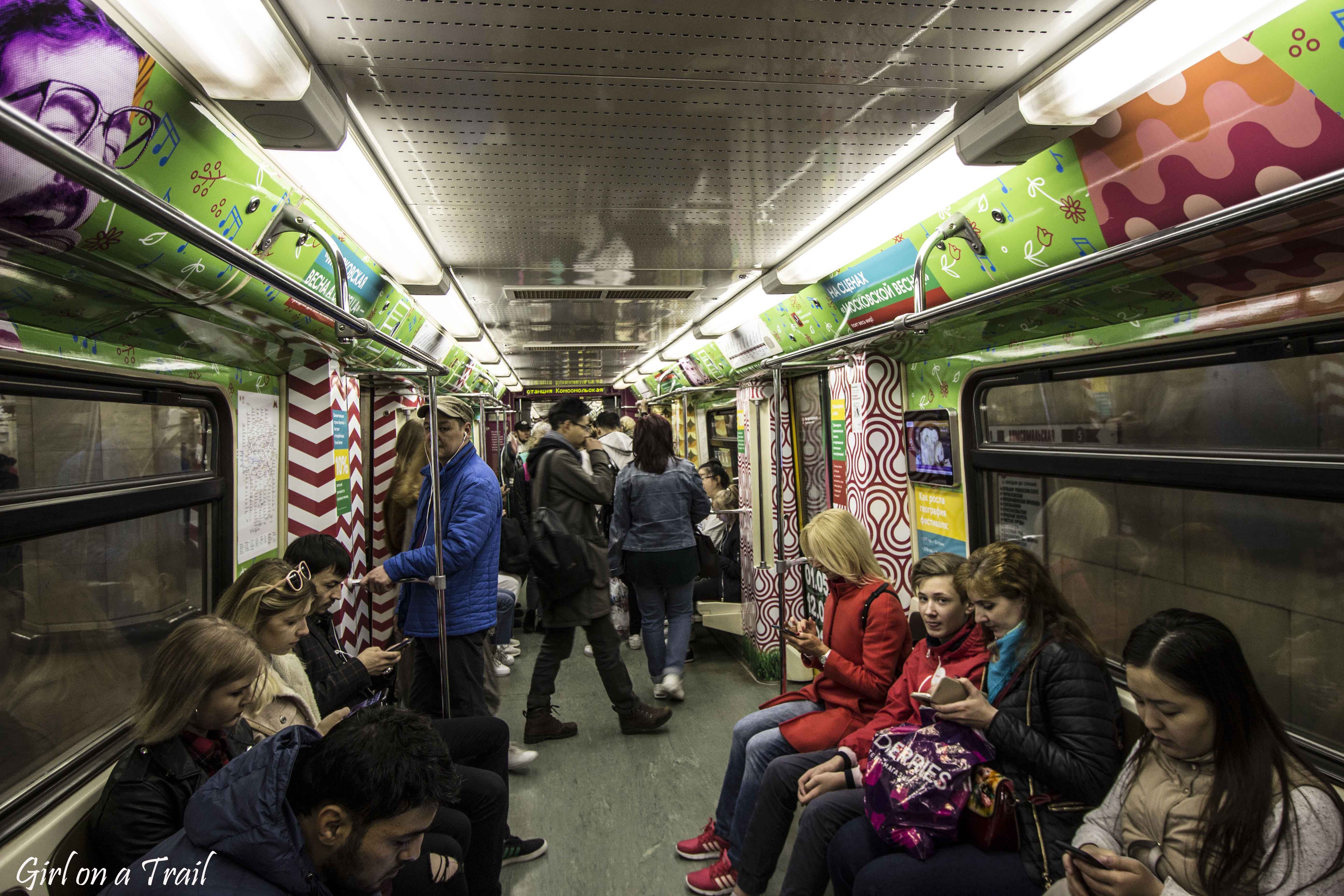 Practical info:
The Metro is open from 5.30 am to 1 a.m. , stations have different names depending on the line, it facilitates navigation. For example, one station can be called Tverskaya, Chekhovskaya or Pushkinskaya depending on the line. Wifi works in all trains.