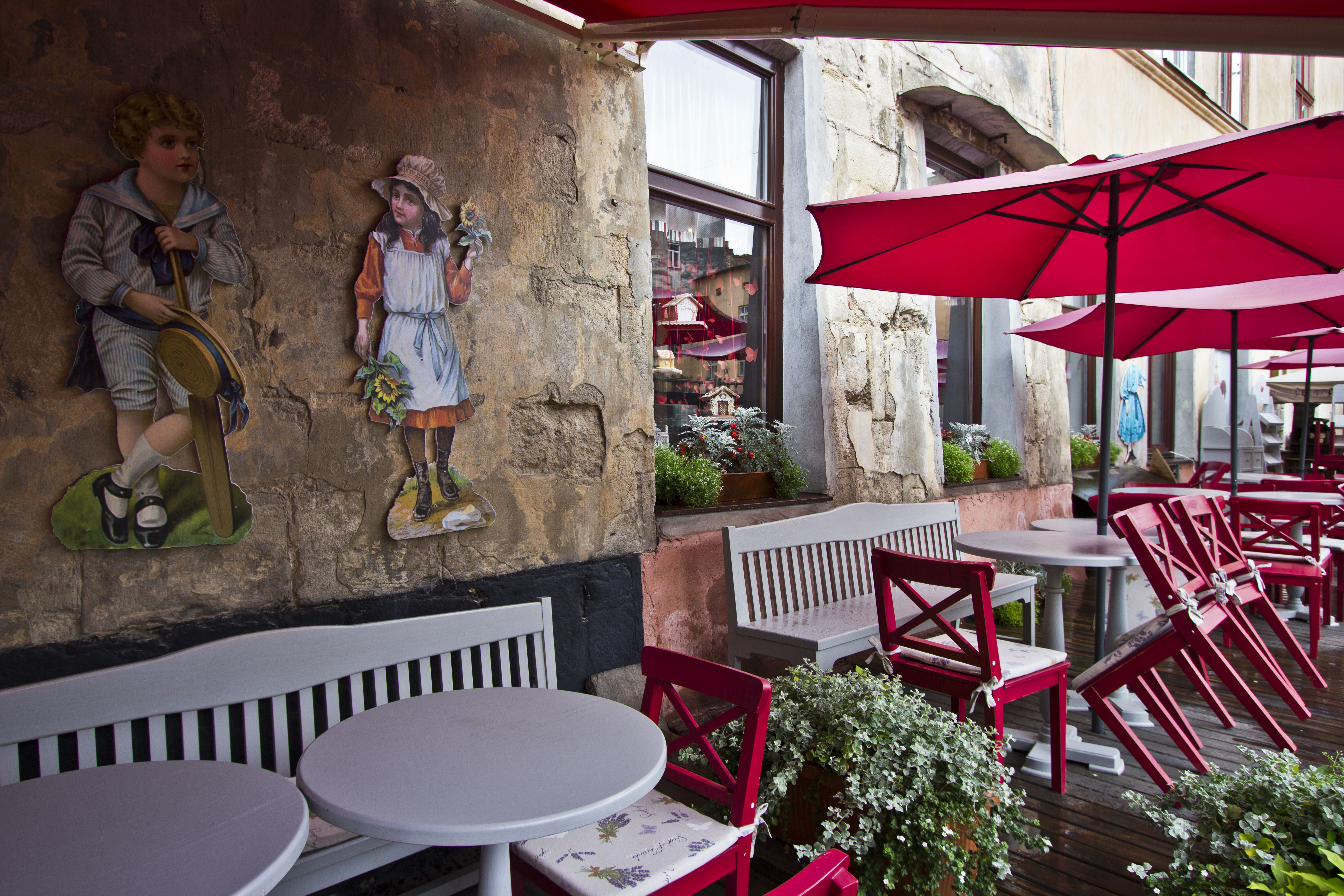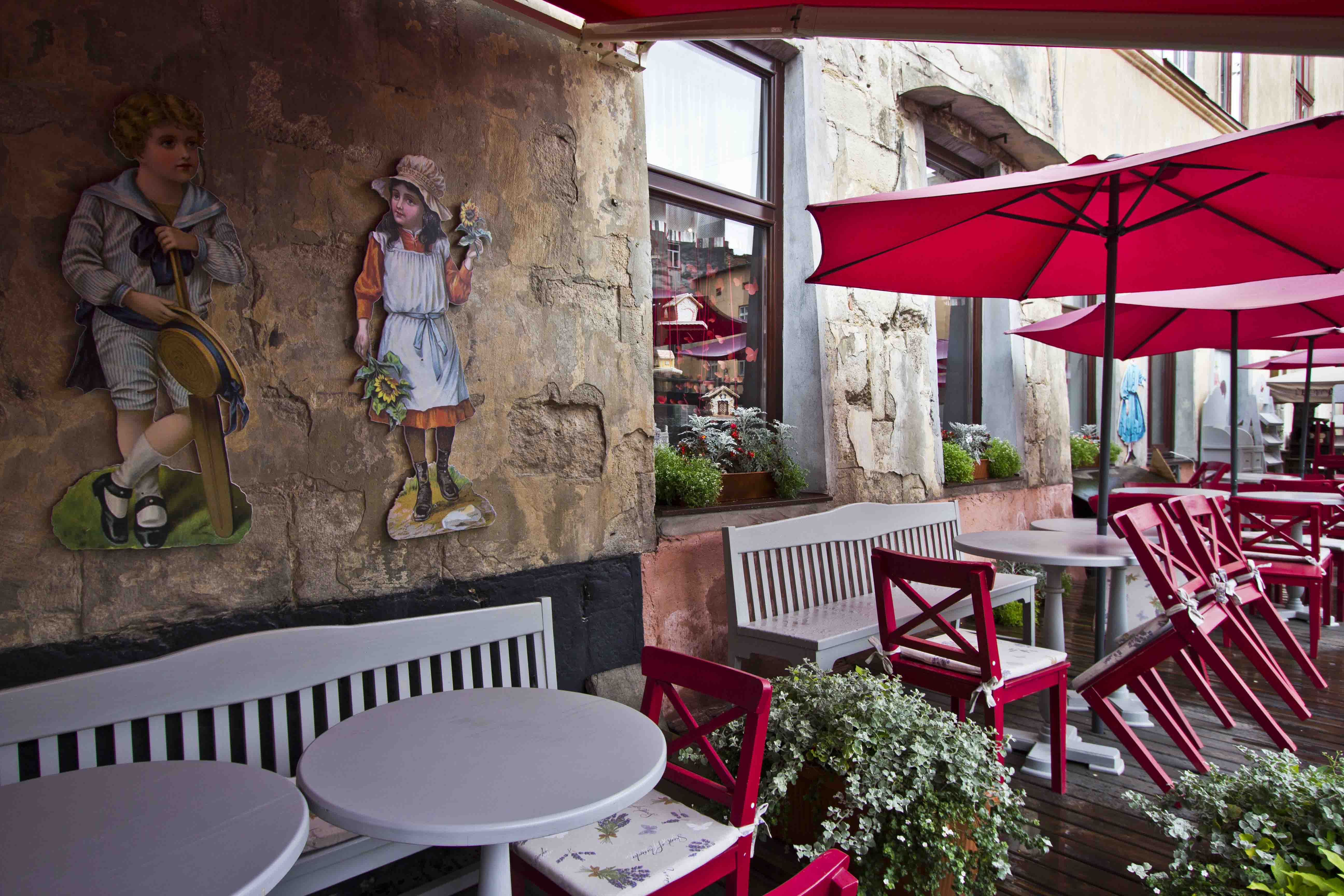 Restaurants and cafes in Lviv are famous for their unique atmosphere. Some of them are hidden in narrow nooks of the old streets. They surprise by their diverse decorations which match perfectly with surrounding buildings.
There're also thematic restaurants such as "Gas Lamp", where its inventor – Ignacy Lukasiewicz sits at the table. A few steps farther, Leopold von Sacher Masoch welcomes and invites to his restaurant where we can be spanked with a quirt.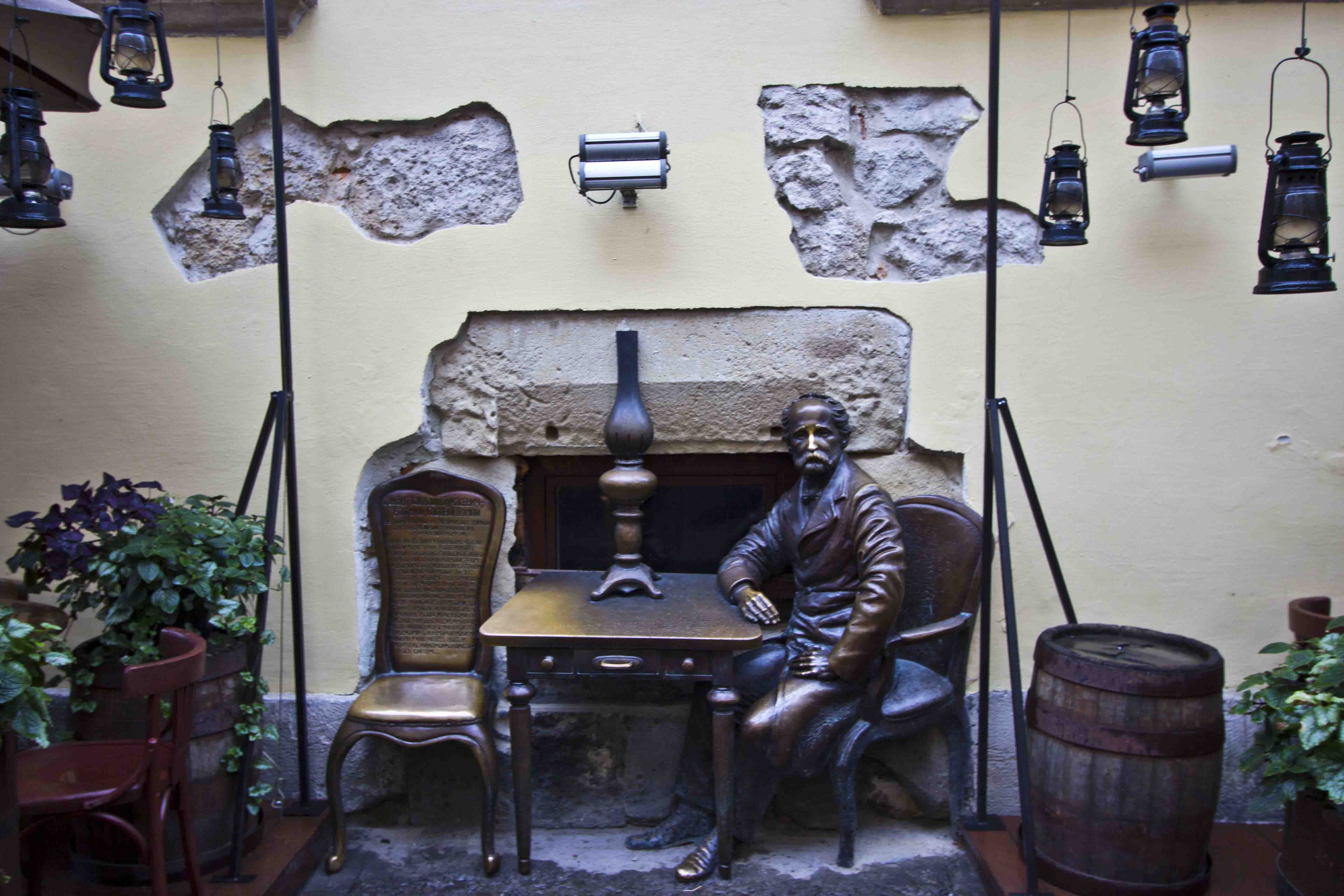 Restaurants in Lviv are not only creative places there you can also eat delicious food.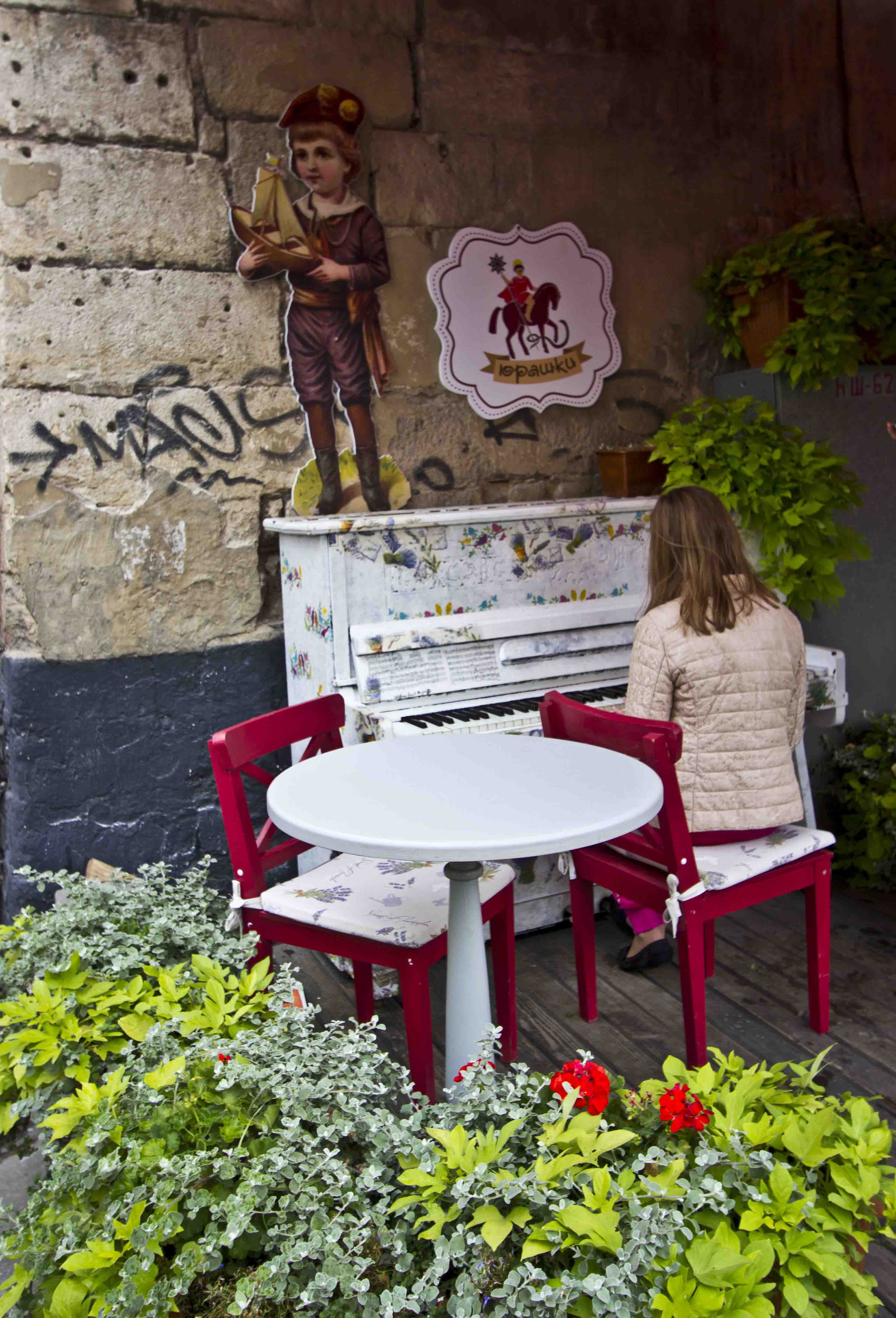 In order to feel the city's atmosphere and taste delicious cuisine, you can go to Kumpel restaurant (address: Vynnychenka 6). It's so popular spot in Lviv that it's impossible to find there free table in the evening.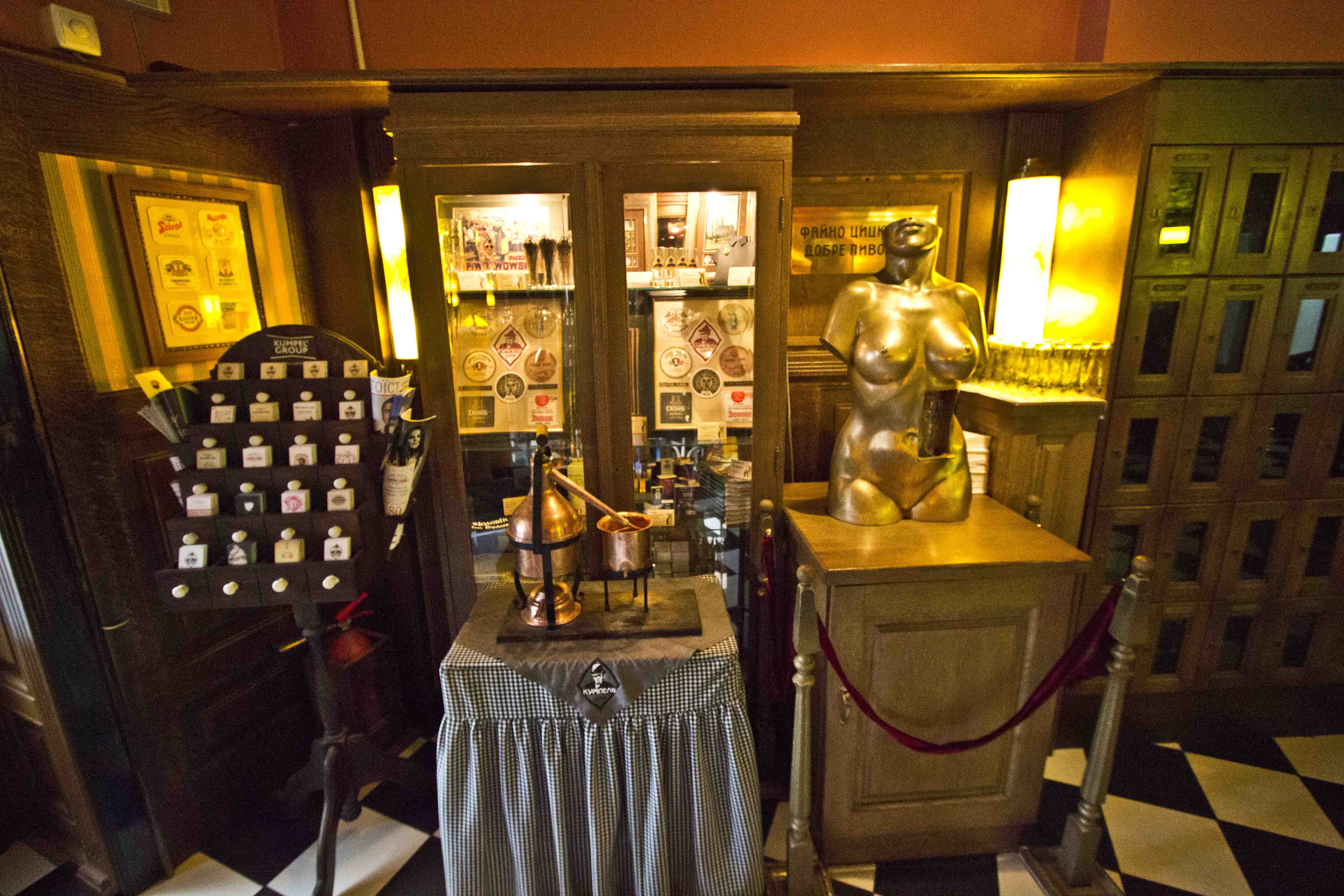 There're huge, copper vats where dark and light beer is brewed.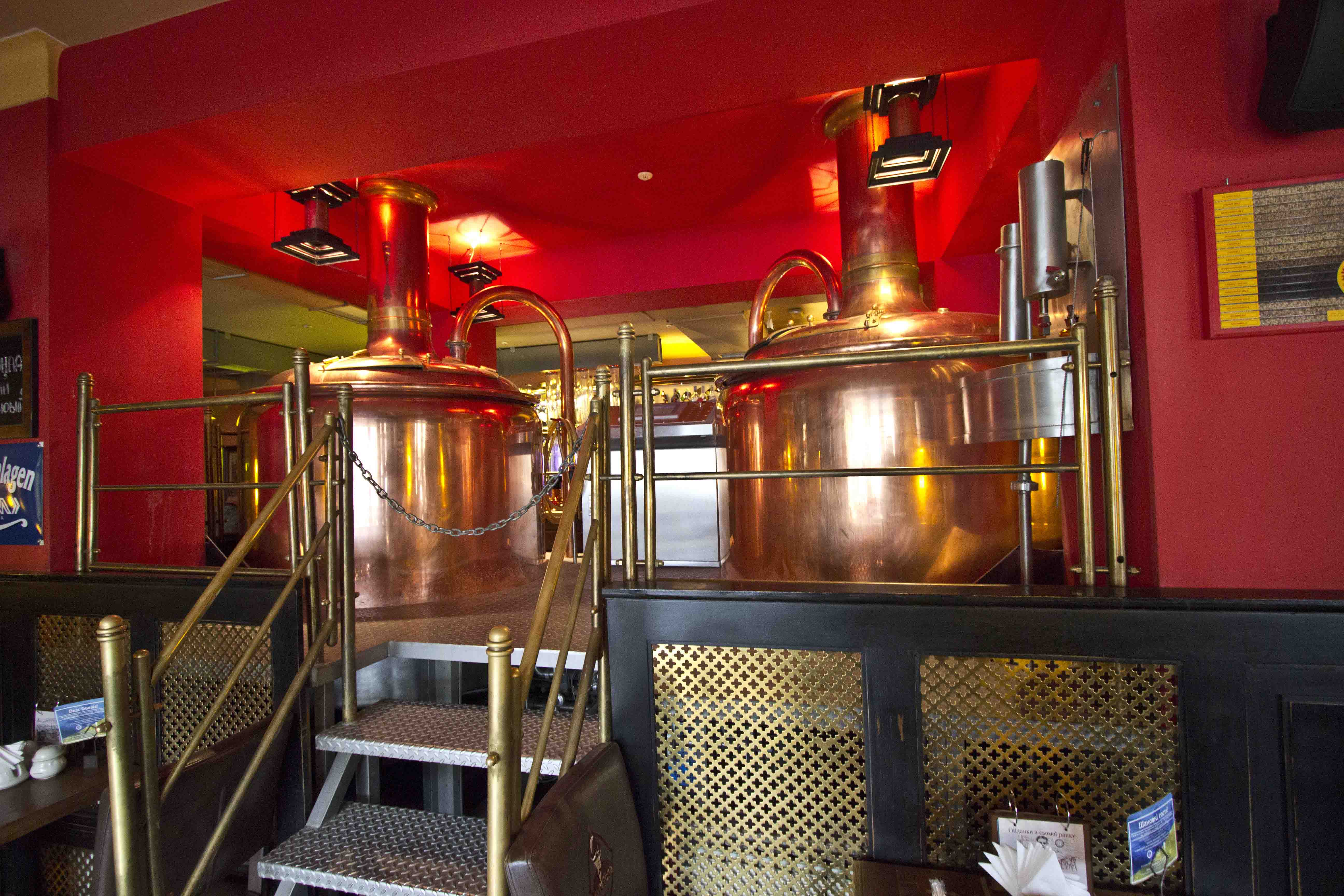 Kumpel has a long tradition of beer brewing.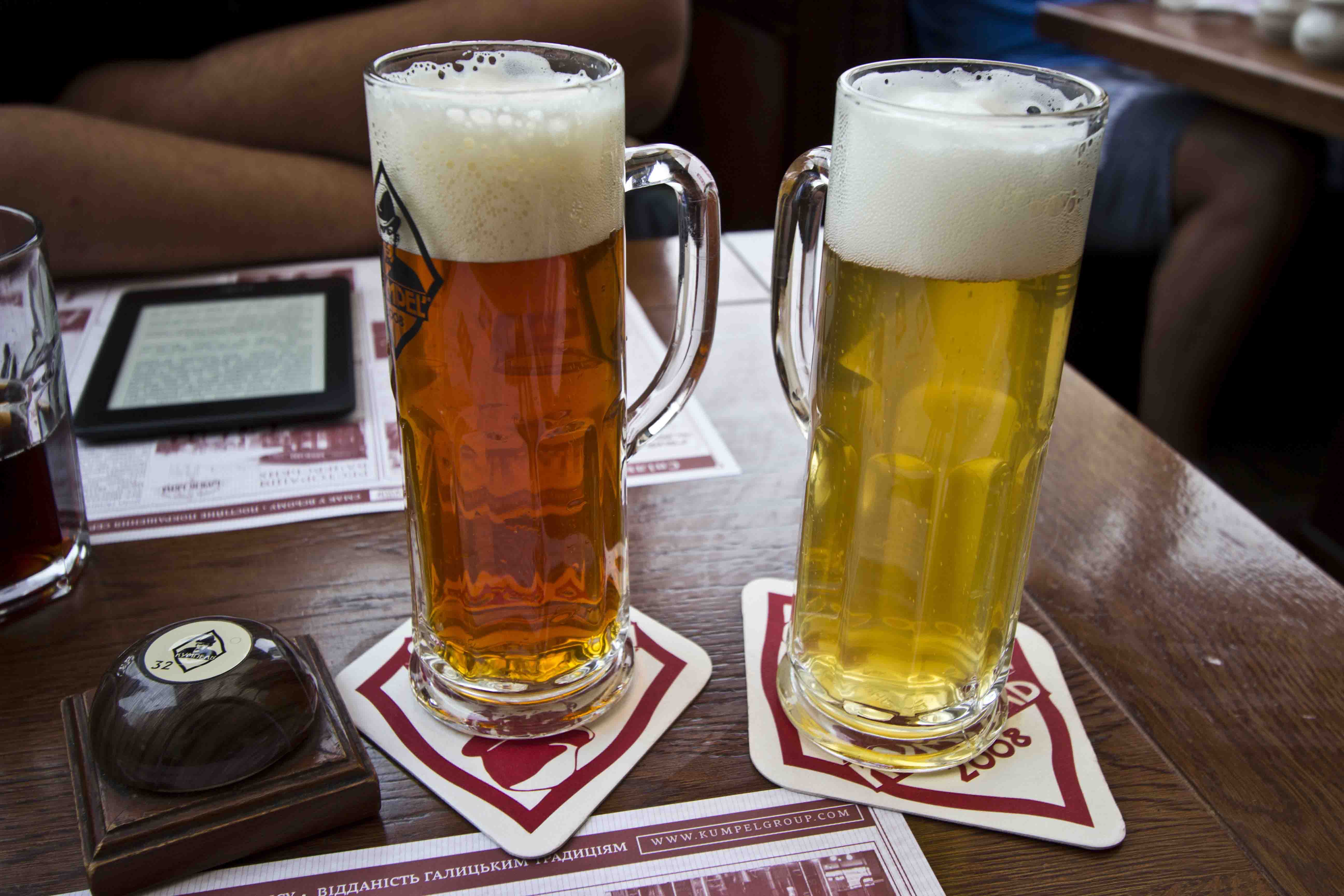 The restaurant serves delicious meals also from Galician region. It connects Ukrainian, Polish, Slovakian, Austrian and Armenian cuisine. You can try here: tripes, garlic soup, Ukrainian borsch, homemade sausages, roasted knuckle and dumplings.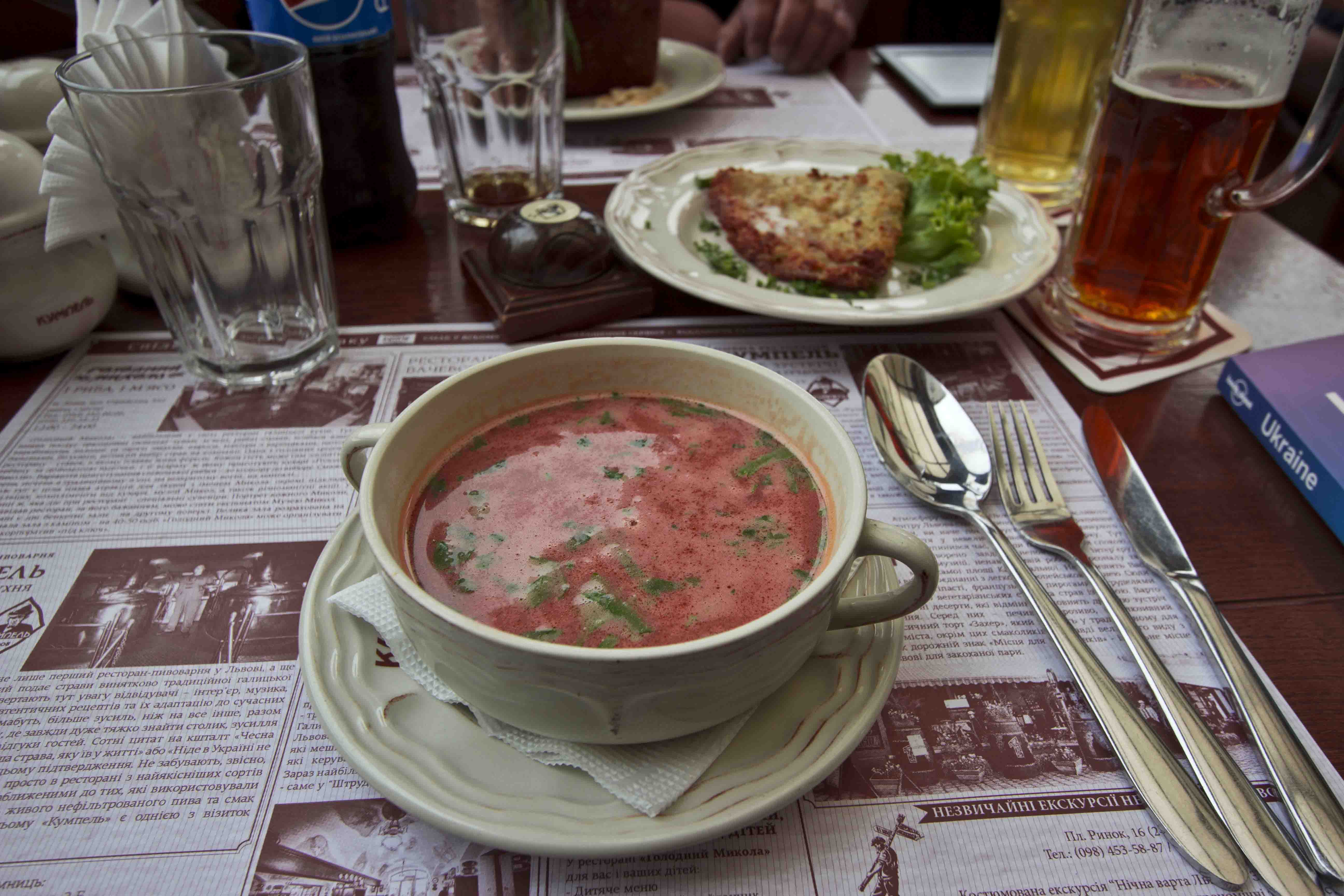 This place is so popular not only in view of exceptional cuisine but also the prices which are as follows:
dumplings 33 UAH (1,5 $; 1,3 €)
garlic soup 56 UAH (2,5 $; 2,3 €)
Ukrainian borsch 35 UAH (1,6 $; 1,44 €)
trout 103 UAH (4,75 $; 4,25 €)
beer (1l) 42 UAH (2 $, 1,7 €)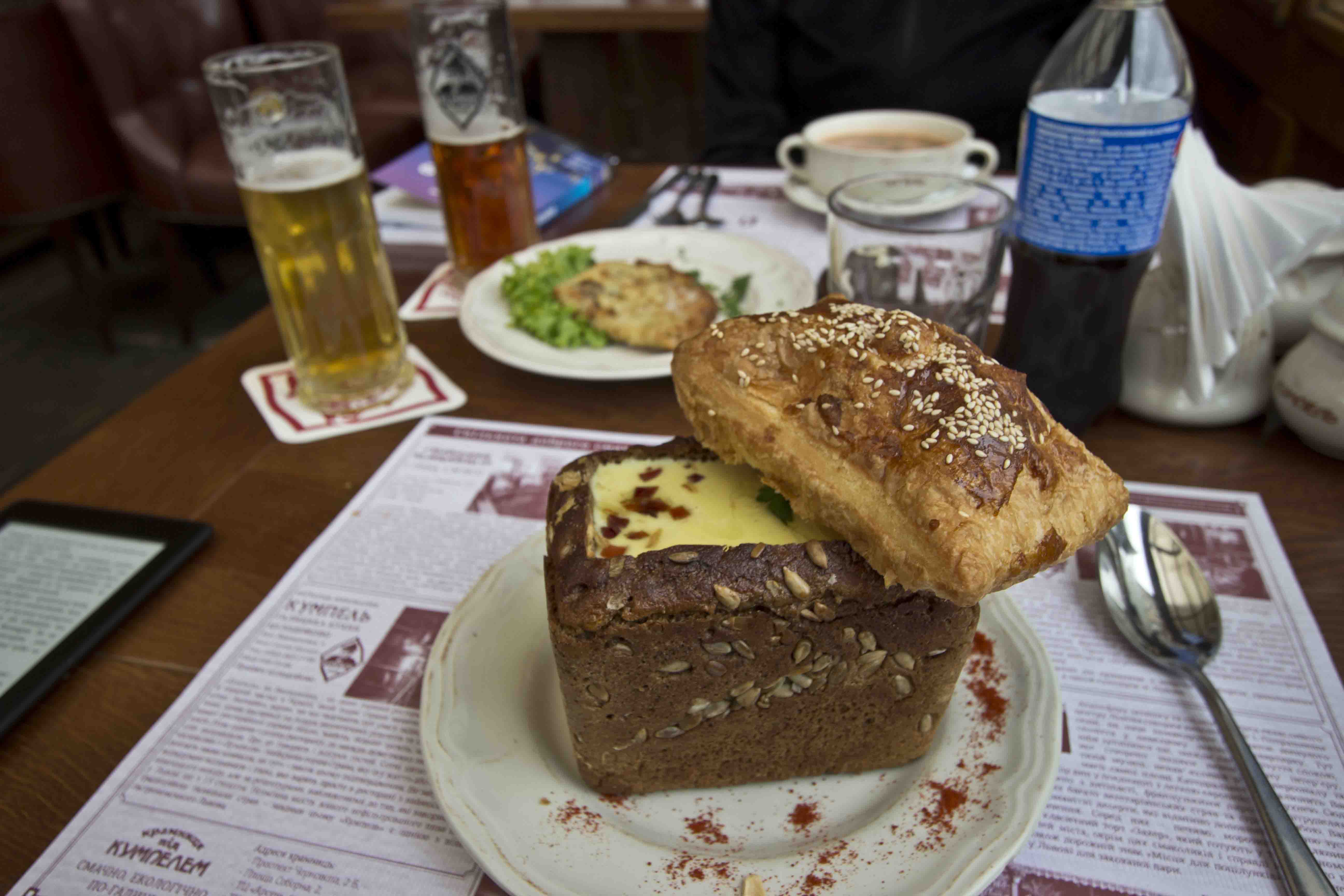 But mainly the atmosphere, makes this place exceptional. The interior resembles old, prewar restaurants with leather chairs and old photos.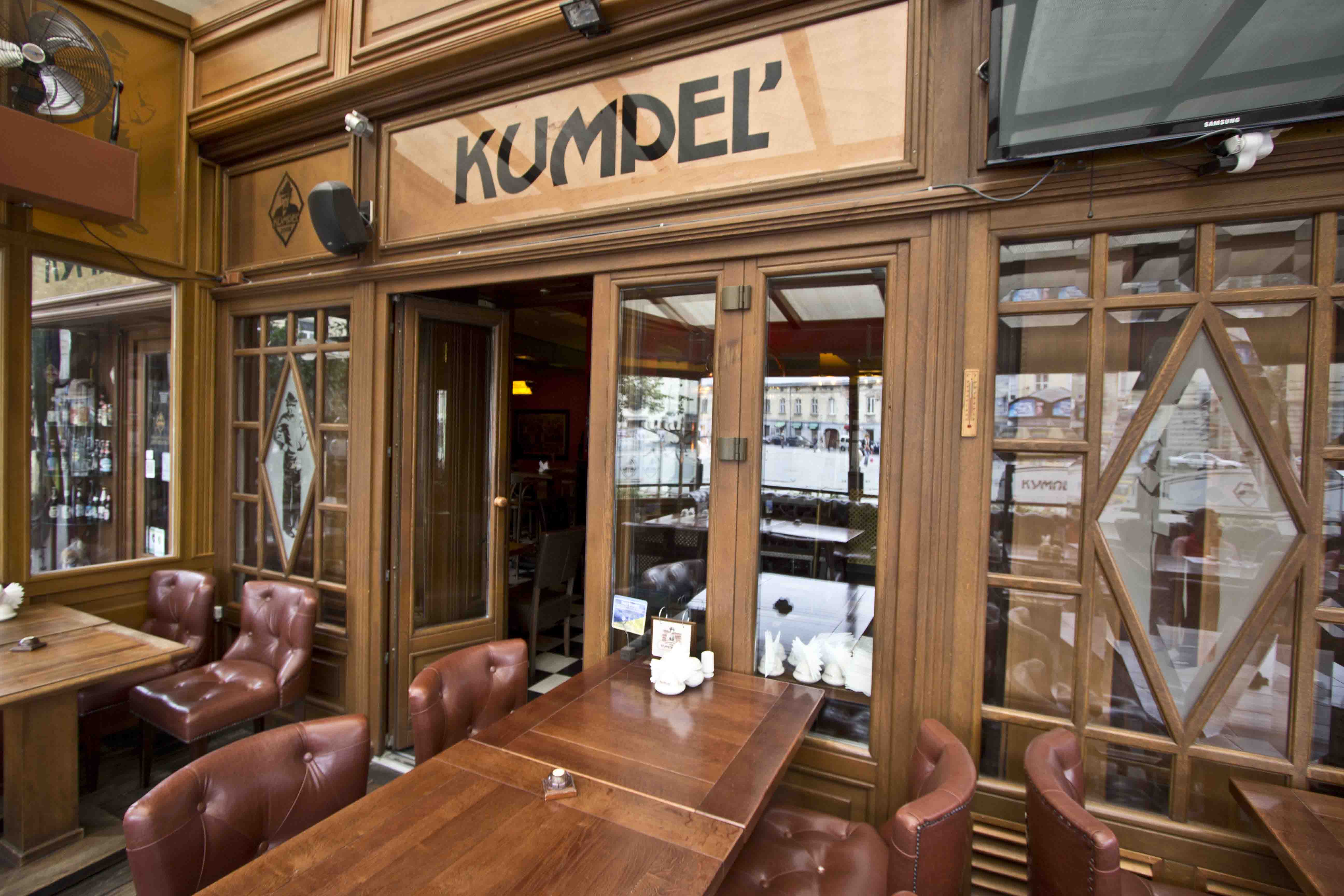 Another interesting decor you can find in Dim Lehend (The House of Legends, Staroyevreyska 48 st.). You'll easily recognize this place by pink townhouse decorated with dragon.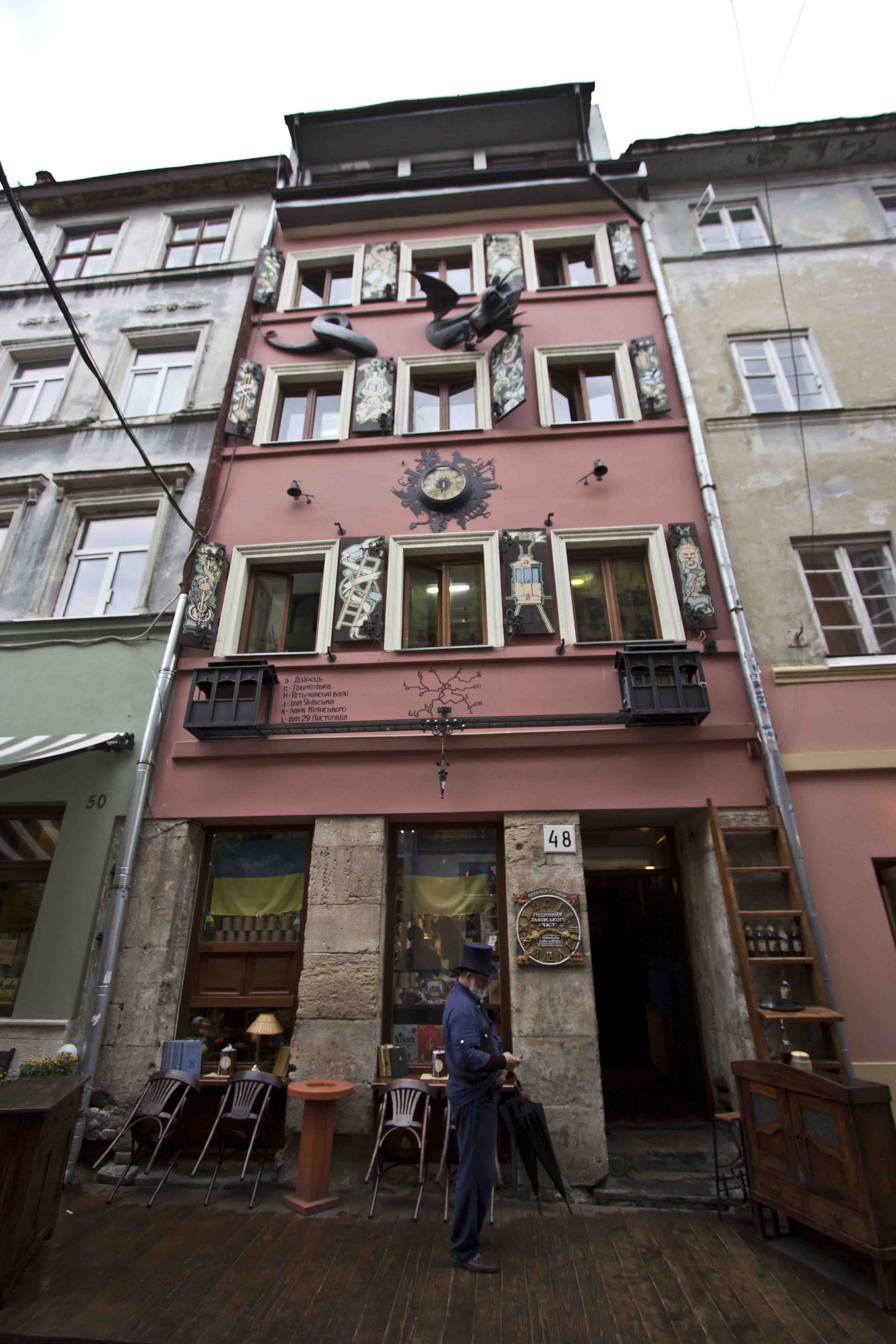 Guests are welcomed by talkative chimney sweeper who likes talking about Lviv legends. Making a wish and grabbing his button is a must! In this 7-storey townhouse – restaurant you'll find a lot of rooms dedicated to different things connected with Lviv.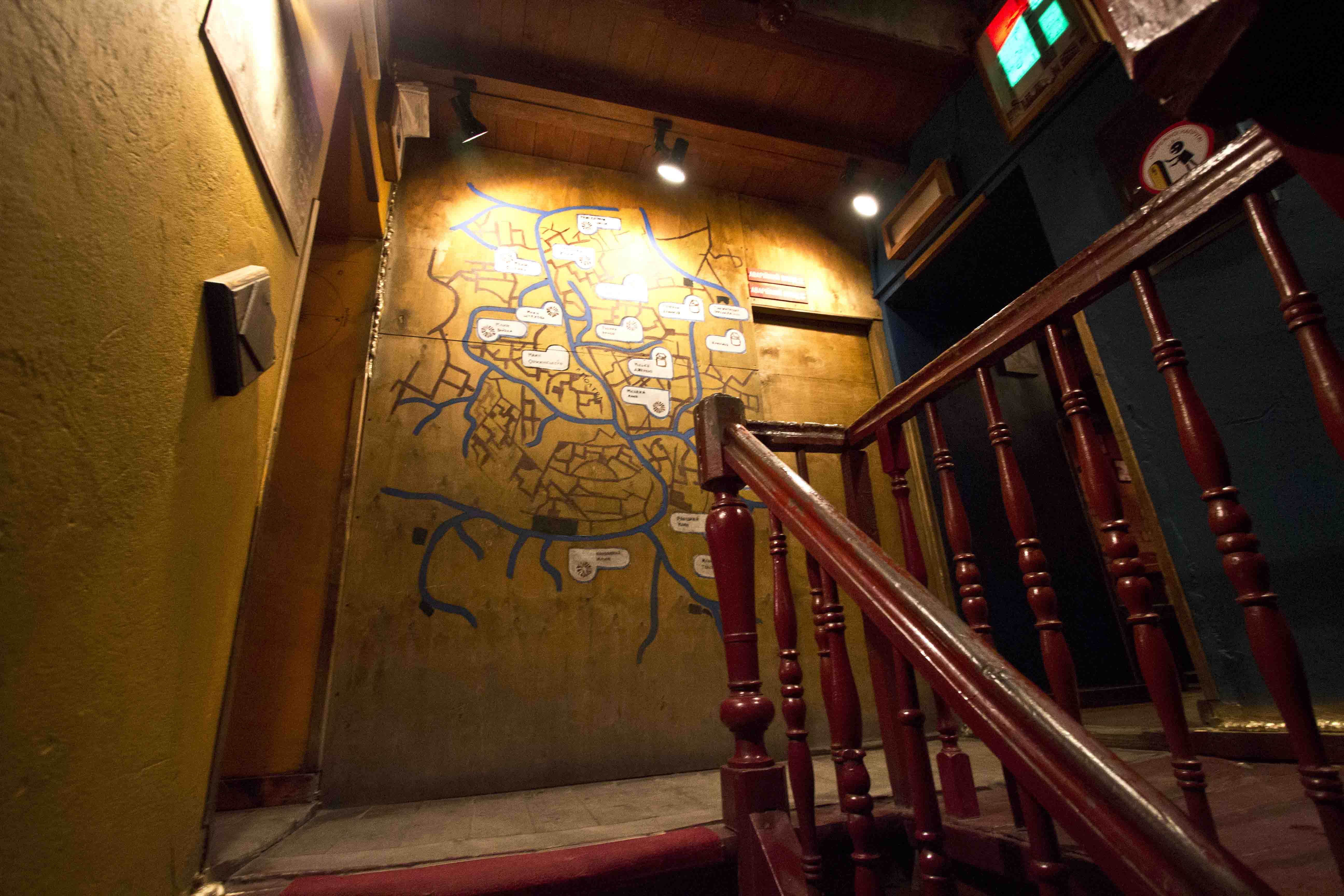 There's a room dedicated to cobblestone, underground river and lions which are the symbol of this city.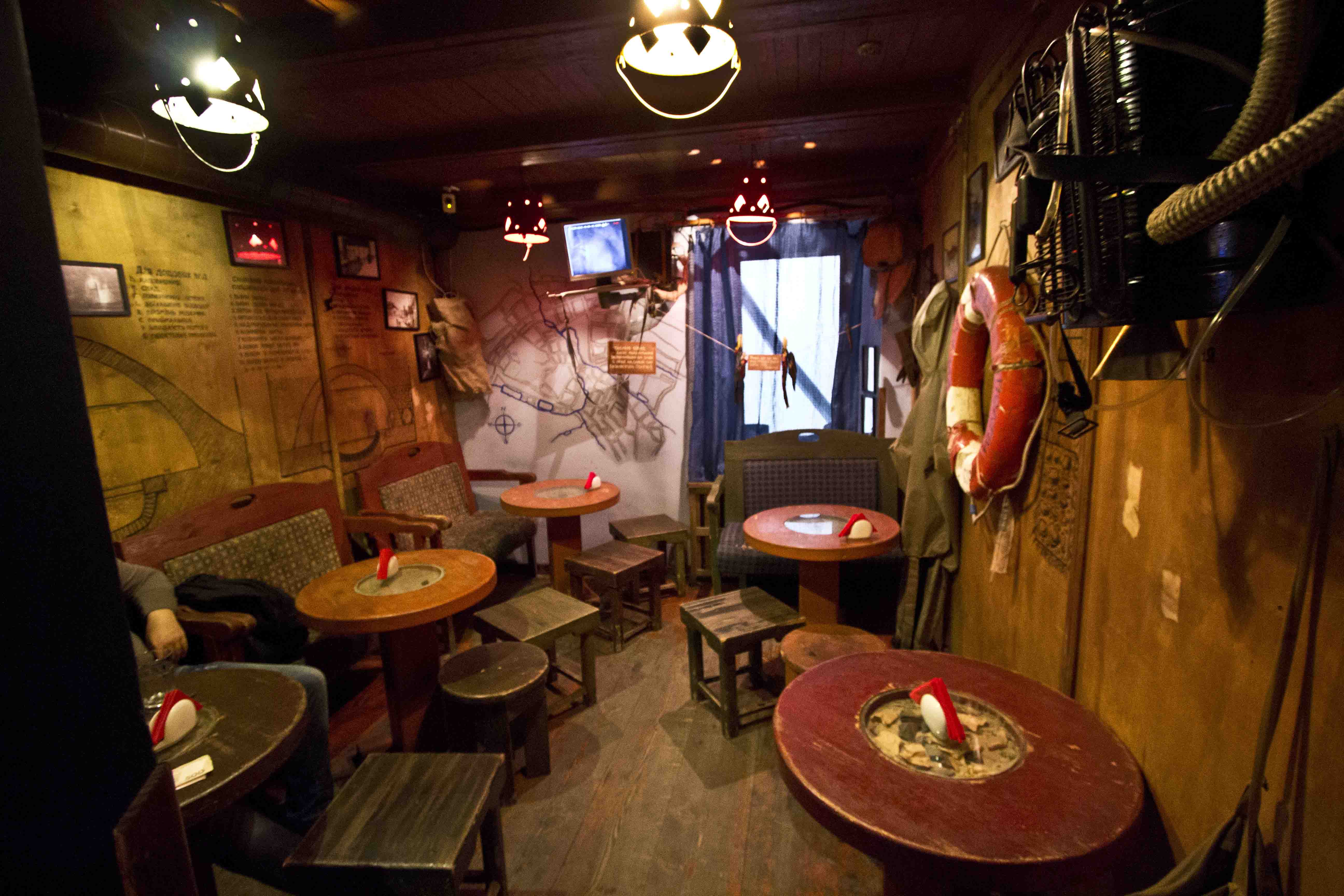 The most interesting is a terrace where you can admire a beautiful view of the city. There's also a sitting chimney sweeper and parked car!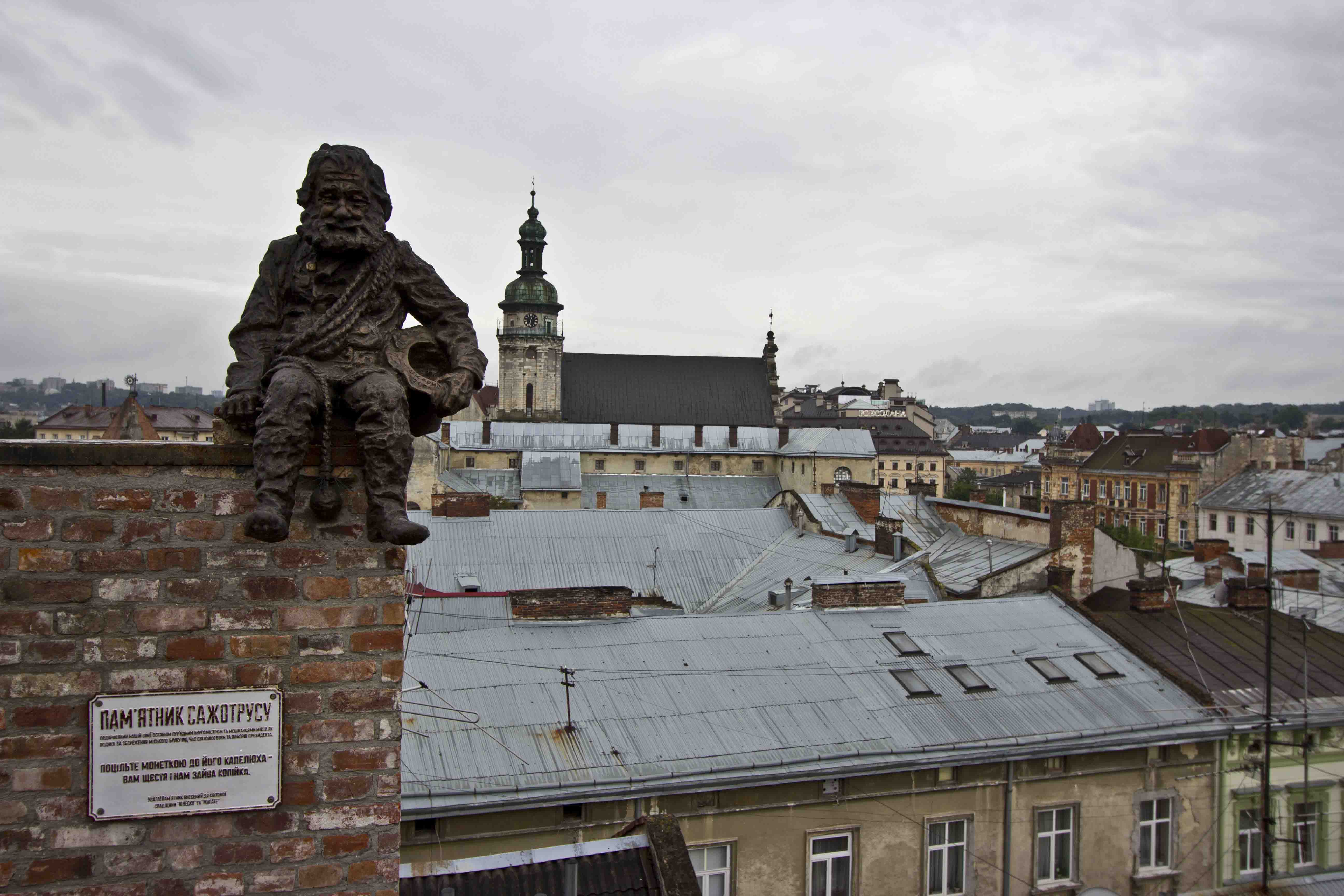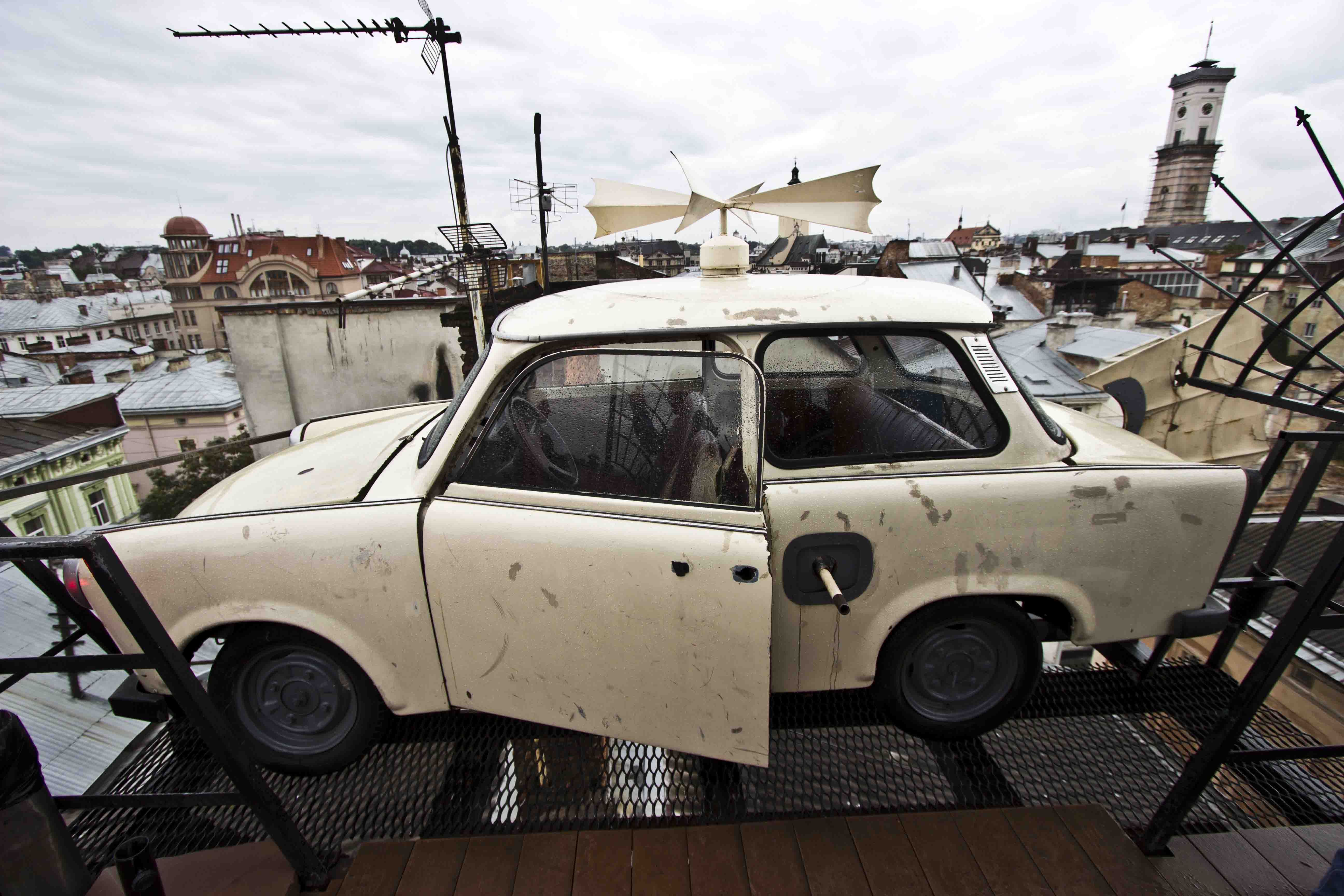 Dim Lehend is a very interesting place, but unfortunately the cuisine here is average.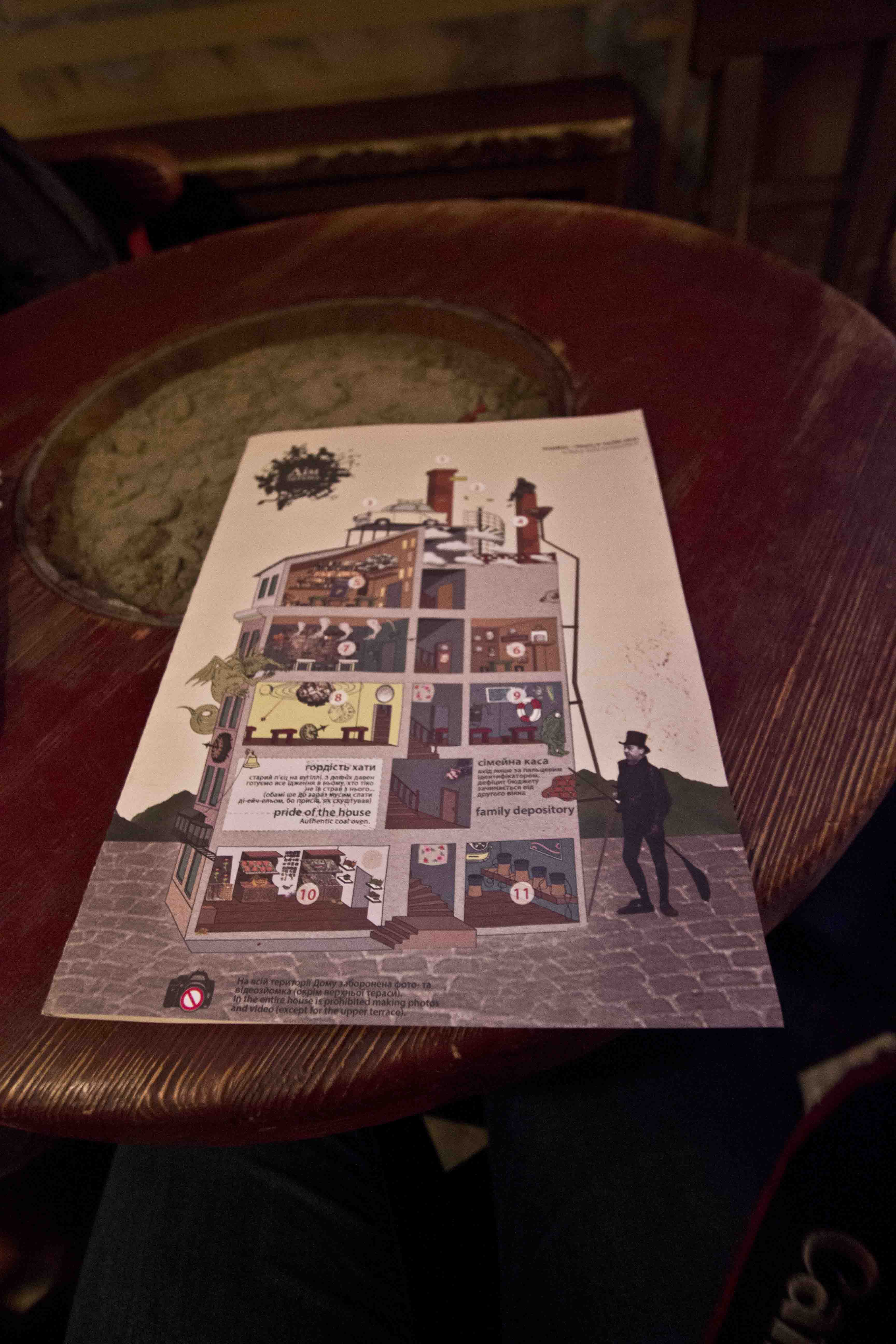 Don't be surprised when you see a long queue in a gate of a townhouse which is located opposite the Town Hall. People there wait to get into a restaurant called Kryjivka.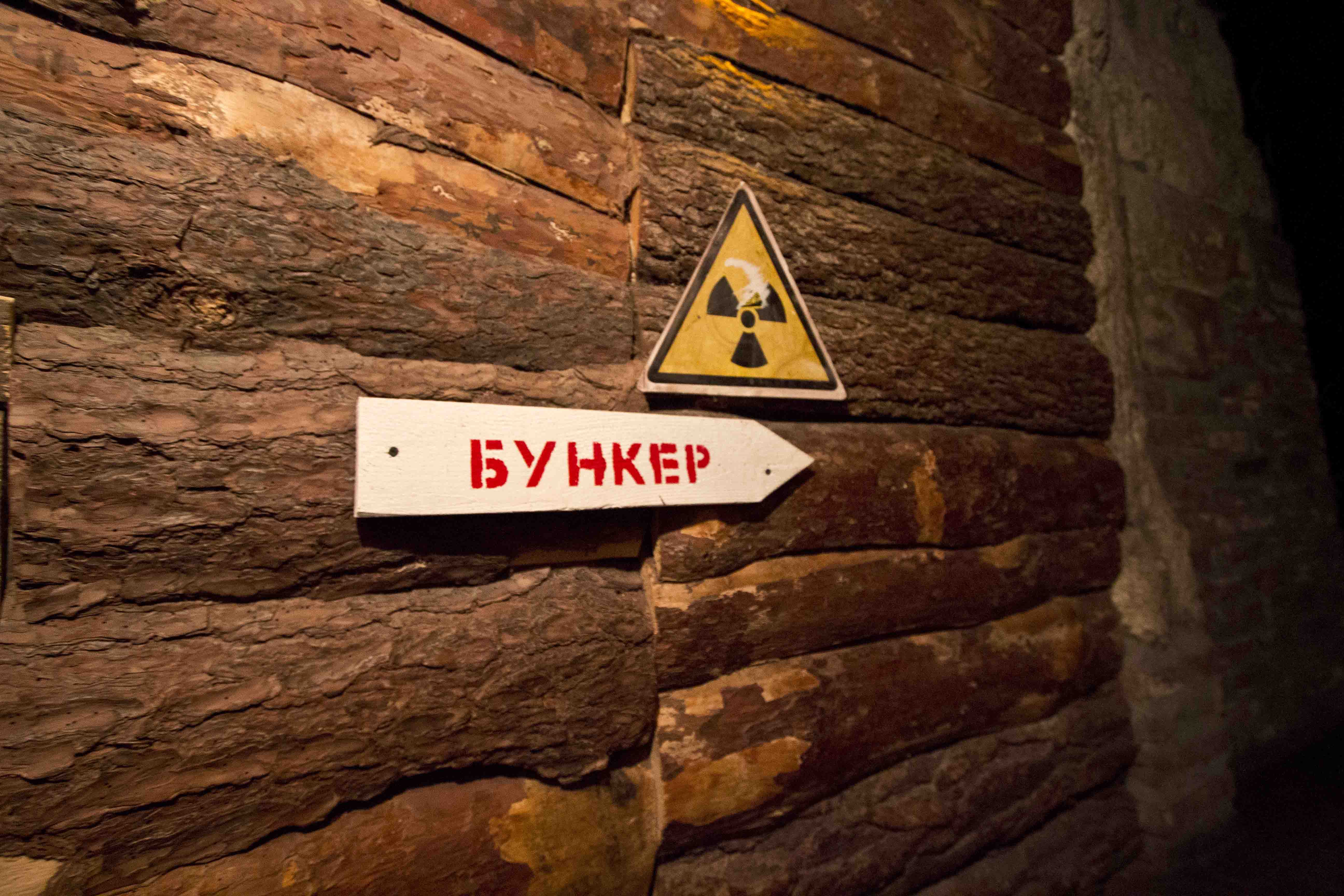 In order to keep up appearances of conspiracy, there's no sign where it's located.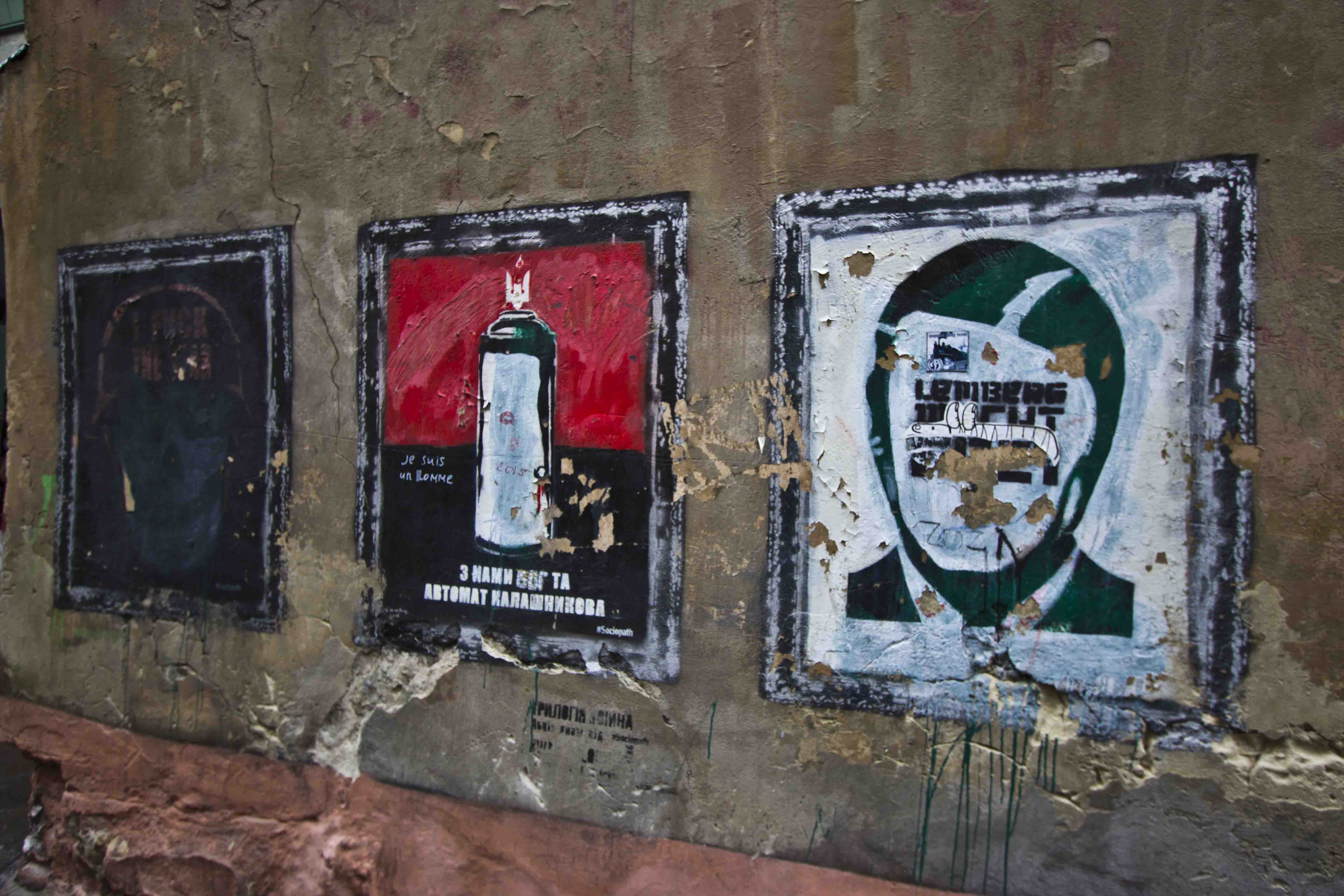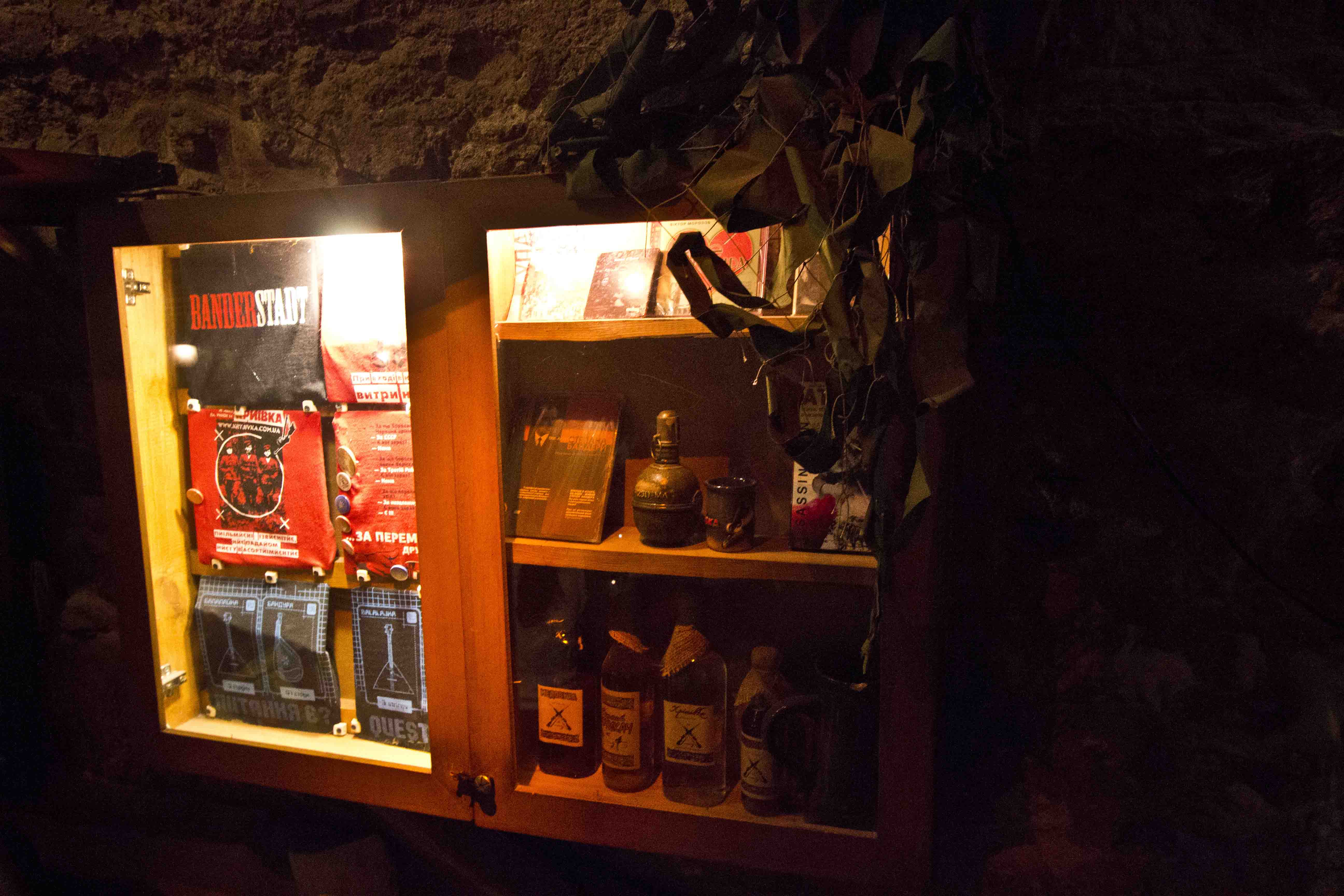 It's a very controversial place. It refers to the times of Ukrainian Insurgent Army which is known for infamous past. The entrance is guarded by an old insurgent who lets the guests in only on condition that they know secret password "slava Ukraini, herojam slava".
The interior resembles a bunker with narrow passages, posters and rifles.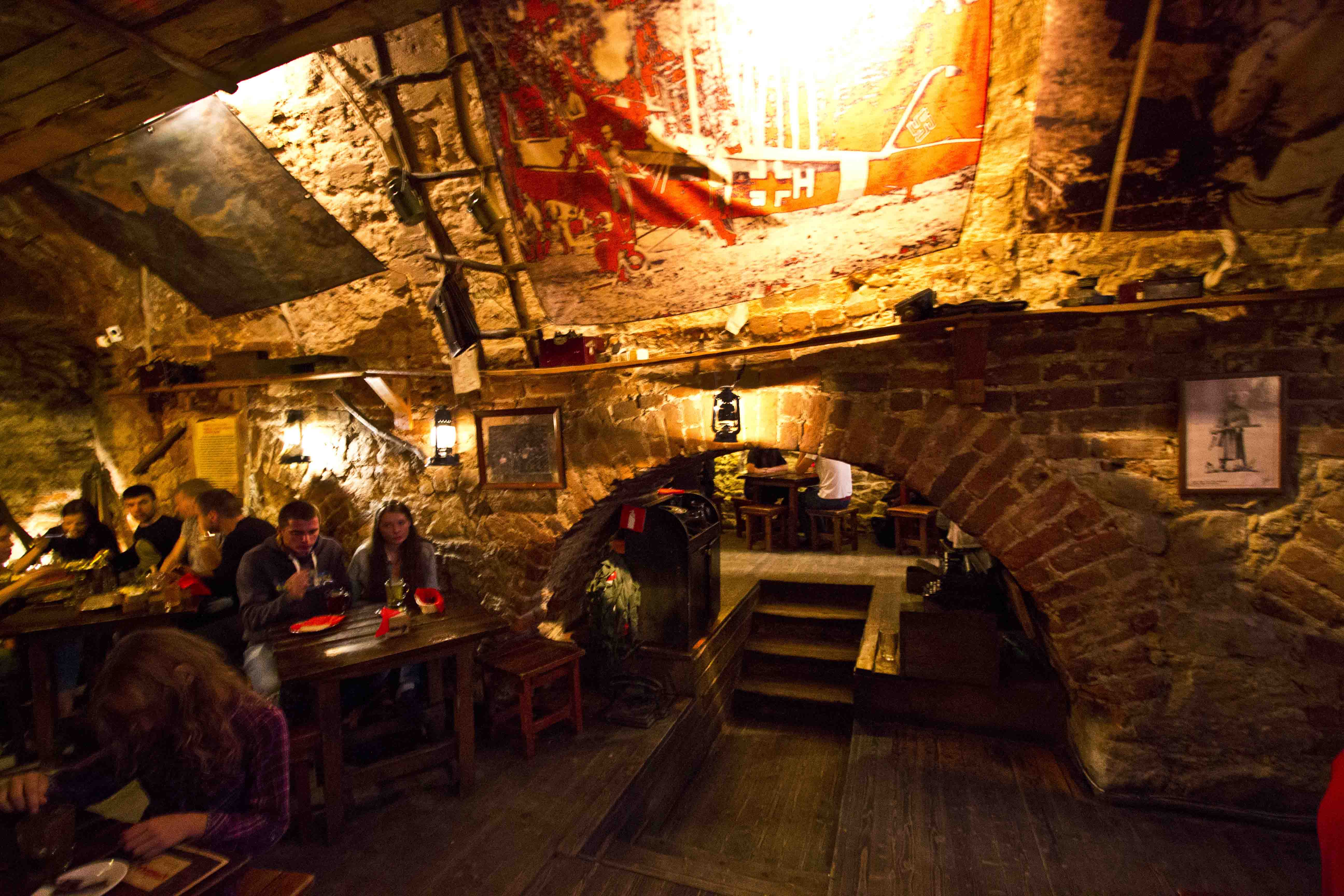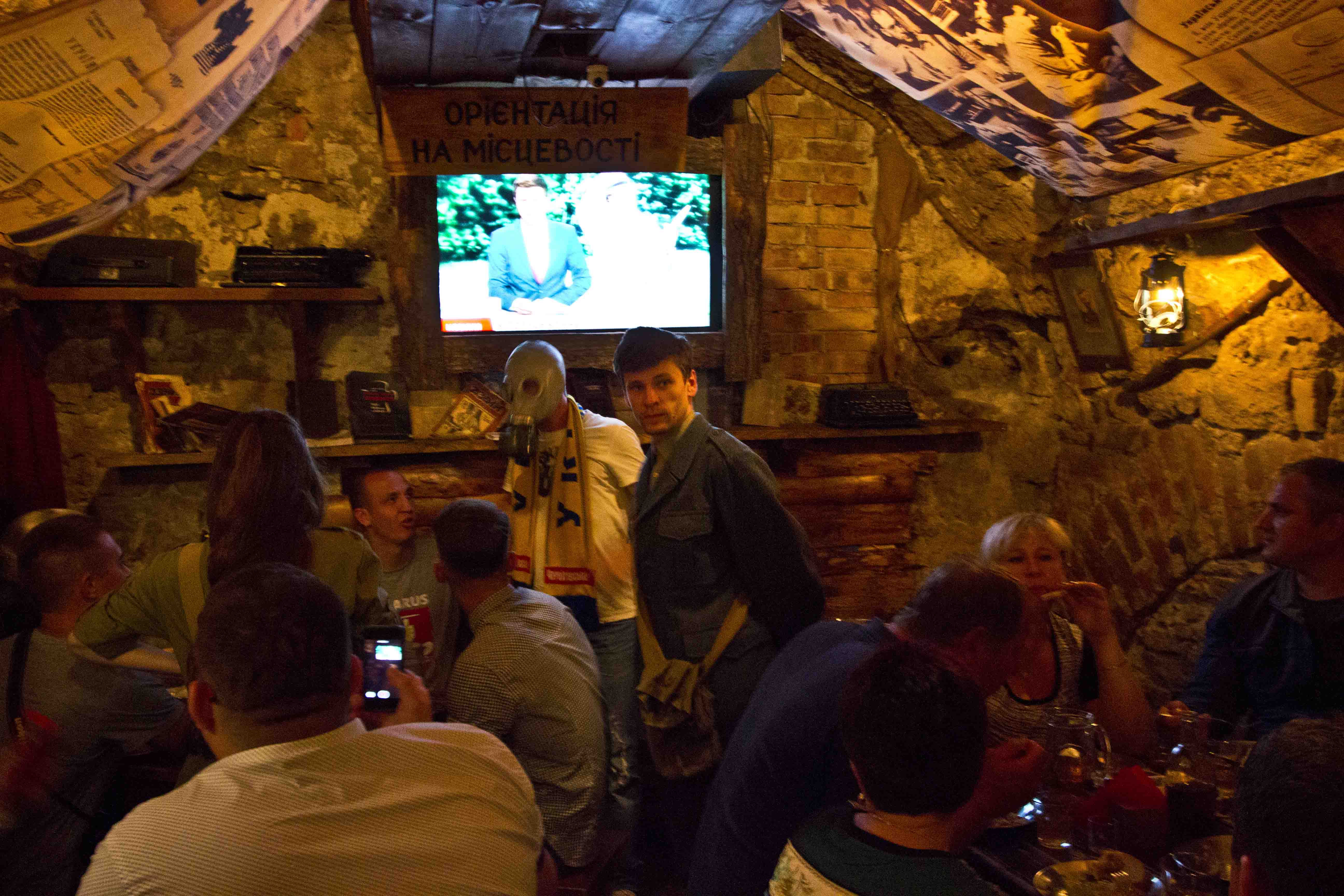 Very interesting business model is presented by so called The Most Expensive Galician Restaurant. It was designed on the basis of masonic lodge, and consequently it's very hard to find it. It's located in the same building as Kryjivka. Don't be surprised that on the first floor you'll find only one door equipped with a handle, and unfortunately there's no information that there's the restaurant.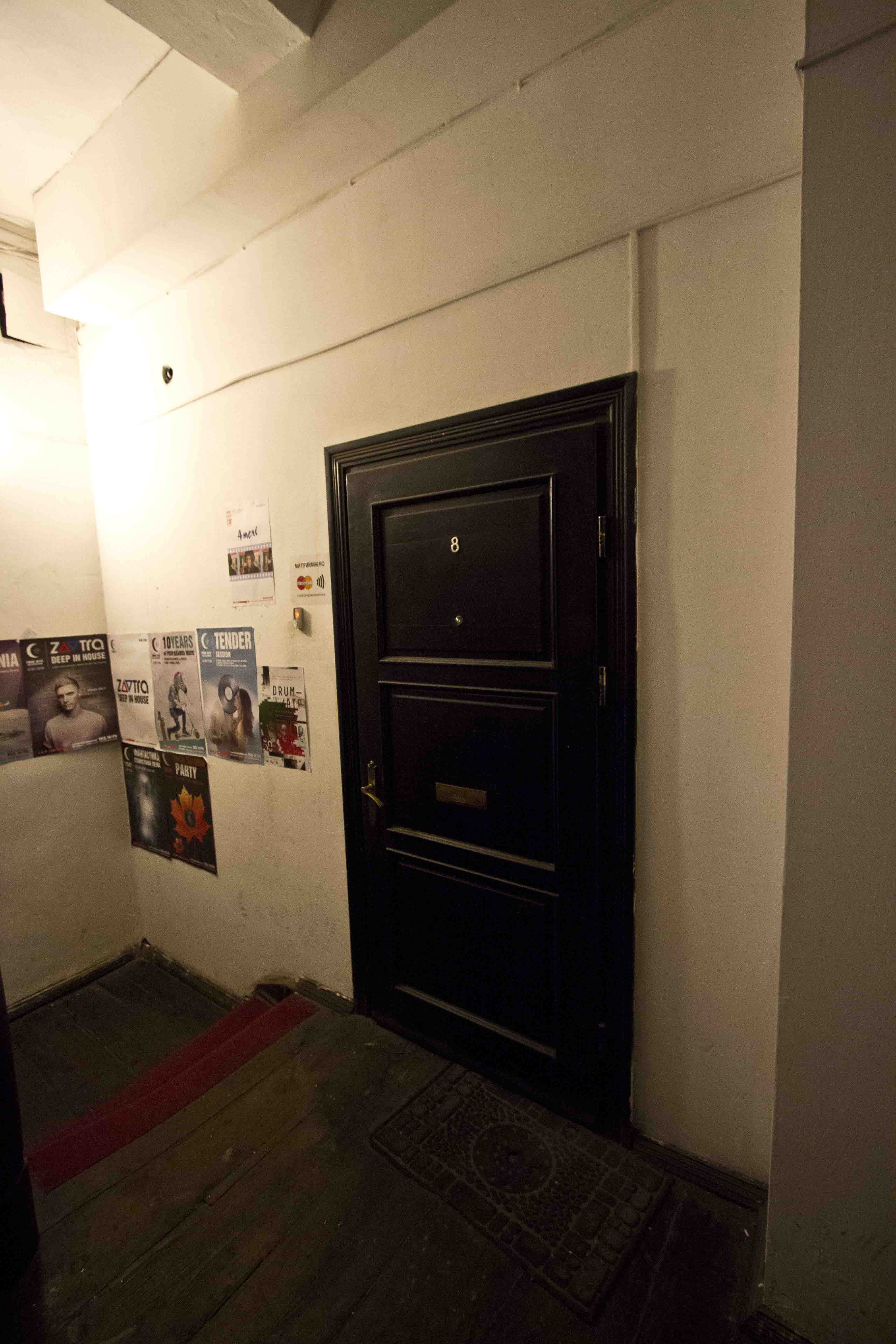 At the threshold we saw an old man dressed in a robe who told us that we were on the spot. But that place looked like a simple hall. We didn't have a chance to say that it was probably a mistake, when the door leading to the lodge, was opened.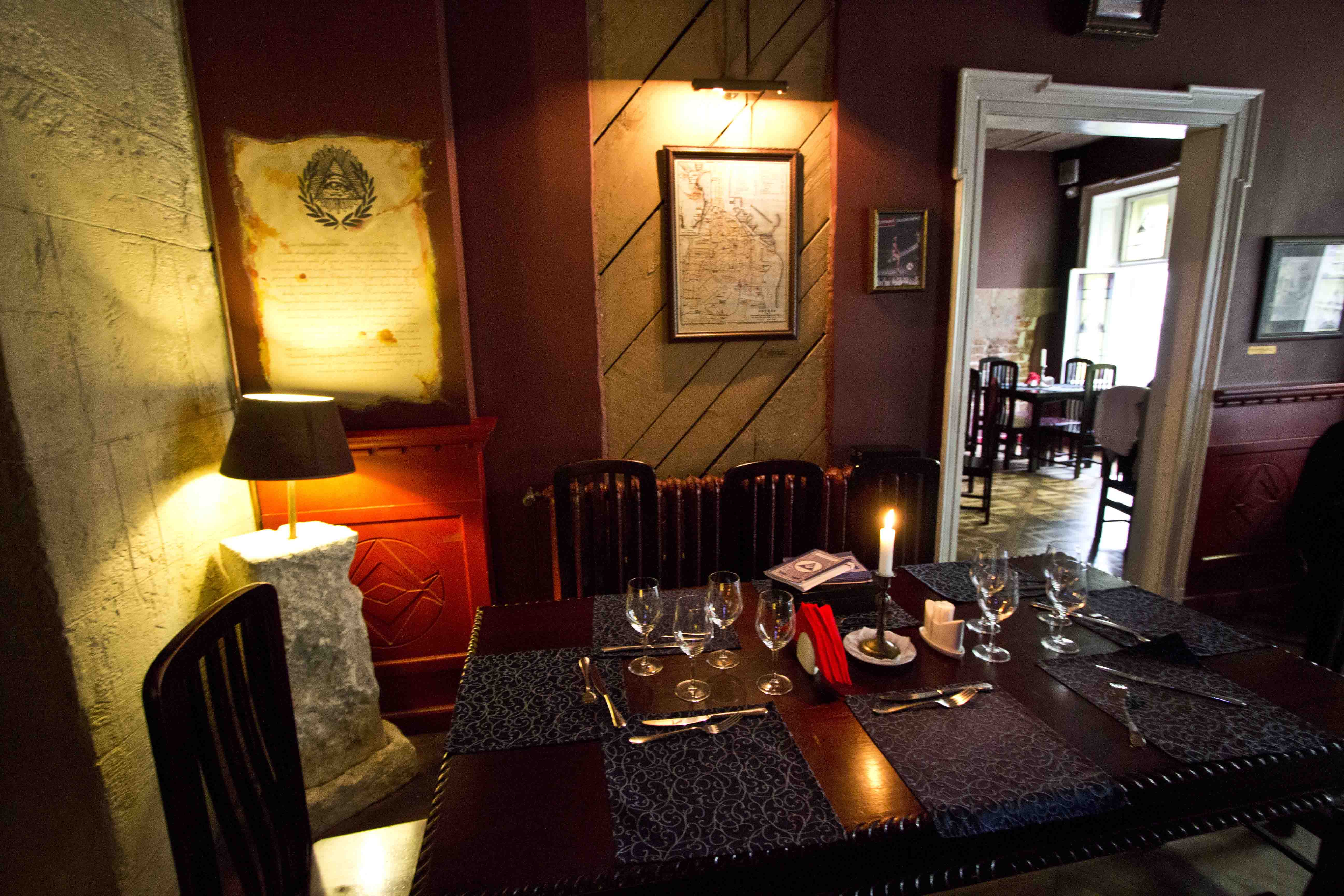 The restaurant is very expensive, it seems that additional "0" was added to the prices. Coffee or beer cost 200 UHR, so very expensive for Ukrainian conditions.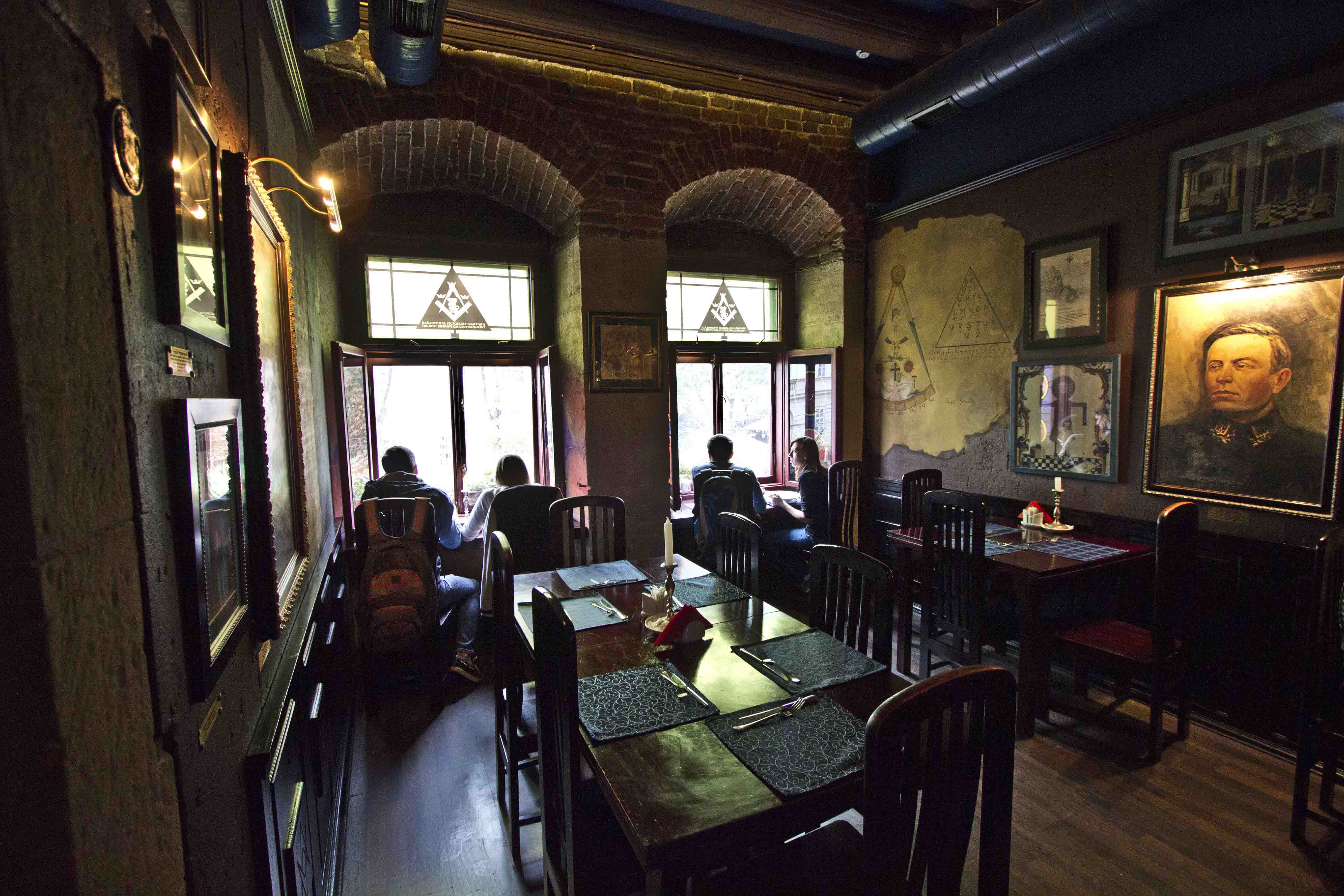 But there's a secret. If you have a special card from Kryjivka or Coffee Manufacture you'll have 90% discount!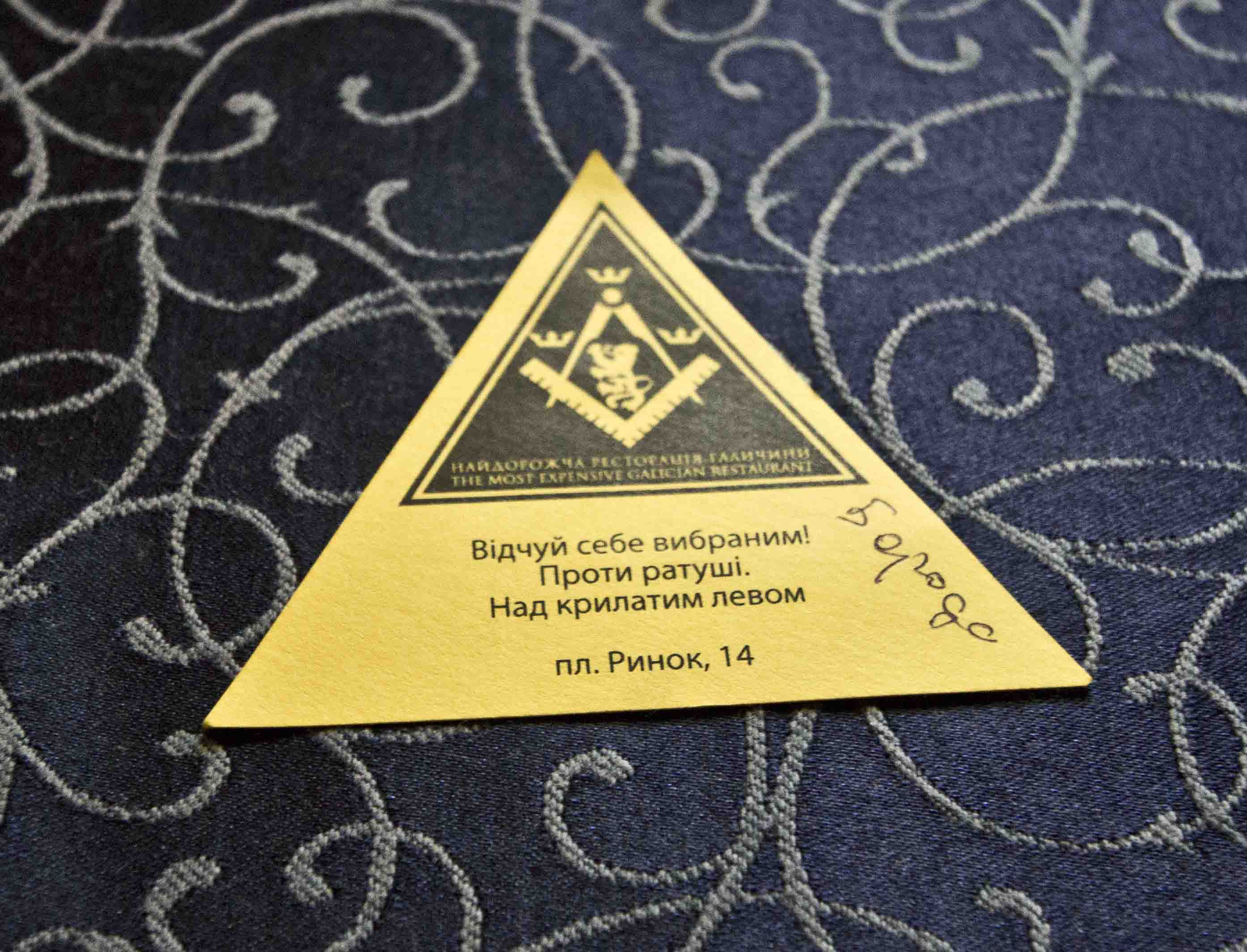 At the end of your sightseeing, stop at Salo Restaurant & Museum – Museum of lard (address: Prospect Svobody 6/8). Every exhibit is made of lard.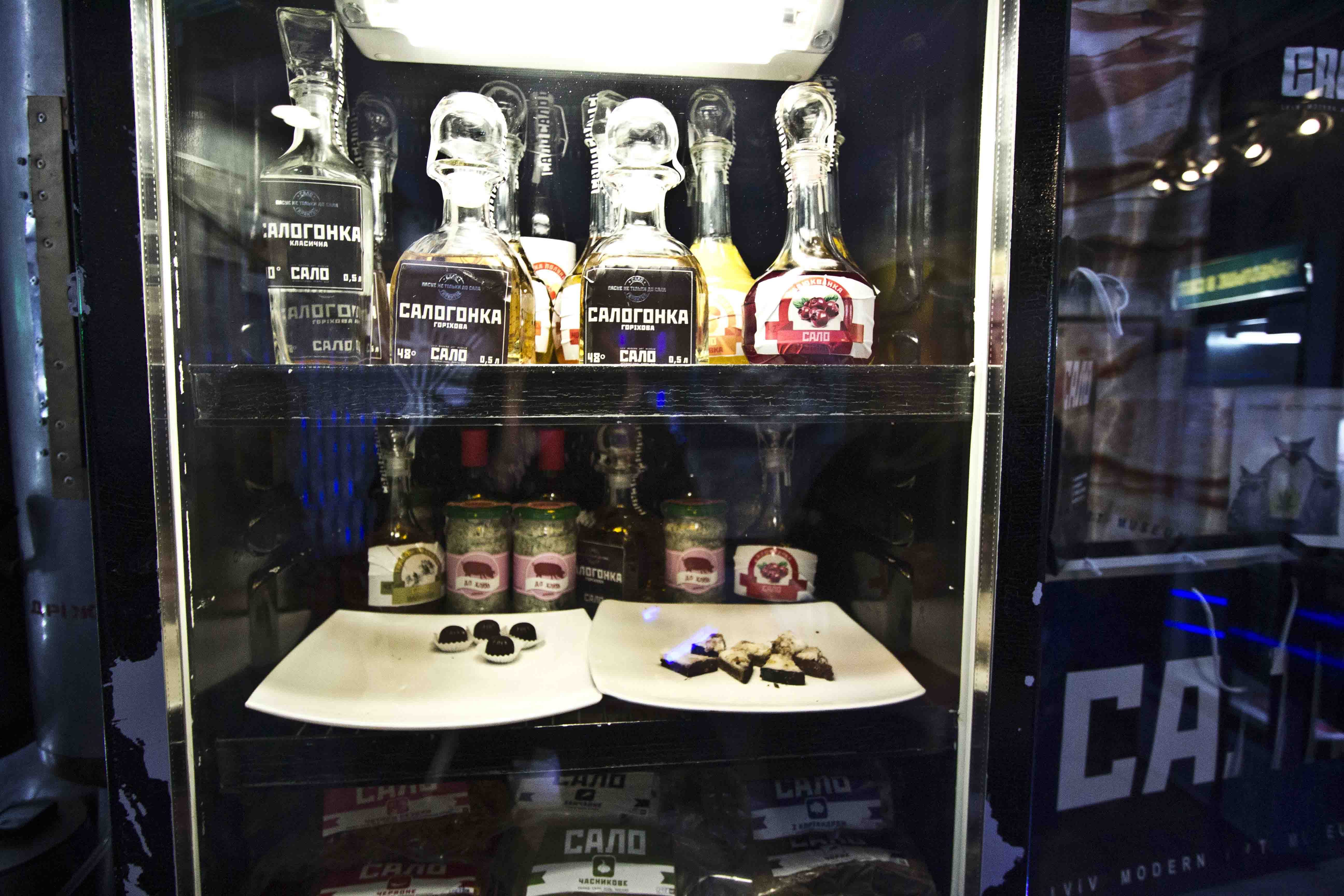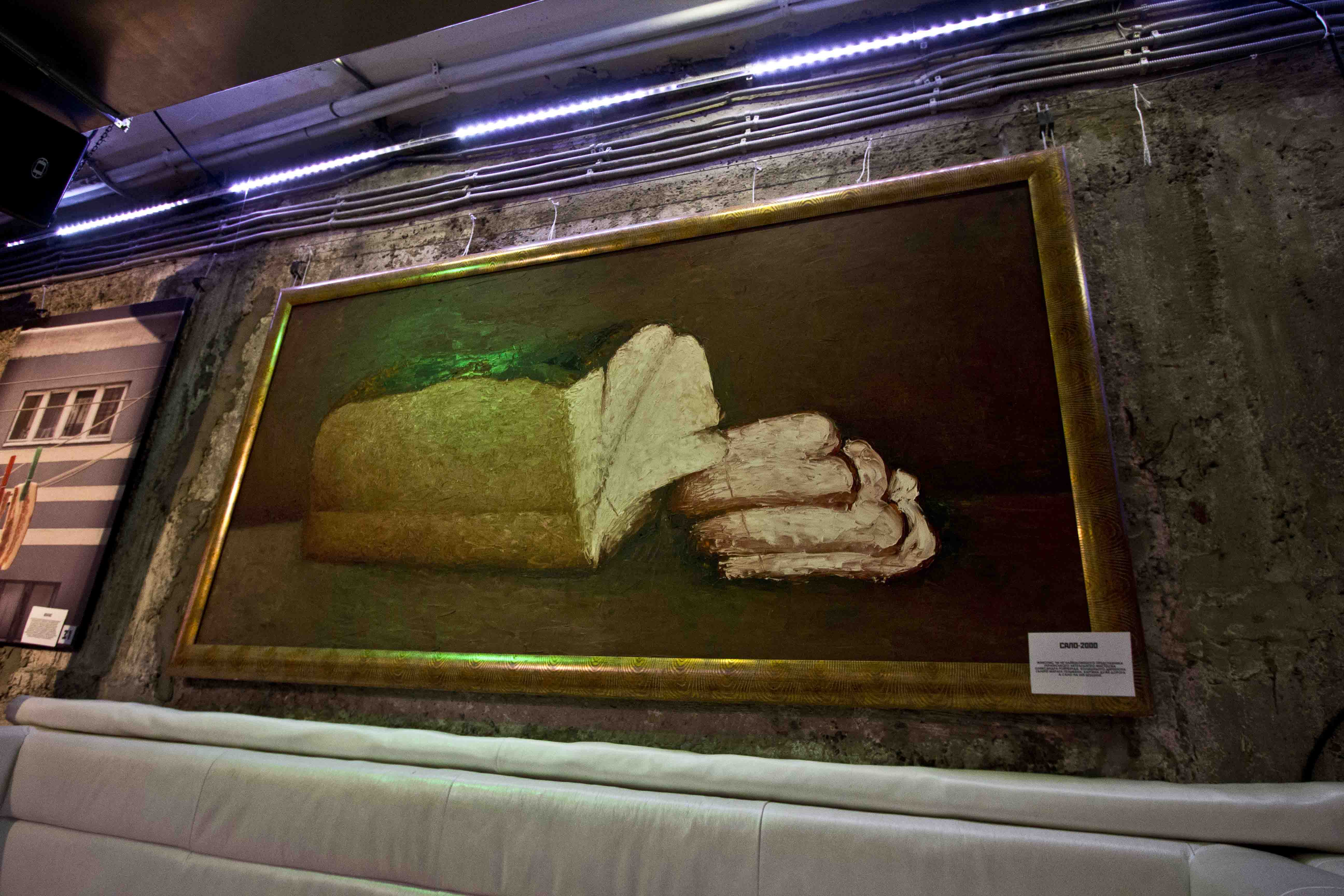 There're paintings, photos or even the biggest beating heart in the world, made of this famous Ukrainian dainty. I have no doubt that it's indeed. I don't think that anybody else could have such a ridiculous idea.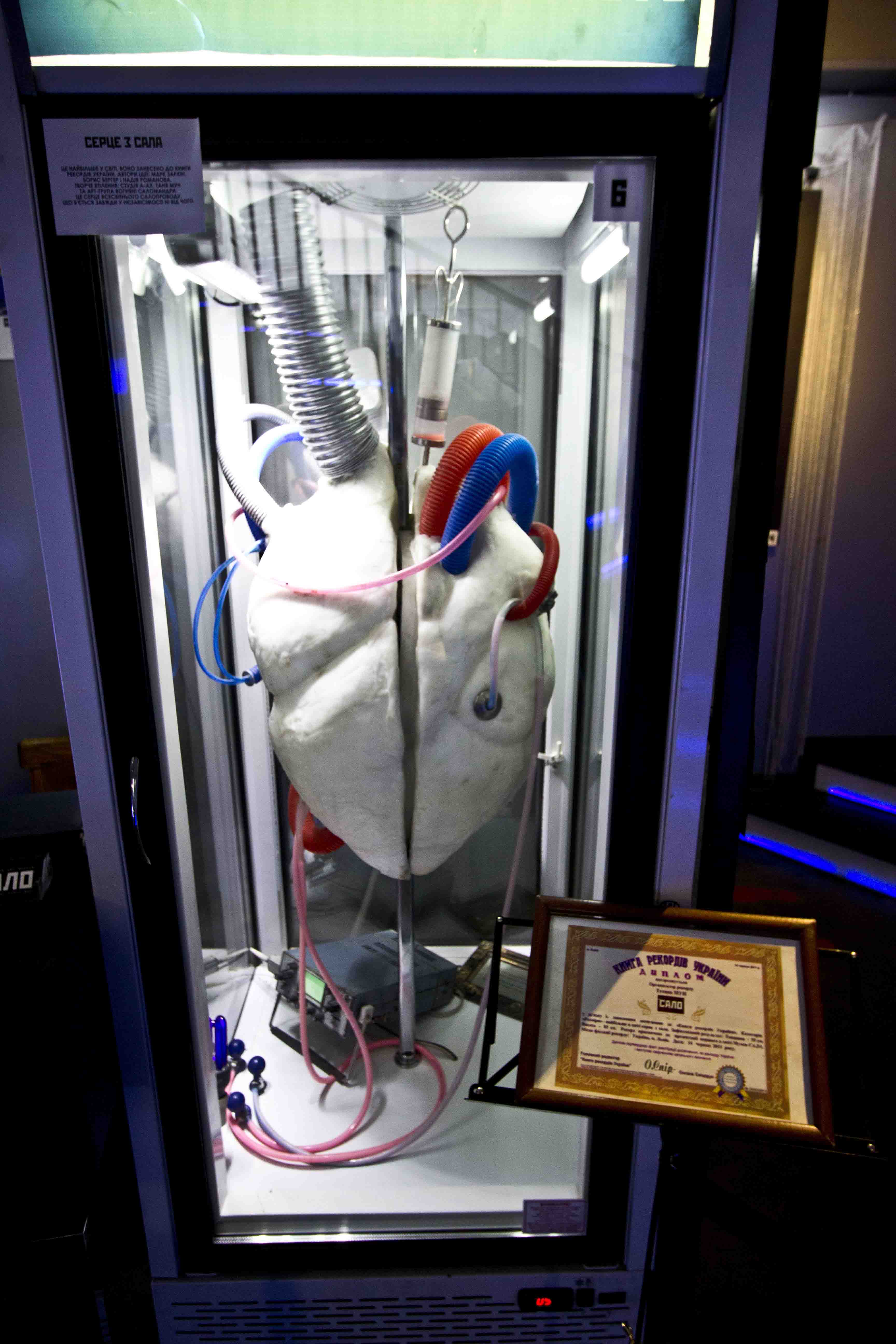 The main part of our visit was tasting lard chocolates. Unfortunately lard is one of these things which I hate. I really wanted to try it but it was impossible but Lukasz ate even my piece.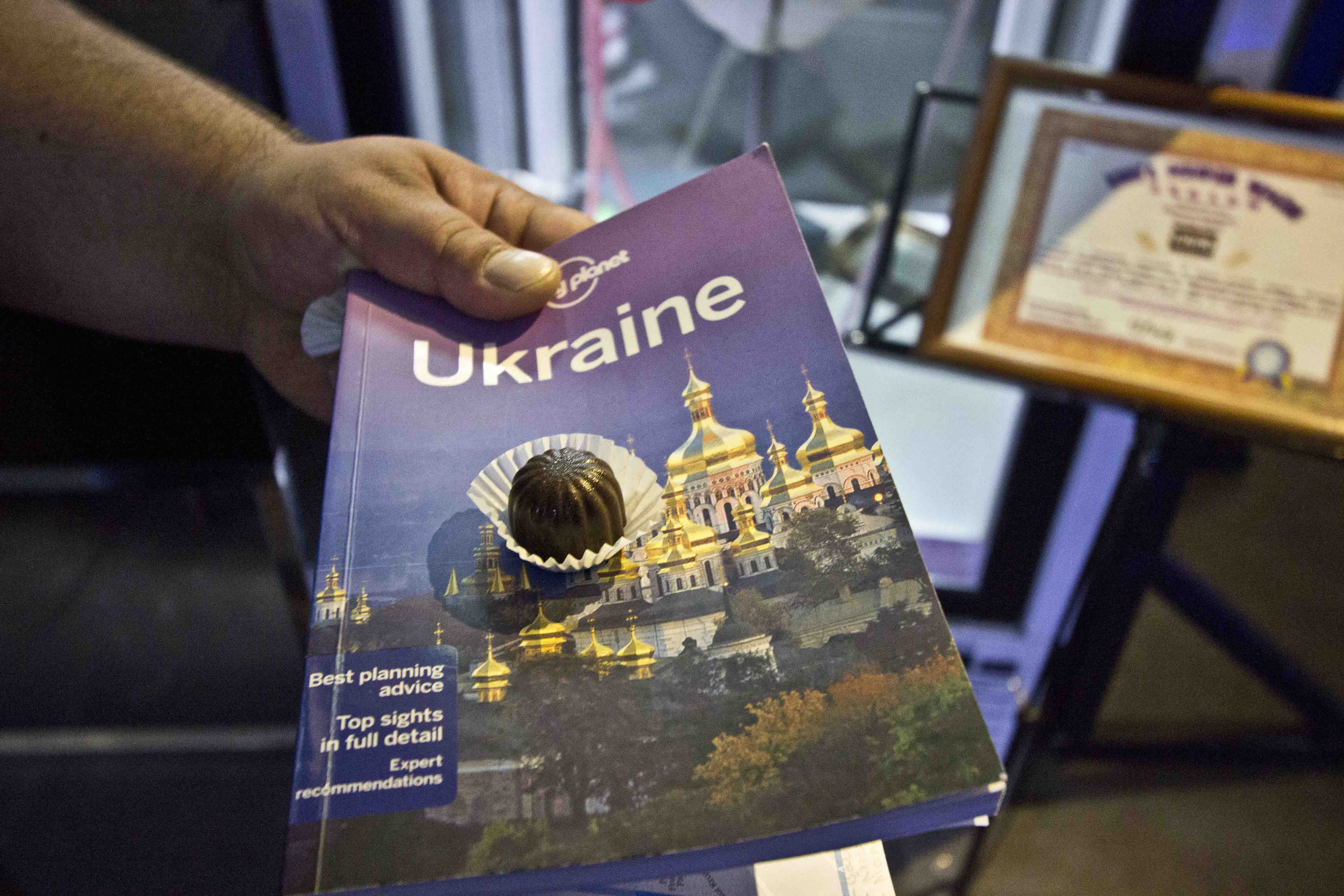 Additionally the restaurant serves Marlin Monroe's lips , Putin's head and even ice-cream made of lard!