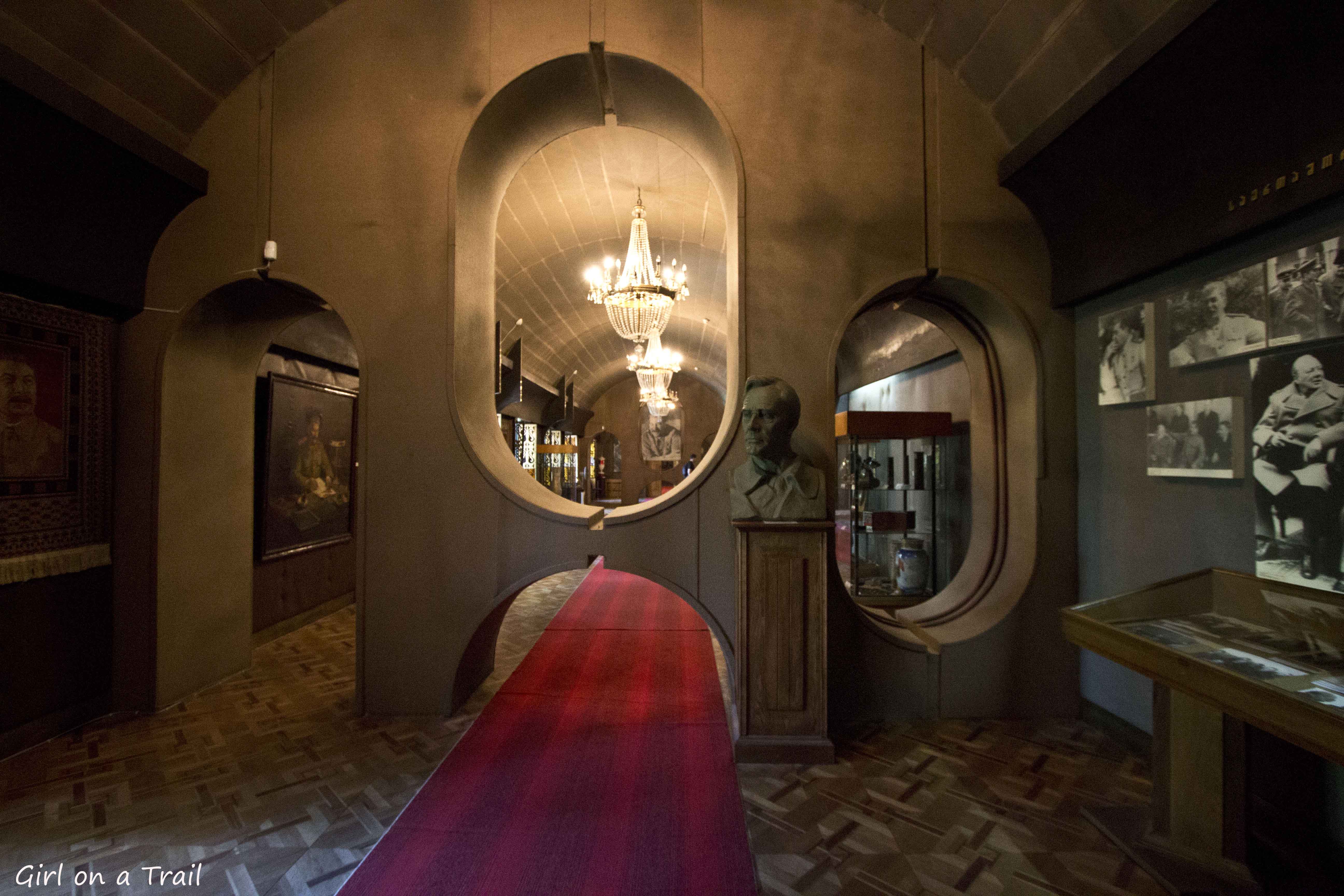 Georgia – Gori, a short visit to Stalin's hometown
The first time I heard about Gori, it was in History class a long, long… time ago, I didn't even think I would ever be in Stalin's hometown. Some time ago, the world remembered about Gori again. In August 2008, news and headlines were dominated by images of the city seized by Russians. During the short war between Georgia and Russia over two regions: Abkhazia and South Ossetia. Gori, which almost borders with South Ossetia, has become the main point of military actions. Initially, it was bombarded by Russian forces, resulting in the death of many civilians and then from 13th to 22nd of August fell under Russian occupation.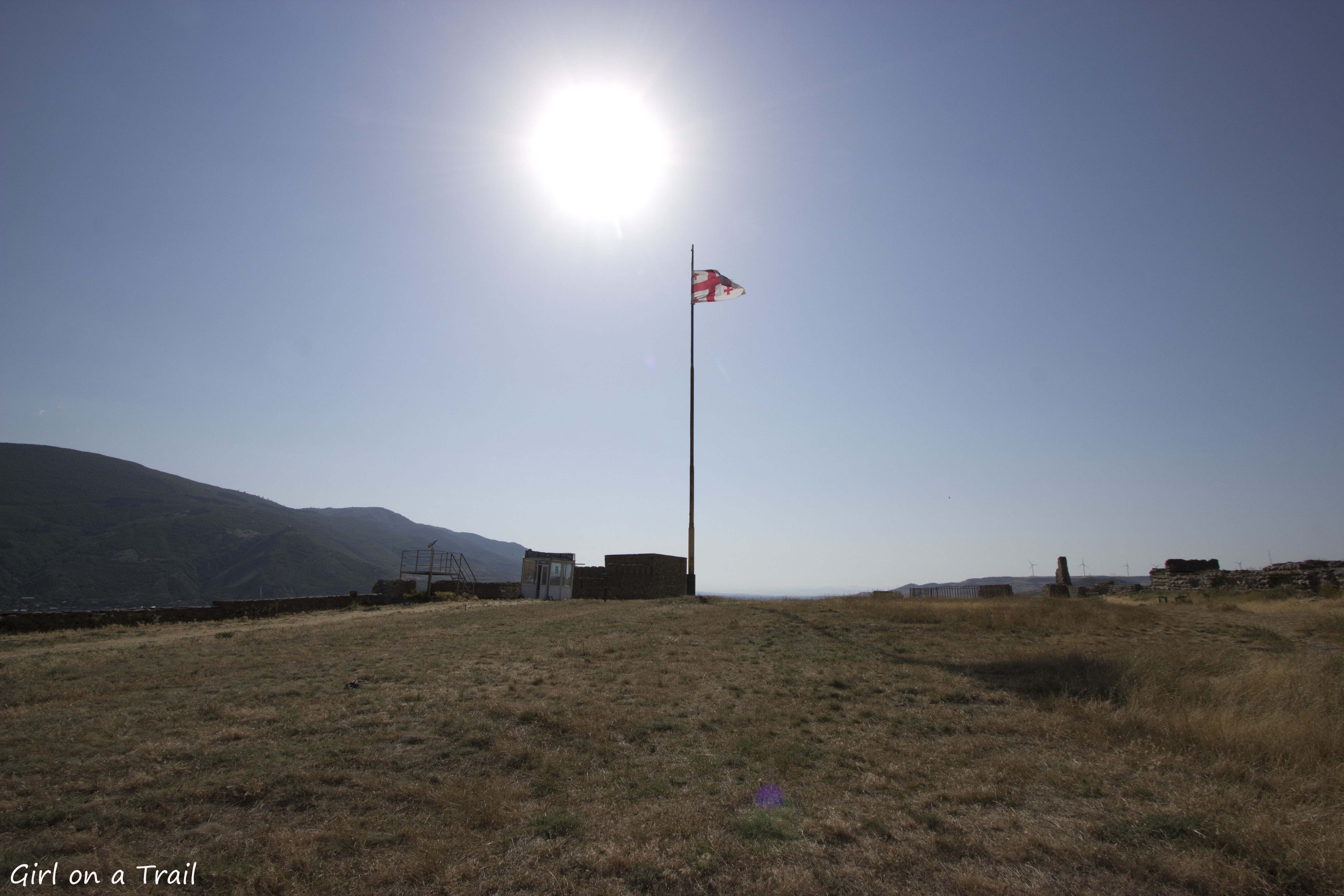 Being in Georgia less than 10 years after these events, I decided to see this place. I was very curious about how Stalin's hometown looks like and how the Georgians perceive their well – known military leader. Stalin always ephasised his Russian descent, he tried rather to cut off from his Georgian backgound. Starting from 1921, when he included Georia to USSR, made a series of repressions. Georgia was the first Soviet Republic to declare independence, and now it doesn't hide its aspirations to join NATO and EU structures.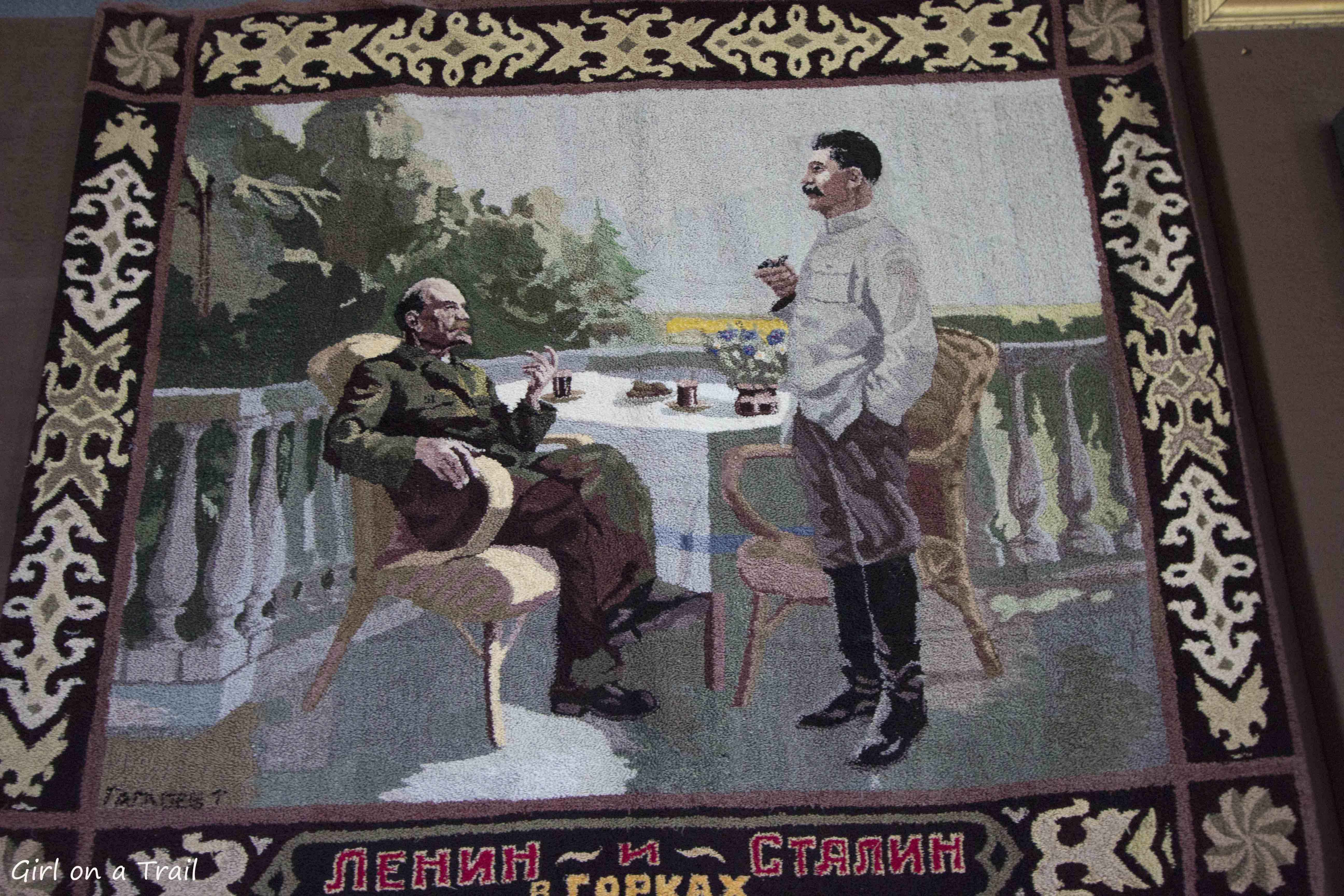 For these reasons, I won't hide that Gori surprised me very much. To feel a slightly mouldy "breeze of communism ". the city looks like form the previous era, I could say that time has stopped here with the death of "good uncle " in 1953 . A quick taxi ride across one of the main arteries of Gori – Stalin's Avenue, I pass the city hall on Stalin Square. Formery it was a place where the Stalin's statue stood. The local authorities tried to get rid of it first in the 50's during "the thaw", and then in the 80's, but social resistance was too big. Only recently, because in 2010 President Saakashvili decided to do away with it, but to avoid protests, it was brought down at night. Riding a litlle bit further, I reach Stalin Park in which I'm greeted by a huge statue of Stalin proudly standing in front of the entrance to the Stalin Museum. It was built in 1957, right after Stalin's death, when in the entire Soviet Union Khrushchev "the thaw" bacame.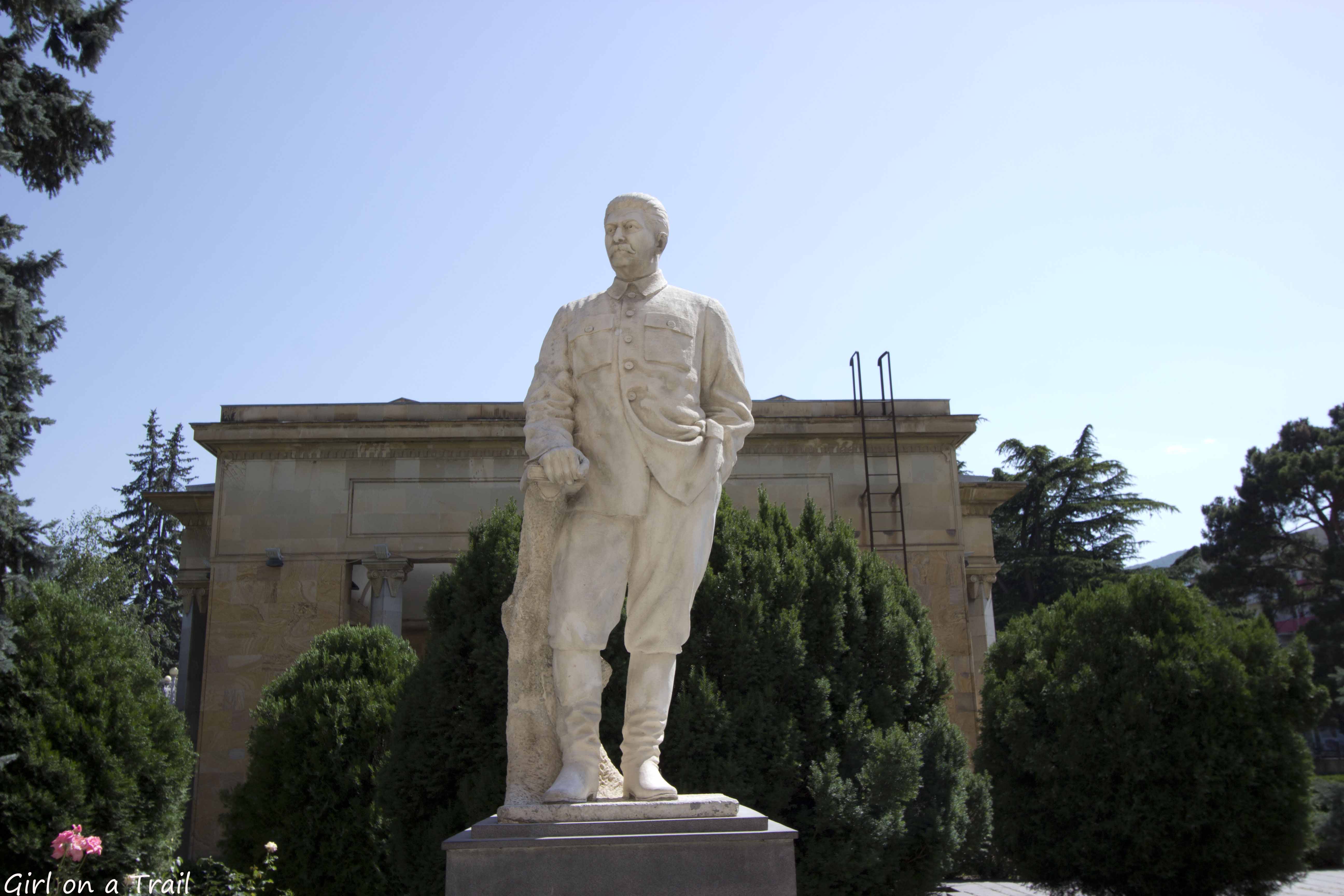 The museum building was built in a typical Soviet design, the red carpet at the entrance leads to the marble chamber where in the main point stands, guess what… the statue of Stalin 😉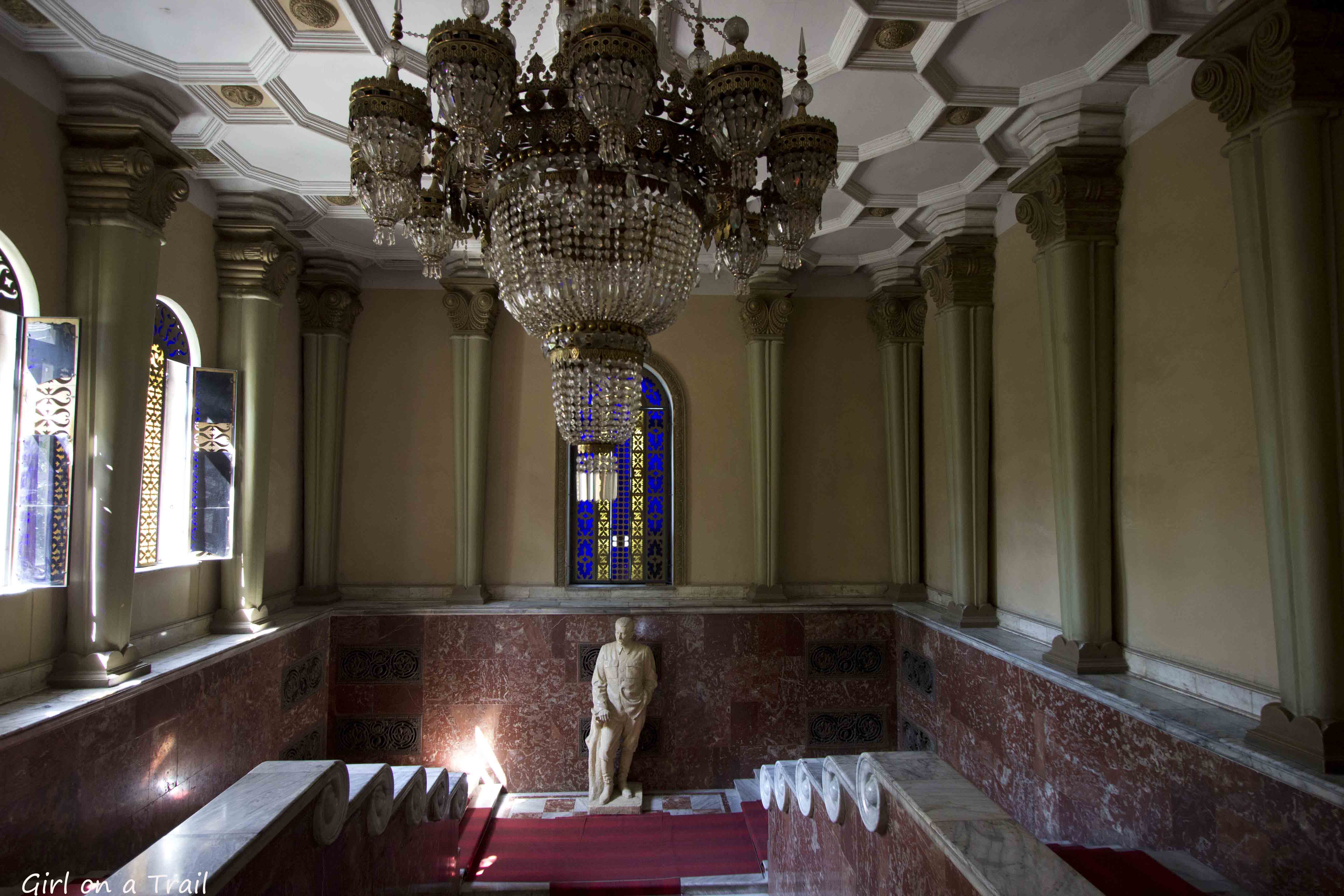 The Museum presents Stalin's life from an early age to the end of the Soviet Union. Among the plenty exhibits you can see Stalin's poems, photos, busts and portraits of the chief. An additional attraction is the untouched Stalin's picture of the chief.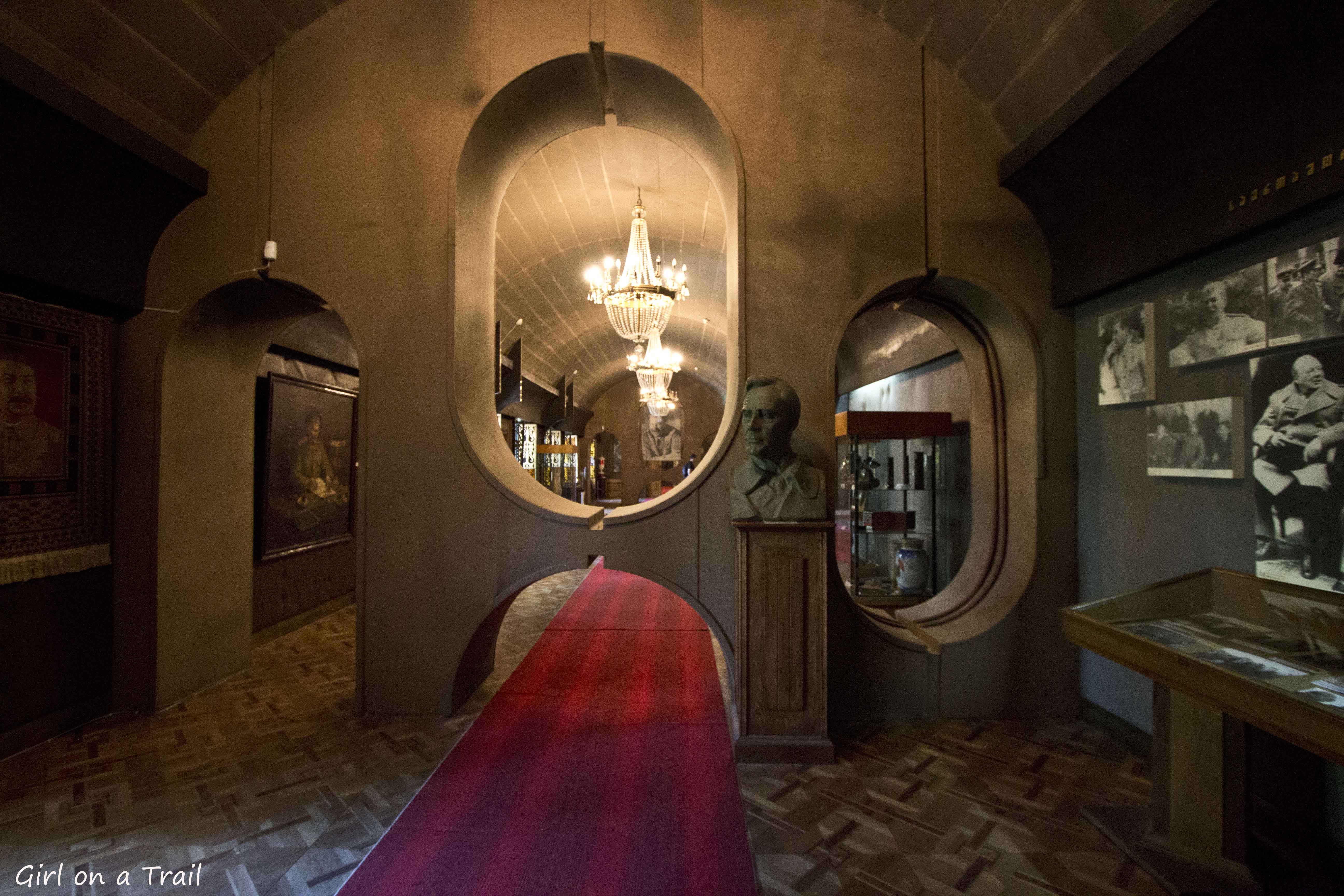 In fact, Stalin had a lot of scars on his face after smallpox, which he tried to hide by means of retouched photos. The exhibition of gifts from around the world is also interesting, among which you can also see those from Poland. In the central part of the main hall of exhibition is the postmortem Stalin's mask. The mask itself isn't a unique exhibit, it's a simple reflection of the face of the deceased, while the atmosphere of this room is another story, not necessarily good… the interior dark and it looks like a mauzoleum. Personally, it reminds me the Ho Chi Minh Mausoleum in Hanoi, but little smaller.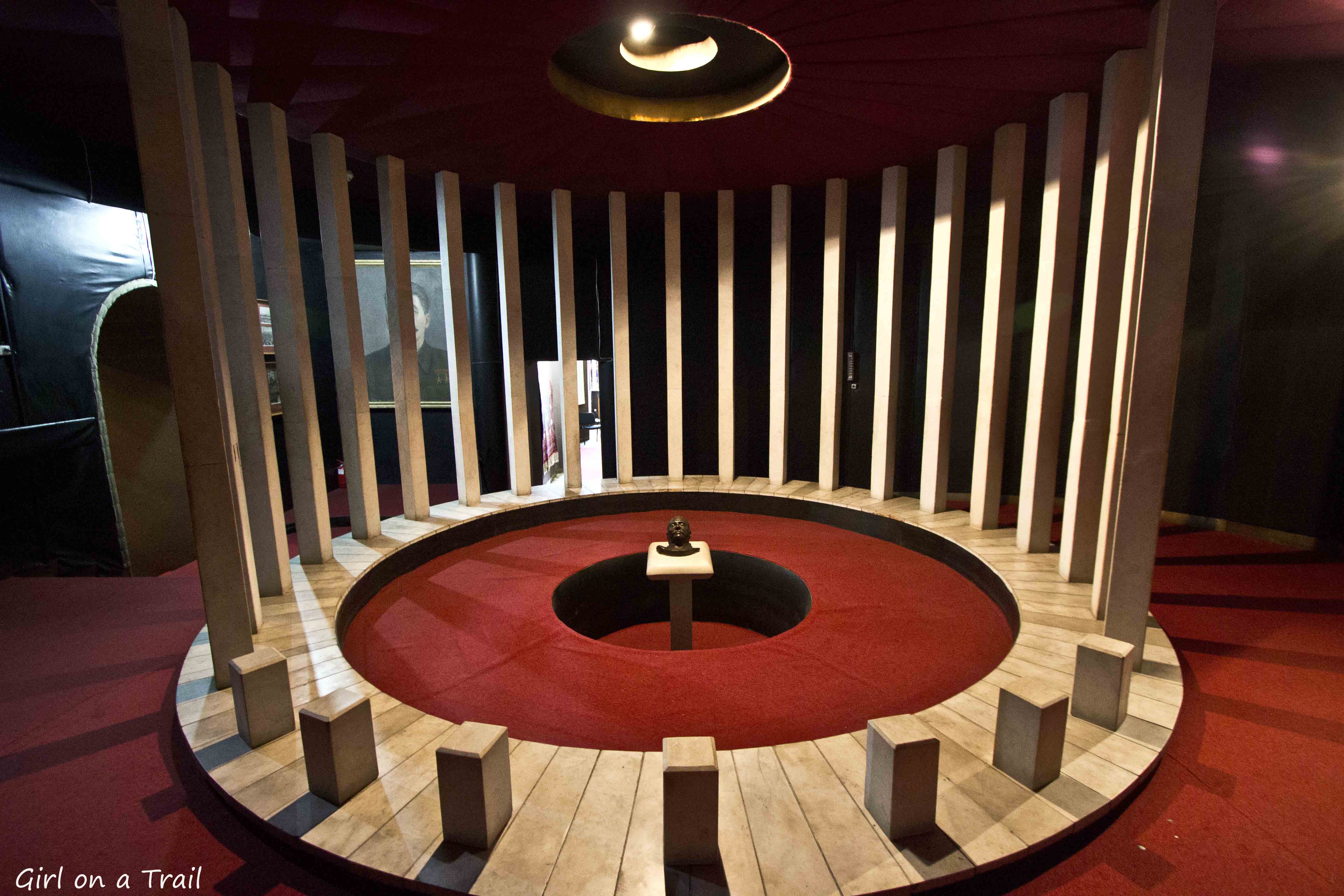 The Museum doesn't mention anything of the crimes made by Stalin, but on the contrary, it presents him as a sensitive poet and an excellent leader of the nation. There is a small cottage outside the museum where Stalin was born. It isn't a particular tourist attraction but enclosed in special framework looks pretty wierd.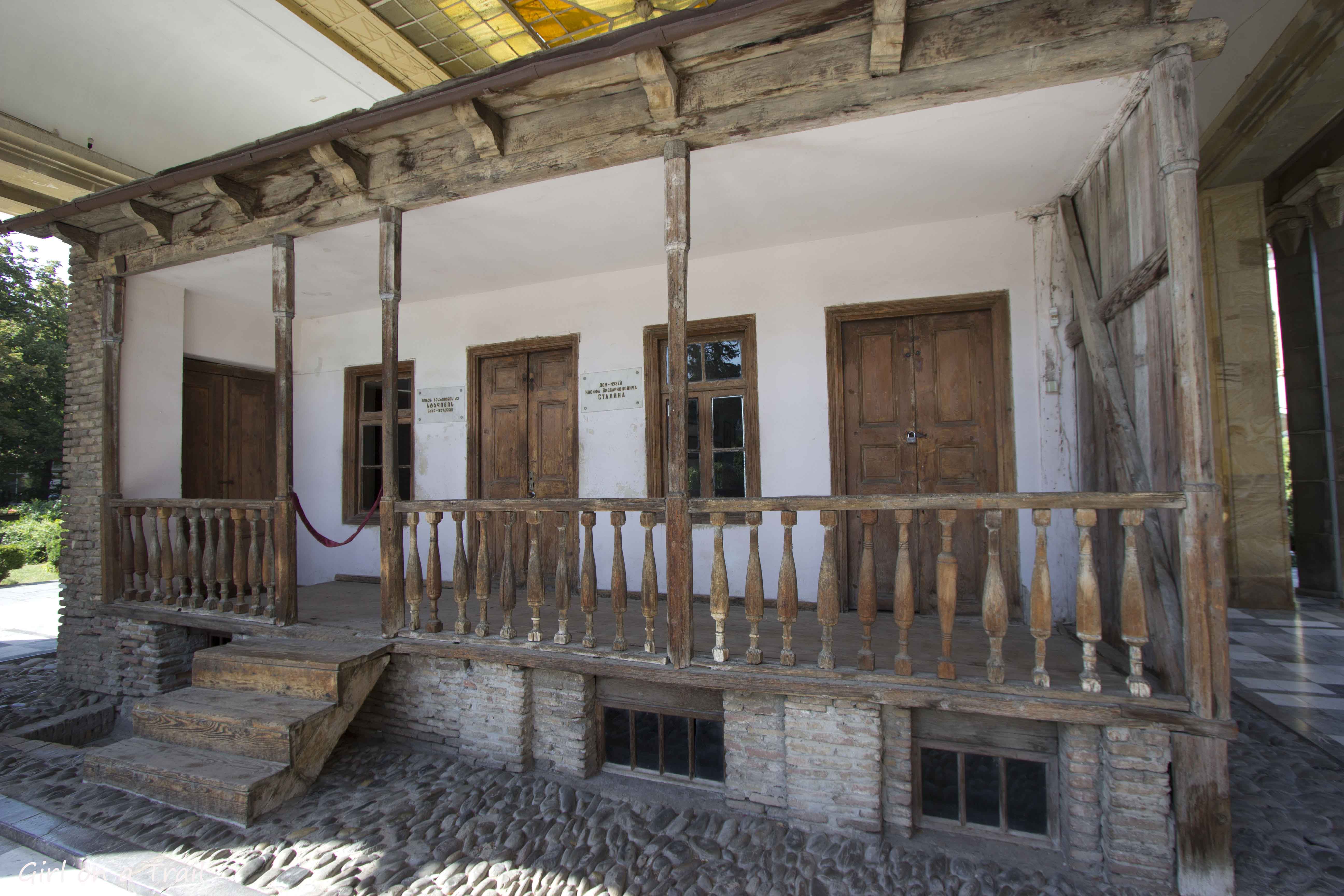 A few steps further you'll find armored railway wagon, the main means of Stalin's transport, due to his fear of flying. He used it while going to conferences in Tehran and Jalta. What's more interesting, the wagon hasn't been renewed yet. It's remained in original state since Stalin's last journey. Admission to the wagon costs additional 5 GEL, and to get to it, you have to find a museum employee with a key.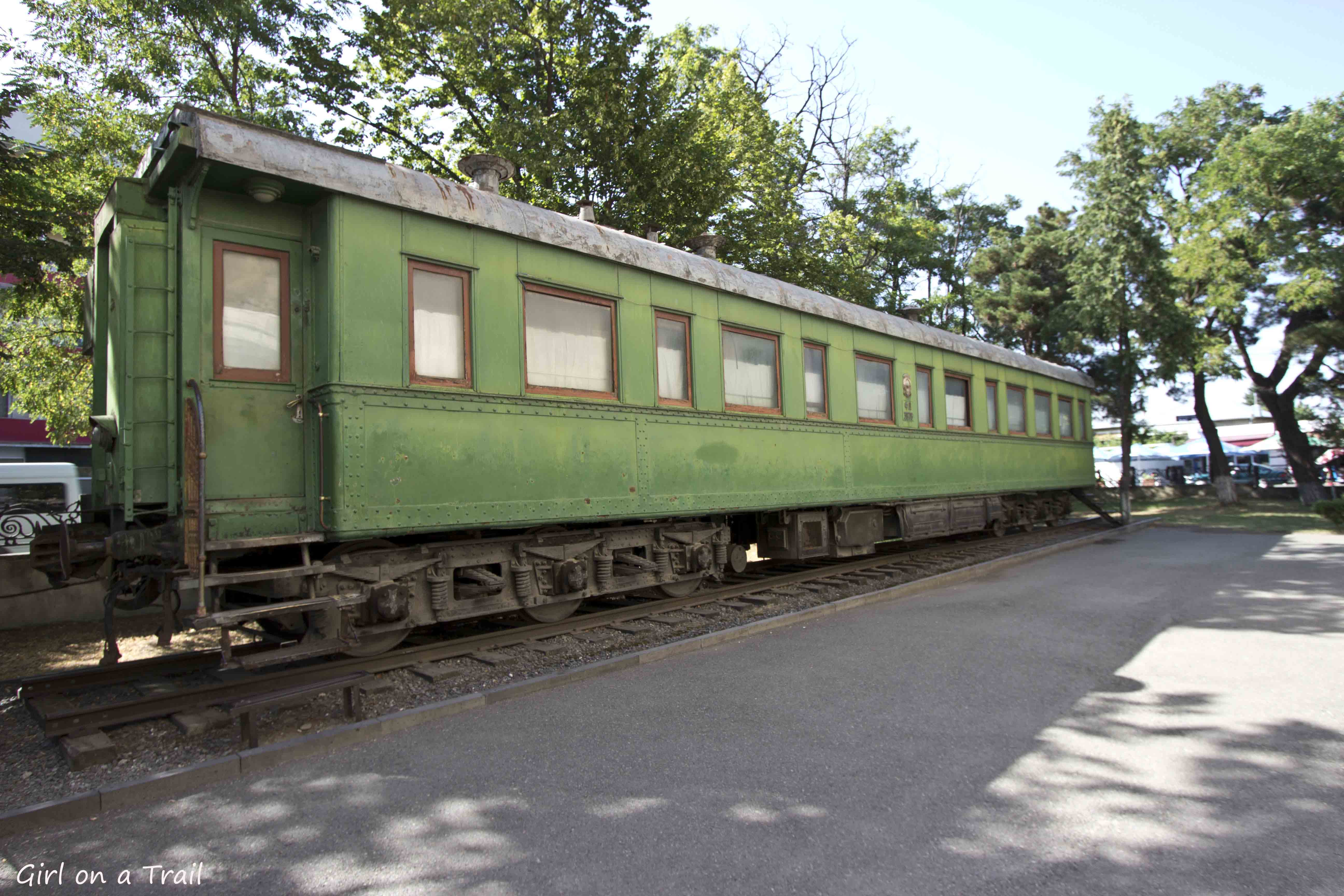 The service of the museum is in an amazing way correspond to the atmosphere of the building. After 15 minutes of searching, at the end of the red carpet, dazzled by light from crystal chandeliers, I saw a woman in a working scarf on her head. She turned out to be museum – keeper! I didn't hide my happiness as we're moving towards the car. The door opened and I saw the beautiful interior of Stalin's cabinet, bedroom, bathroom and kitchen. Everything was designed with taste, so different to the typical Russian style.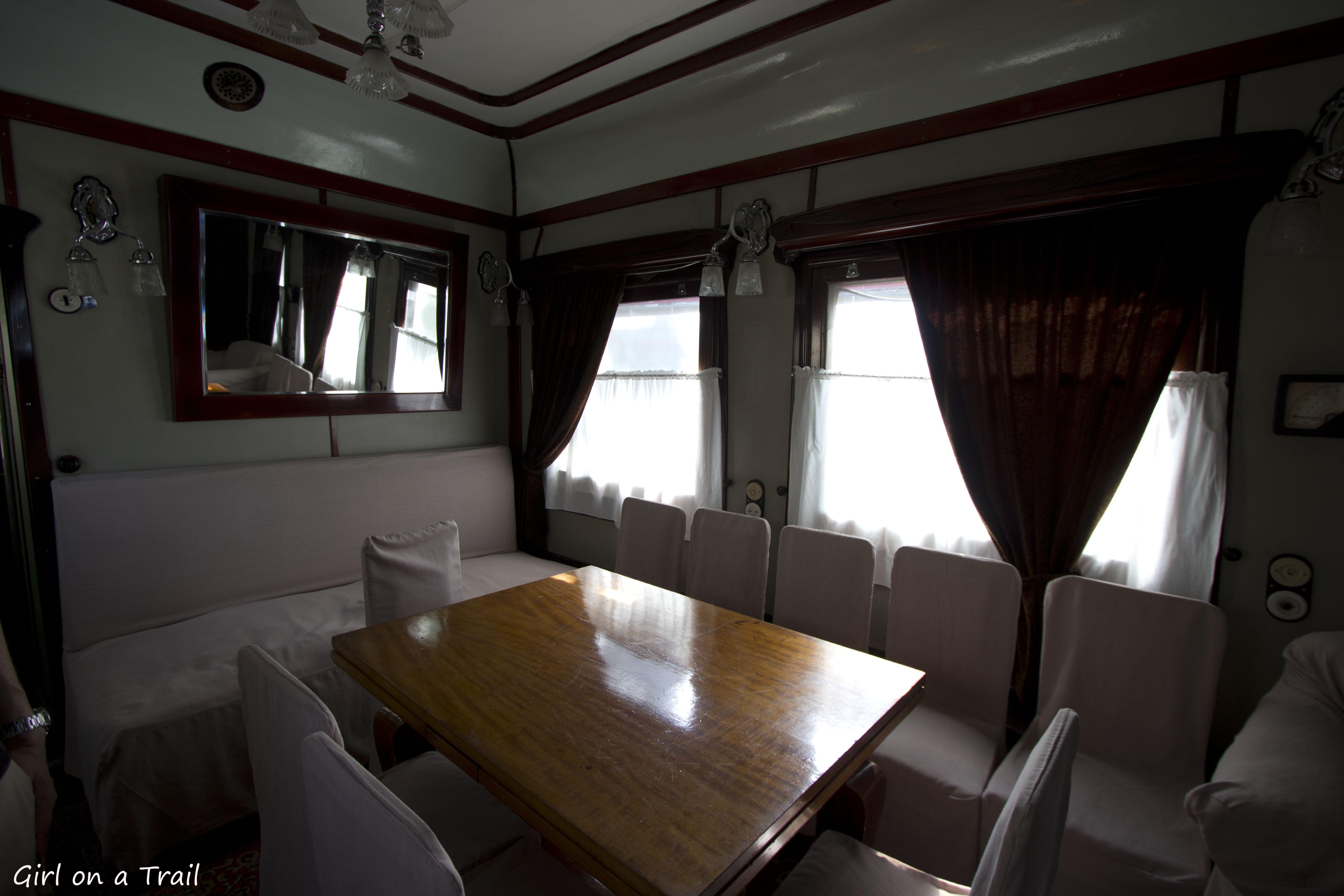 I start taking pictures when I suddenly heard loud "niet, photo niet!", and in the lens I saw the threatening pose of the musuem keeper. Every opportunity is good to make some more money, I knew exactly what she was going to do, but I thought that the high price of the ticket was enough to cover a few pics of the wagon. Without wanting to move sensitive financial topics, I asked briefly, " why niet?" I saw her confusion while helplessly trying to find good reason. After a moment of thought, she gave up and left the car 😉 The Museum is a kind of tribute to Stalin, and a cherished memory of the beloved chief. After a visit to this place, I thought a lot about the reasons for Stalin's cult in Gori. It's known that every country writes its version of history and the educational system in Georgia doesn't show the entire cruelty of the leader.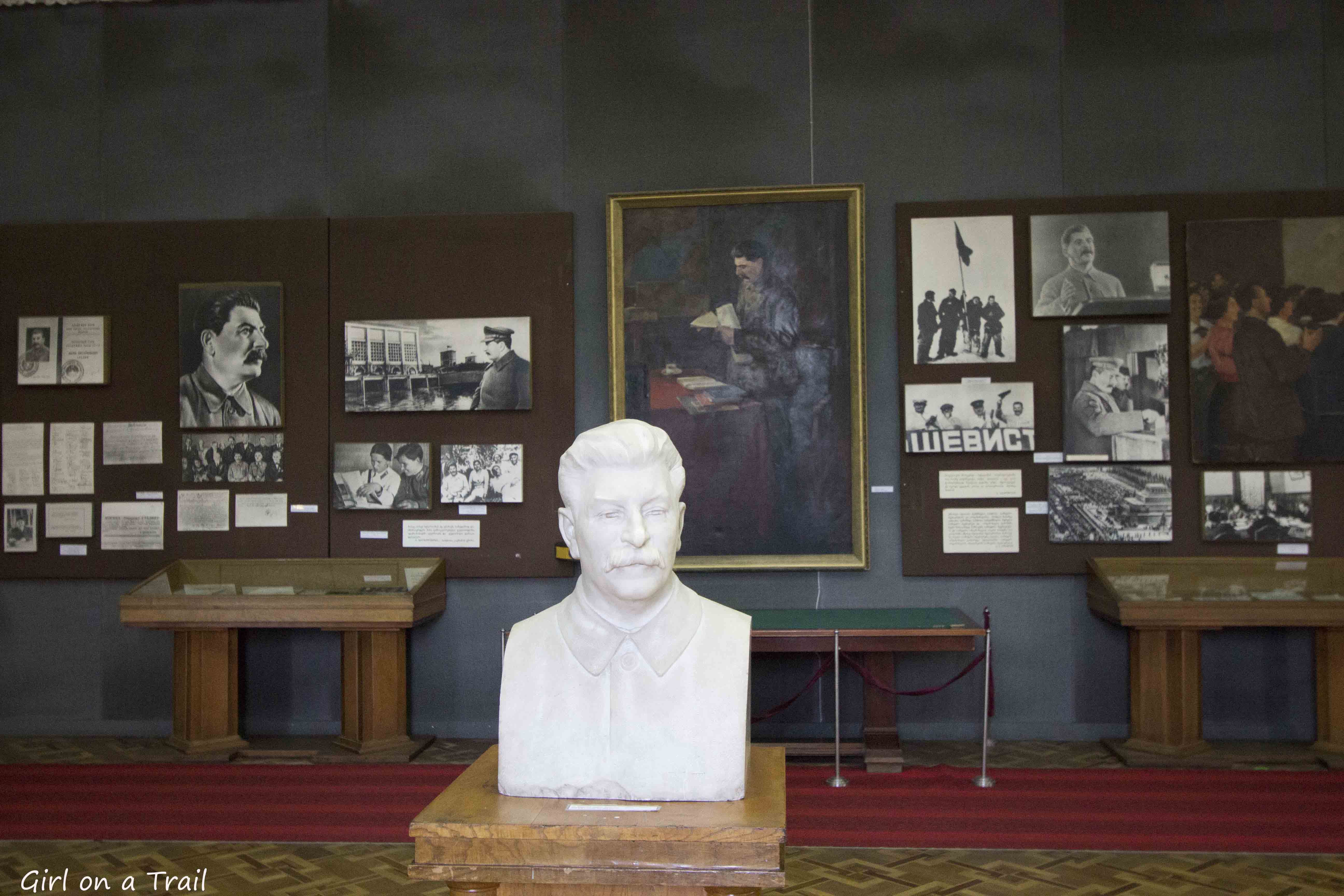 It seems to me that the Georgians have a bit of a perverse attitude towards Stalin. He is seen as a rebel from an invaded country who eventually led the great USSR. Georgian Prime Minister in his speech on 9th May 2015 proudly anounced that WWII was won by Georgian. In my view, despite gaining independence in 1991, Georgia hasn't formed the full sense of nationality yet. On the other hand it's impossible to hide that there's demand for such things, a really big demand 😉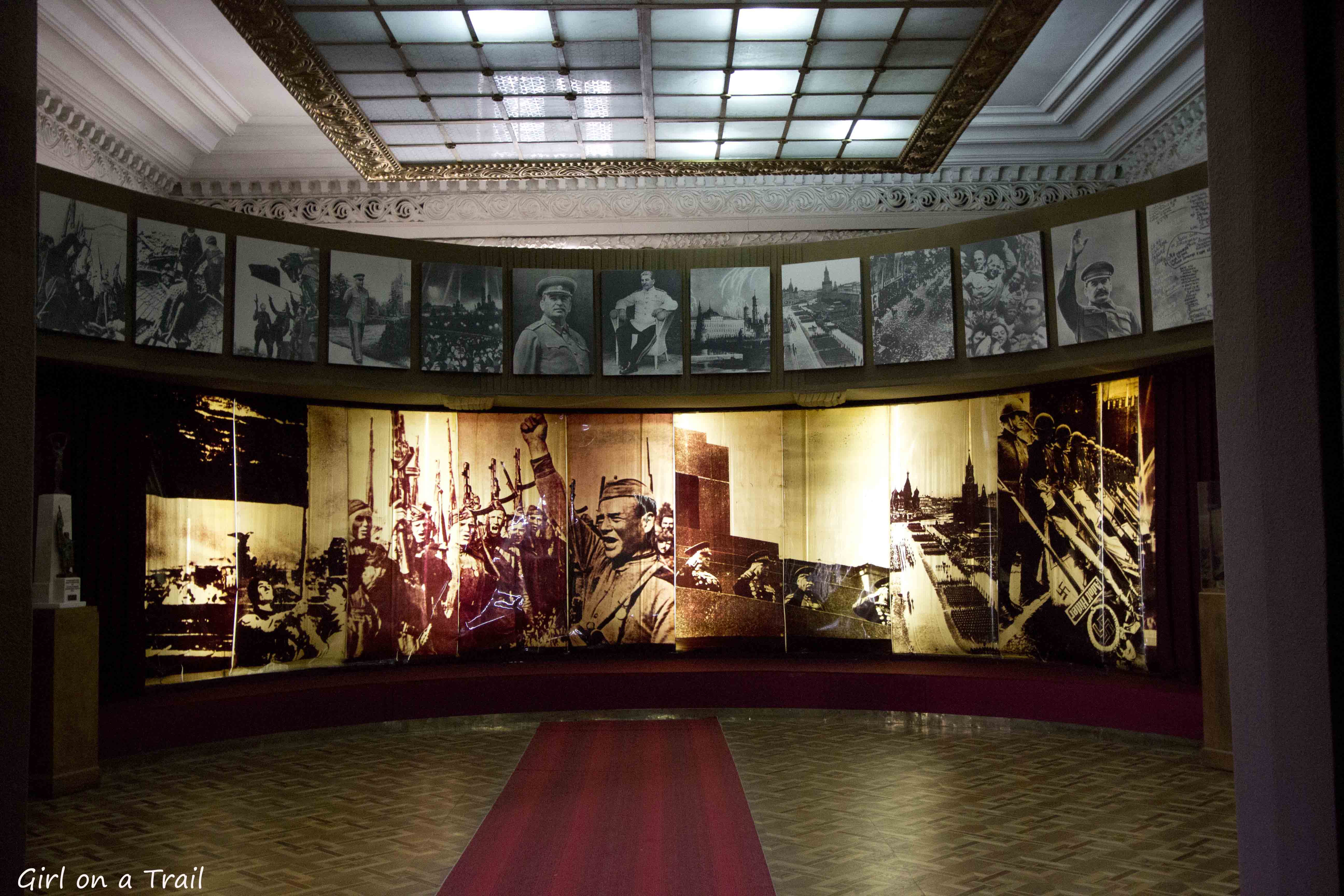 Directions and entrance:
From the bus station – Didube in Tbilisi, there're many marszrutkas to Gori. Admission isn't cheap compared to other tourist attractions in Georgia. Normal ticket costs 10 Lari, but you have to pay extra 5 lari if you want to visit the train car. More info here.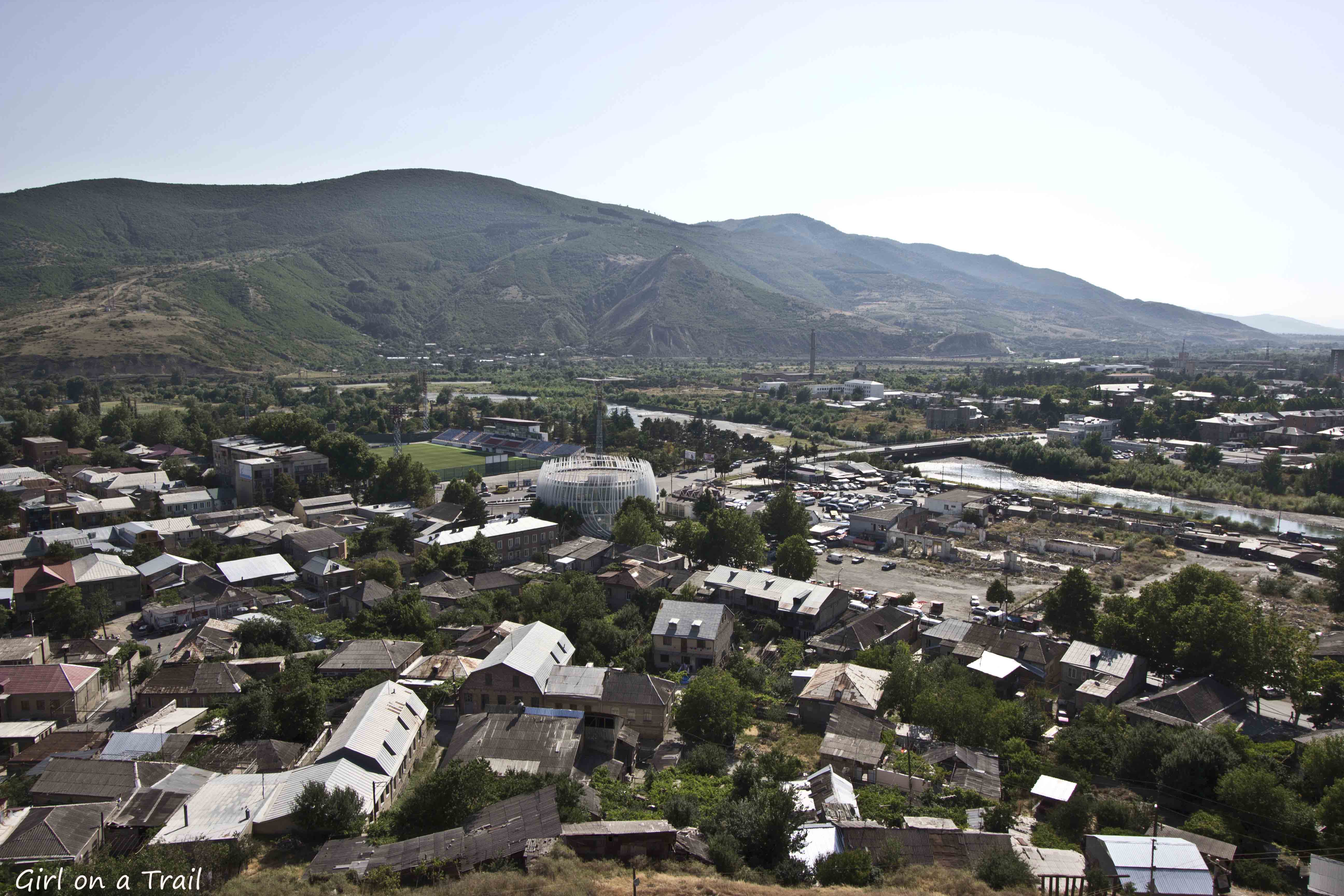 Gori Surroundings

Fortress
Gori is one of Georgia's oldest cities. The name of it comes from the Gori Fortress – Goris Ciche, which means "fortress on top". Nowadays, there are only ruins, but the view from this hill is impressive.
Uplistsikhe
While in Gori is also worth visiting Uplistsikhe located just 10 km away. It's possible to reach it by public transport, but there are only a few buses during the day. Comfortable and relatively affordable option is taking taxi. Taxi ride, including the time needed for sightseeing, costs 25 lari but if you can drive a hard bargain… 😉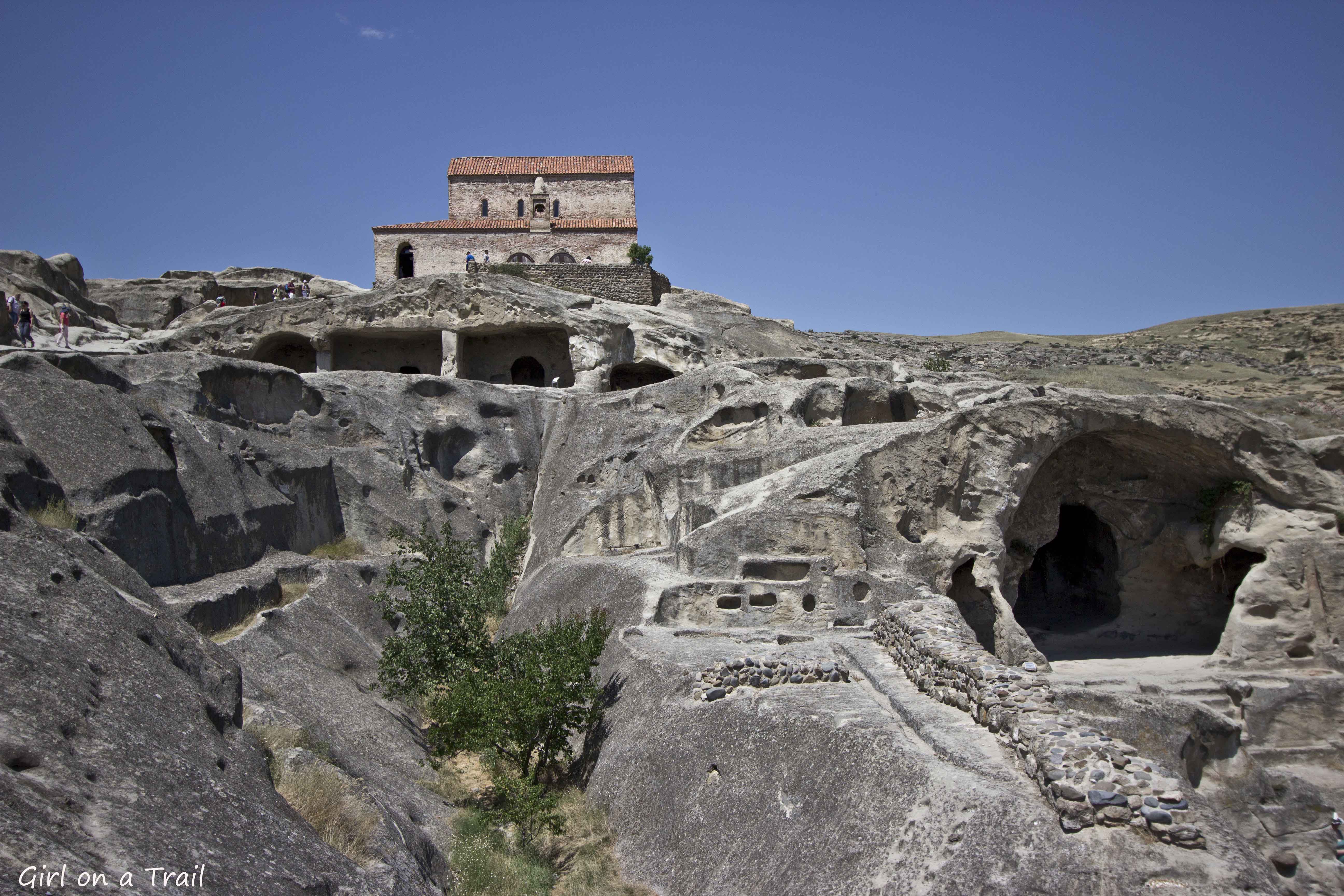 Uplistsikhe means "Lord's fortress" and is one of the oldest cities in Georgia. There are a lot of caves which were used as houses, warehouses, shops and churches. It is estimated that in the times of its prime, the complex consisted of about 700 caves!